Eastport Peninsula:
The Treaty Shore Era
Page 4
Between the Treaty of Utrecht (1713) and Treaty of Paris (1783) England and France held concurrent fishing rights within Bonavista Bay. Activity, however, was very limited as English and French fishermen tended to avoid each other and exploited the richer and more extensive cod fishing grounds around the outer bay headlands and islands. Migratory fishermen of both nations also tended to avoid the native Beothuk who still ranged around the inner Bonavista Bay reaches and inlets as part of a seasonal round in quest of estuarine and coastal resources including salmon, caplin, seals, birds and eggs.
Despite the lack of progress leading to settlement, during the mid 18th Century important European activity associated with the migratory fishery did occur at Barrow Harbour. Barrow Harbour is a naturally secure and spacious haven formed by the conjuncture of three small islands (Richards, Goodmans and Keats) and the mainland. It was especially favoured by ocean-going sailing ships and was highly regarded by both French and English for mooring fishing ships during the summer months. A French naval officer reported that "Bara Havre" was an excellent harbour, safe for all kinds of ships in all kinds of winds. An English merchant, George Garland of Poole, thought it to be the best harbour in Bonavista Bay. Barrow Harbour was also found very convenient for dispensing salt and fishing supplies and refitting and loading cured fish for overseas markets.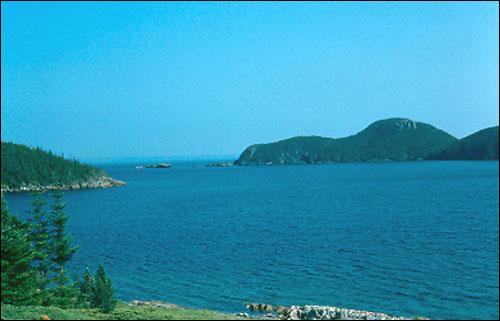 Barrow Harbour, 1975
Barrow Harbour was once regarded as the most secure sailing ship harbour in Bonavista Bay.
Photo by Gordon Handcock. Reproduced by permission of Gordon Handcock, ©1975.
Meanwhile the actual fishery itself was mostly conducted from small boats (shallops and skiffs) based at Bonavista, Keels, Kings Cove, Salvage and other outer-bay locations. Some French fishing ships were at Barrow Harbour before and after the Seven Years War (1747-1763) but it was more regularly used by English merchants such as the Lesters and Whites of Poole. Although the Lester headquarters was Trinity, Trinity Bay, the firm regularly dispatched fishing and supply ships to Barrow Harbour from the 1760s onward. Barrow Harbour was also looked upon as an easily defended site by English merchants during wartime. In advance of French forces capturing St. John's, Carbonear, Harbour Grace and Trinity in the summer of 1762, eighteen Poole vessels sought safety at Barrow Harbour. It was also used as a refuge by English ships during the American Revolutionary War 1775-1783, and the French Revolutionary and Napoleonic Wars 1793-1815.
In peacetime English merchant firms normally employed a ship's captain as a summer agent at Barrow Harbour but also engaged early settlers such as George Stockley as caretakers of goods and property. In the 1780s Benjamin Lester built a major fishing room, or establishment, at Barrow Harbour which included a storehouse with a rigging loft to accommodate vessels sent there to refit and load. Later another room was added with a stage and a large storehouse for fish.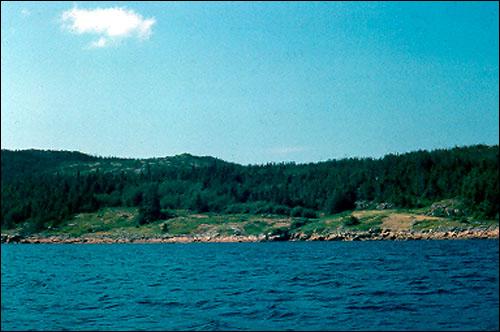 Barrow Harbour, 1975
Barrow Harbour is one of the oldest settlements in Bonavista Bay. The grassy areas indicate the former presence of fishing rooms.
Photo by Gordon Handcock, ©1975. Reproduced by permission of Gordon Handcock.
When George Garland took over Lester's property in 1805 business boomed at Barrow Harbour. This seems to have provided encouragement for a few fishing families to take up year round residence. While Barrow Harbour proved to be useful as an entrepot in the English migratory fishery, its steeply sloping and rocky shoreline afforded little suitable onshore space for fishing rooms or dwellings and gardens. In brief it lacked the landward qualities to become a settled community of any significant size. The Garlands of Poole withdrew their operations from Barrow Harbour during the 1820s but a small resident population was left behind. Barrow Harbour continued as a fishing and sealing community for over a century afterwards.