Eastport Peninsula:
Family Origins
Page 11
The planting of a permanent population in the Salvage-Barrow Harbour area in the period from the 1780s up to the 1820s was undertaken by families who came into the area initially to fish for cod. Most came from older established communities to the southward, principally Bonavista, Kings Cove and Keels. They were largely a homogeneous population of Wessex ancestry and culture. Virtually all descended from English migrants who had taken passage from the port of Poole to Newfoundland. Poole was much involved in the overseas migratory fishery and the Newfoundland trade and represented the main port of embarkation for men and boys going to Newfoundland. The migrants were shipped out by Poole merchants such as Joseph and Samuel White, Benjamin Lester and George Garland who had established mercantile premises on the northeast coast at places such as Trinity, Bonavista, Greenspond and Barrow Harbour. When they made their first voyage to Newfoundland most migrants were usually fairly youthful, in the range of 12 to 16 years. Initially the migrants were, in some capacity, usually before they married and settled, apprenticed or indentured to merchants such as the Lesters, Garlands, Whites, Streets and Slades, or to the settlers that these merchants supplied. Some migrants were born in Poole itself or in surrounding towns such as Christchurch and Wimborne Minster. Almost all came from within an area encompassed by the county of Dorset, west Hampshire and south Somerset, an area that famed novelist Thomas Hardy referred to as "Wessex", after the ancient kingdom of the West Saxons. By occupational background, some migrants were the children of mariners and fishermen, usually those who themselves had engaged formerly in the English migratory fishery in Newfoundland. Mostly though, migrants belonged to the trades and labouring classes.
The specific origins of some immigrants are revealed from parish records and other documents. Indeed most married into the families of earlier planters. The wives came from the daughters and female servants brought out by some of the more affluent settlers (the planter class). The process of new surnames being introduced into Salvage came mainly from the marriage of males, both from Newfoundland and directly from England, with locally born Salvage females. This process continued well into the 19th century.
The earliest pioneer family on the Eastport Peninsula whence present day descendants can be traced is that of George and Ann Stockley who were settled at Barrow Harbour in the 1780s. Lacking male heirs the Stockley name faded but descendants through the maternal line include Babstock (Thomas), Lane (Joseph) and White (Thomas). These surnames accordingly rank among the oldest on the peninsula. Other pioneers at Barrow Harbour included: Robert King of Old Perlican and Ann French; Joseph King and Mary Long of Keels; Thomas Wells and Mary King, both of Bonavista; William Powell and Sarah Wells, both of Bonavista and William Matchim of Bonavista and Jane Brown of Salvage.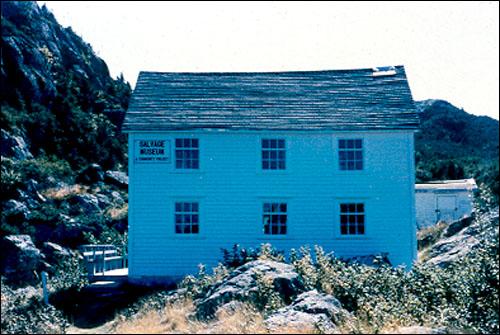 Salvage Fisherman's Museum, ca. 1975
Salvage Fisherman's Museum, housed in a traditional dwelling once owned by the Lane family.
Photo by Gordon Handcock, ©1975. Reproduced by permission of Gordon Handcock.
Meanwhile, documents affirm that the first family at Salvage was that of William Dick (Dyke) of Bonavista and Mary Handcock (Hancock) of Kings Cove. Dyke had been fishing at Salvage by 1804 and moved his wife and family there by 1813. William was probably accompanied by his older brother Henry. About the same time came also from Bonavista, Richard Dyke and his wife Susan/Hannah Abbot and John Dyke and his wife Elizabeth. The Dykes were soon joined by the Oldford family of Bonavista or nearby Bird Island Cove (modern Elliston). By the early 1820s the Dyke, Oldford, Brown, Hunter and Burden families were all settled in Salvage as "planters", meaning owners of fishing rooms, fishing boats and employing servants and share men.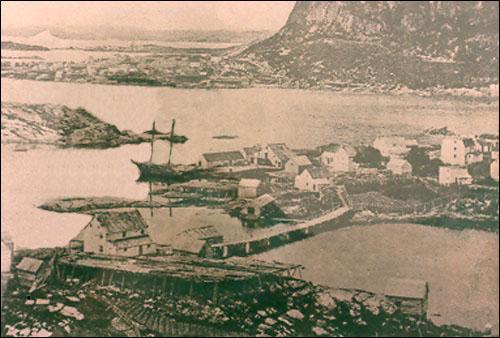 Salvage, ca. 1890
Note the well developed merchantile establishment "Burden's Room" on the Point.
Courtesy of Gordon Handcock.
A more comprehensive analysis on the origins of Salvage shows that Bonavista was the main source area of founding families. There was also a significant contribution from places such as Bird Island Cove (now Elliston), Kings Cove, Keels, Open Hall, Gooseberry Islands, as well as the Greenspond area and nearby Barrow Harbour and Broomclose. Pioneer surnames with prior residence or paternal roots at Bonavista were Dyke, Oldford, Hunter, Burden, Squire, Steed, Denty, Flinn/Fling and Hapgood. The Dykes and Browns had earlier ties with both Bonavista and Kings Cove. The Moss family was settled initially at Keels and Open Hall, the Lanes at Barrow Harbour and the Babstocks at Barrow Harbour and Broomclose. As far as can be determined most of the family patriarchs (the first resident married males) and matriarchs (their wives) were Newfoundland-born. William Dick/Dyke, for example, was born at Bonavista about 1773, his brother Henry at Bonavista in 1755. A court record also confirms the Dyke name at Bonavista in the 1750s. Meanwhile, William's wife Mary (nee Handcock) was born at Kings Cove and pioneer George Oldford's spouse was Jane Porter of Bird Island Cove.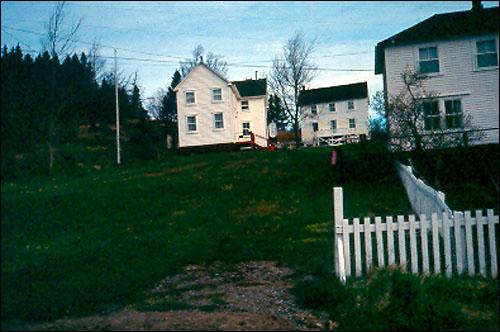 Dyke Family Dwellings, Eastport, 2000
The dwelling on the left, owned by Silas Dyke, was built in 1890.
Photo by Gordon Handcock, ©2000. Reproduced by permission of Gordon Handcock.
It seems likely that the Oldfords of Bonavista previously were associated with Trinity, Trinity Bay where William Oldford, a planter and constable, resided with his wife Hannah in the 1750s. It is probable that all Oldfords in Bonavista Bay and Newfoundland are descendant from this one couple. The Hunter family appears to have taken root from John Hunter, a former ship's captain for the Lesters of Poole. He settled first at Bonavista and then at Salvage where he died in 1865 aged about 86 years. His male descendants diffused throughout the area and were among the pioneers of Burnside and St. Chad's. Hunter females were very prominent in recruiting new surnames to Salvage through marriage in-migration of their spouses. Among them Burden, Durdle, Moss and Troke.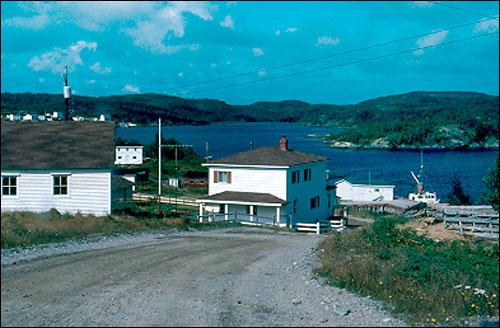 St. Chad's, 1986
St. Chad's was settled by families surnamed Hunter, Martin (alias Crisby), Troke, Lane, Moss, Rogers and Hiscock.
Photo by Gordon Handcock, ©1986. Reproduced by permission of Gordon Handcock.
New surnames were added to the local communities during the 19th by the arrival of married couples but mostly by marriages formed by males from outside with local females. Here one could take notice, for example, of the presence of the following couples by the years indicated:
William Garrett of Yeovil, Somerset, England and Dinah Denty of Salvage 1829;
George Squire of Winterborne Zelstone, Dorsetshire and Mary Clouter of Bird Island Cove 1844;
Henry and Hannah Brown of Kings Cove 1830;
William Brown of Bonavista and Margaret Lane of Barrow Harbour 1826;
John Crisby/Crispey (alias Martin) of Torbay, Devonshire, England and Ann Dyke 1843;
Joseph Trim of Charlton Musgrove, Somersetshire, England and Mary Oldford of Bonavista;
William Moss of Open Hall and Sarah Hapgood of Broomclose 1842;
Thomas Moss and Ann Hanlan 1842; John Bull of Christchurch, Hampshire and Jane Hunt of Greenspond 1835;
John Hunter of Bonavista and Elizabeth Oldford 1842;
James Hunter and Elizabeth Babstock of Broomclose 1842;
James Durdle of Bridport, Dorsetshire, England and Anne/Hannah Hunter 1840;
John White and Grace Denty of Bonavista 1843;
James Burden of Bonavista and Elizabeth Brown 1839;
William Burden of Bonavista and Mary Hunter 1841;
George Troke, prob. of Christchurch, Hampshire and Jane Hunter 1835;
and William Steed of Bonavista and Temperance Brown 1842.
Marriages from the in-migration of males also introduced the following surnames.
Dunn, by the union of Joseph of Bonavista with Mary Trim of Salvage in 1848;
Bradley, William of Bonavista and Mary Durdle 1858;
Farwell, Richard, widower of Greenspond, formerly of Bridport, Dorsetshire, and Elizabeth Oldford 1863;
Mesh, Samuel of Bonavista and Elizabeth Dyke 1848;
Rogers, Thomas, of Christchurch, Hampshire and Martha Dyke 1847;
and Hancock, William, widower of Greenspond and Matilda Moss 1861.