Eastport Peninsula: Burnside
Page 8
To a large degree the settlement of Burnside and St. Chad's in the latter part of the 19th century represents the continuation of the trend by Salvage families to occupy on a more permanent basis their former winter quarters. Both these places were located in typical Boreal forested areas but were still conveniently located to access the Labrador and inshore fisheries. Like Happy Adventure and Sandy Cove, Burnside and St. Chad's were well situated for lobster fishing as well which, because of advances in canning technology towards the end of the 19th century, had become a commercial enterprise. These places were also very well situated to fish locally for salmon, herring, mackerel and squid.
Burnside, the northernmost settlement on the Peninsula and named for a devastating forest fire that swept through in 1912, is built on a complex but low lying site. It includes a small coastal plain flanked by several coves, tickles and two near shore islands. The channels and coves offer some convenience for boats and smaller vessels. Burnside also faces northward unto Morris Channel and Island and a vast complex of islands, channels and reaches that give this part of Bonavista Bay spectacular natural variety. Initially Burnside consisted of two separate settlements named Squid Tickle and Holletts Cove. Settlement later expanded into adjacent sites around these two nuclei, Squid Island (linked by a bridge across a narrow channel), Holletts Tickle and Island and Crokes Point. Burnside has a somewhat unique cultural landscape though it possesses most of the traditional elements of a Newfoundland outport.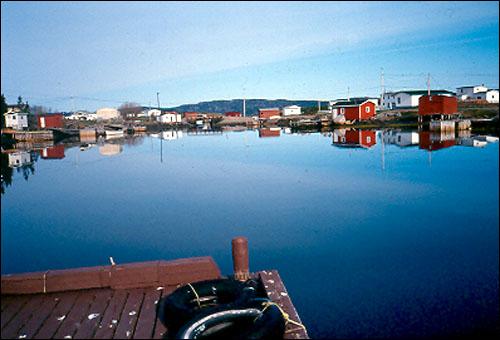 Squid Tickle, 2000
Squid Tickle was one of the main settled localities in Burnside.
Photo by Gordon Handcock, ©2000. Reproduced by permission of Gordon Handcock.
In 1978 an interview conducted with Gus Oldford of Burnside, by Kevin Major and his students, was published in the local magazine Stagehead. In it Oldford related the community origins of Burnside and details of its early economic history. His description of winterhousing is very insightful:
Burnside started in the first place from people leavin' Salvage and comin' up here in the wintertime, and going back to Salvage in the summer. They had winter houses up here and they come up here because there was plenty of timber to cut. They cut wood enough then to last all summer; they'd take it down to Salvage in the spring. ... And they'd cut flake stuff, everything for their use in Salvage in the season. They'd cut wood, logs ... perhaps build a boat.
According to Oldford, his father had been born at Burnside in a winter house some 113 years previously (i.e. c.1865) and that "about 108 years ago they (his father's family) come up and built their house and lived summer and winter". This would date an Oldford family at Burnside (then Squid Tickle) from about 1870. Squid Tickle actually makes its first appearance in the Newfoundland census in 1874 with a single family of eight (a man and a woman and six children).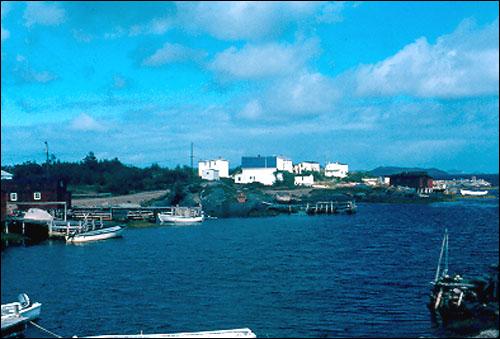 Squid Tickle, 1986
Squid Tickle was settled around the early 1870s by the Oldfords from Salvage. Other families that settled there were the Abbotts, Browns, Garretts, Hapgoods, and Vivians.
Photo by Gordon Handcock, ©1986. Reproduced by permission of Gordon Handcock.
By 1891 Squid Tickle had six families and a population of 40, and nearby Holletts Cove (recorded for the first time) was occupied by three families and 14 persons. By the turn of the century Squid Tickle had thirteen families, of which six were Oldfords, three Vivians and one family each surnamed Abbott, Brown, Garrett and Hapgood. Meanwhile in Holletts Cove (sometimes spelled Halletts) there were two more Oldfords, seven Hunters and the family of Joseph Dunn.
The settlement of Holletts Cove followed a similar pattern to that of Squid Tickle and the various coves settled by extended family groups in Happy Adventure. It each case several primary families, consisting of a father and his sons, or of several brothers who were working together in informal partnerships as fishing and logging crews, acquired a parcel of land along the waterfront, cleared it, built fishing rooms and dwellings and developed gardens. In most cases, at least in the first generation or two, sons-in-law and other kin were welcomed by these family groups but generally the cultural tradition was patrilineal, meaning property was mostly inherited by males and that at marriage females normally moved to the home places of their husbands. It is clear, however, that in the early stages of settlement all over the Eastport Peninsula the matrilineal links among families were also very strong. In the case of Squid Tickle the founding stem or main patrilinear family was clearly the Oldfords. The Vivian, Brown, Abbott and Hapgood families subsequently became attached by marriage.
Oral tradition indicates that the first to settle Holletts Cove was the family of Hunters, or as Gus Oldford put it "Joey Hunter's family". He then adds "there was Joe Dunn" and "Jimmy Hunter" and also mentions "there was Oldfords settled in down there - Rich Oldford, William Oldford". The latter Oldfords evidently were not closely related to those in Squid Tickle. Birth places and dates in parish registers fix James Hunter and his wife Eliza Brown, both of Salvage, at Holletts Cove by 1891. Caroline and Ellen Dunn were sisters married to two Hunter brothers, who settled at Holletts Cove near their brother Joseph Dunn and his wife Martha Lane. The two initial Oldford families in Holletts Cove were those of brothers, Richard and William, the sons of William Oldford of Salvage and Maria Hancock of Kings Cove.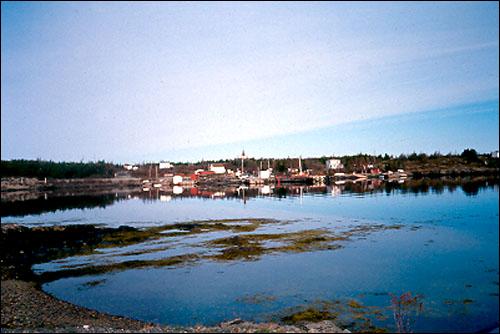 Holletts Cove (Halletts Cove), 2000
Holletts Cove was settled around the early 1890s by the Dunn, Hunter and Oldford families from Salvage.
Photo by Gordon Handcock, ©2000. Reproduced by permission of Gordon Handcock.
The migration of surnames through maternal linkages is neatly illustrated by the Bradley family. This surname was established in Salvage from the marriage in 1855 of William Bradley of Bonavista to Maria Durdle. This couple raised four sons to adulthood - Allan, Adam, Jabez and William. Jabez died in 1891 at the age of 22 years after being accidentally shot on a sealing voyage in the steamer Walrus. William died at the age of 23 years in 1894. Meanwhile, brothers Allan and Adam both married in December 1890. Allan on the 17th to Ellen Oldford of Halletts Cove and Adam the day before to Harriet Farewell of Salvage Bay. By these events, the Bradley name waned at Salvage but became rooted at Burnside and Eastport where the family name still persists.