Eastport Peninsula:
Flat Islands Affinities
Page 13
No discussion on the cultural origins and family relationships of the Eastport Peninsula could be complete without reference to Flat Islands. Settled in the 1820s, Flat Islands (a collective name for a cluster of four flat-topped island settlements- Flat (Samson) Island, Berry Head, Cowards Island and North Island) grew very rapidly during the following decades. According to Dr. Alan Macpherson, a historical geographer who had conducted demographic analysis in central Bonavista Bay, it was settled first by families from Greenspond (Jonas Hallett, an immigrant from Somerset, England and his wife Sarah; a Dyer family, and James Cheater) and Kings Cove (the Samson or Sanson families of Thomas and Jane, Joseph Sr. and Elizabeth, Joseph Jr. and Mary Conoly, James and Susannah Butt). The populating process, however, was greatly influenced by an influx of settlers from Conception Bay particularly from the Port de Grave area. By 1857 Flat Islands had a population of 210 and nine of the sixteen surnames represented in the community originated in Conception Bay. Parish records suggest that the Kelligrew and Ralph (Roff) families began the influx from Conception Bay and were followed by Butts, Crockers, Morgans, Pettens/Pettons, Philpott, Pikes and Powers/Poors. Other male lines included Hiscock from Gooseberry Islands but originally from Trinity Bay, Rogers (stemming from Timothy of Pokerdown, near Christchurch, Hampshire), Hicks and Saunders (Gooseberry Islands), Blake and Davis (Greenspond area) and Dicker (Milbourne St. Andrew, Dorsetshire). Durdle, Hancock, Heffern, Lane and Moss identify Salvage family names which appear at Flat Islands mainly through marriage into the community.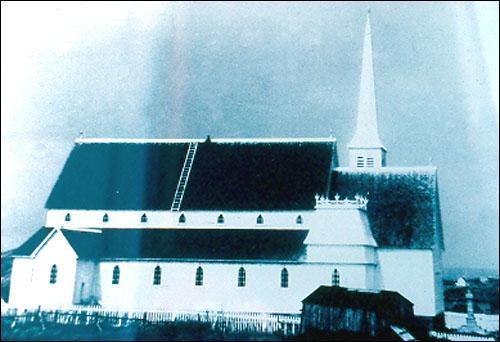 St. Nicholas Anglican Church, Flat Island, ca. 1920
St. Nicholas was built in 1909.
Courtesy of Gordon Handcock.
Flat Islands represented an area of some considerable genetic and cultural diversity mainly because the population settling there from Conception Bay were descended from a somewhat different stock of British immigrants than those of Salvage and Barrow Harbour, or of Bonavista, Kings Cove, Keels and the Greenspond area. The Flat Islands were thus a unique cultural enclave within Bonavista Bay and represented virtually a separate gene pool. Nourished by the local inshore fishery, the seal fishery and activities such as woodcutting and ship building, but most especially the Labrador fishery, the Flat Islands population increased to 891 persons by 1901. This figure represented a quadrupling of the population of four decades earlier. By 1921, however, the population had declined to 666 and by 1951 to 492. The population decline mirrored the decay of traditional economic activities especially the collapse of the Labrador schooner fishery. It also reflected the increased trend of the Flat Islands labour force to be employed in carpentry, construction and woodswork on the Newfoundland mainland and elsewhere. In the mid 1950s the Flat Islands community began to disperse. In 1957 the remaining families took part in a government resettlement scheme and the islands were left without year round occupants.
Throughout its history the Flat Islands maintained close social ties with communities on the Eastport Peninsula through intermarriage and migrations. Flat Island females, for example, formed a main source of wives for peninsular-born males throughout the 19th and early 20th centuries. Reciprocally, family names of former Flat Islands affinity became increasingly prominent on the peninsula over time. Some of these resulted from male marriage in-migration, others came through family migrations. Most family trees on the Eastport Peninsula boast a Flat Islands link. In the 1950s over 50 Flat Islands families relocated on the peninsula. The populations of Burnside, St. Chad's and Eastport were significantly increased by their arrival and the peninsula as a whole was considerably revitalized both demographically and culturally.
Burnside, 2000
The populations of Burnside, St. Chad's and Eastport were significantly increased when Flat Islands were resettled.
Photo by Gordon Handcock, ©2000. Reproduced by permission of Gordon Handcock.
During the resettlement program a number of dwellings and other structures (fish stages, the War Memorial) were also moved to the Eastport Peninsula. These structural elements now constitute a valuable part of the built architectural heritage of the peninsula. For the record it should also be remembered that the Flat Islands represented one of the Eastport Peninsula's principal markets for vegetables up to the 1950s.