Community Making:
Eastport, Happy Adventure, Sandy Cove
Page 7
The settlement of Eastport, Happy Adventure and Sandy Cove was essentially a single phased operation from the 1850s into the 1870s. Basically it involved an "up the bay" migration of families from older established cod fishing (supplemented by sealing) communities situated in relatively barren environments to well-wooded locations with some farming potential. These locations had been previously wood cutting and winter residence quarters. Eastport, Happy Adventure and Sandy Cove were permanently settled within about decade of each other and for the same basic reasons. Population pressures on space and resources in places such as Keels, Salvage and Barrow Harbour but more particularly the sustained failure of the cod fishery, both inshore and on the Labrador, in the 1860s and early 1870s, combined with government efforts to diversify the economy and especially to promote agriculture, were factors that led to the creation of new settlements in "middle" and "up-the-bay" locations. It is worth noting that the settlement of places such as Lethbridge and Brooklyn on the south side of the bay and Random Island occurred at the same time and for the same basic reasons.
Early Pioneers
Happy Adventure and Sandy Cove were settled by the 1850s and Eastport about a decade later. The early pioneers of Happy Adventure included Haywards, Powells and Wells and of Sandy Cove, Kings and Matchims. These families were previously resident at Barrow Harbour but had earlier familial links with Bonavista (Matchim, Powell and Wells), Tickle Cove (Hayward and Powell) and Old Perlican (King). Happy Adventure expanded in the early 1870s with the arrival of the Moss and Turner families from Keels and the arrival later of Browns and Hancocks from Kings Cove and Elliotts from Long Island. The Turner migrations involved two extended family branches. One headed by Abraham (or Abram) Turner and Sarah Warren, William Turner and Elizabeth Simmonds, and John Turner and Jane King settled at Upper Cove. The other branch lead by Thomas Turner and Mary Moss and another Abraham (denoted "Skipper Abe") Turner and his spouse Mary Penney anchored their hopes in Lower Cove. The Turner exodus across the waters of Bonavista Bay included at least three, possibly four, generations of a family all descended from William Turner and his spouse Rebecca Hobbs who had settled at Keels a century earlier.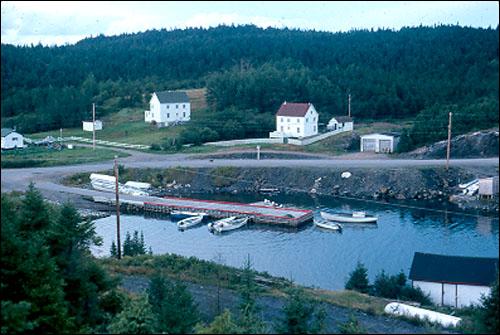 Lower Cove, Happy Adventure, 1986
Lower Cove was settled by the Turner and Moss families from Keels.
Photo by Gordon Handcock, ©1986. Reproduced by permission of Gordon Handcock.
Eastport (then known as Salvage Bay) was founded in the mid 1860s by families from Salvage and is first reported in the Newfoundland census of 1869 with a population of 47 persons. Initial settlement efforts were thwarted temporarily by a major forest fire which swept through the area in June 1867. Records show that the pioneer families included Henry and Mary Burden; William Brown and Susan Samson; Joseph Crisby/Crispey (alias Martin) and Mary Burden; Joseph Dyke and Susan Brown; Henry Dyke and Catherine Lane; John Dyke and Sarah Bull; Henry Garrett and Sarah Dyke; William Moss and Charlotte Trim; Benjamin Oldford and Elizabeth Ralph; George Squire and Ellen Day; Joseph Squire and Rebecca Bull; and William Squire and Hannah Dyke. As the surnames of the various spouses suggest most of these families were closely related through intermarriage.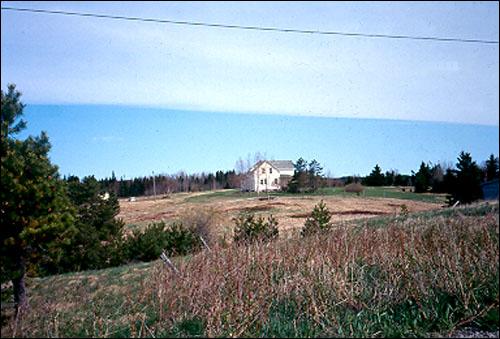 Farm Land, 2000
Land settled for farming by the William Moss family of Salvage in the 1860s.
Photo by Gordon Handcock, ©2000. Reproduced by permission of Gordon Handcock.
Salvage merchant James Burden was the main promoter of a land settlement in Salvage Bay in the late 1860s. Describing him as "the principal inhabitant of Salvage", the missionary Charles R. West noted in 1870 that Burden "has taken 120 acres [the actual amount was 107 acres] and has cleared a good proportion, having spared no expense in doing so". West claimed that this development gave employment to many poor people. He also noted that Burden "has built a nice farm house and will eventually reside there".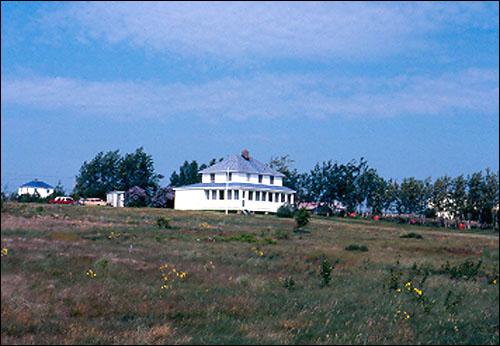 "The Cottage," Eastport, 2000
"The Cottage" is a farm house built by merchant James Burden of Salvage from 1868 to 1870.
Photo by Gordon Handcock, ©2000. Reproduced by permission of Gordon Handcock.
Burden's son, Kenneth, later wrote that his father initially had sent a family to Salvage Bay to clear land in 1865 and that in 1870 he hired an experienced farmer from England who stayed over nine years to oversee the development and operation of the estate. Kenneth also confirmed that the farm house, which still stands, was completed by 1870 and wrote that in the years following tons of potatoes, turnips and other produce were raised.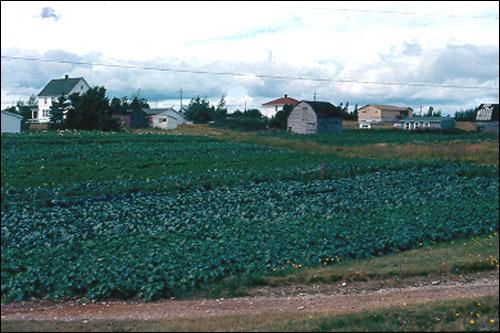 Vegetable Gardens of Bull Family, Eastport, 1983
Bull family vegetable gardens, formerly part of the Burden estate.
Photo by Gordon Handcock, ©1983. Reproduced by permission of Gordon Handcock.
James Burden certainly played a prominent role in the early development of Eastport and in shaping the kind of place it became. He was able to acquire the prime piece of agricultural land in the area and then capitalized the development of what was, from all accounts, a fairly prosperous farm. Unfortunately, after his death in the 1894, the Burden farm gradually fell into disuse and became more or less derelict. Later parts of it were later acquired by other families (Babstock, Bradley, Brown, Bull, Crisby, Squire and Tulk) and put into agricultural production. It is also well known that families and young men (among them Crisby, Farwell, Lane, Napier and Squire), who came from Salvage to work on Burden's farm, acquired their own homesteads. They became resident farmers, or farmer-fishermen and farmer-loggers, and many of them maintained these occupational patterns up into the post-Confederation era.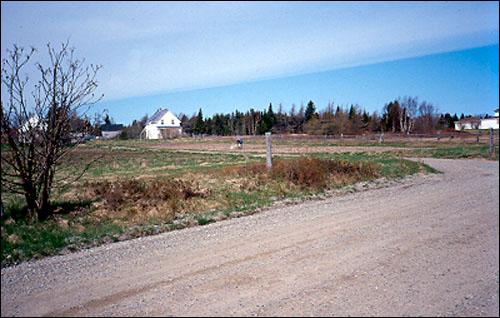 Crisby Homes, Eastport, 2000
Crisby homes and fields near "The Cottage".
Photo by Gordon Handcock, ©2000. Reproduced by permission of Gordon Handcock.
It should be understood that Eastport was not created solely under the patronage of James Burden. The historical record makes it very clear that others such as Joseph Dyke of Clay Cove, Henry Dyke and his son John on the Northside, William Moss situated next to Burden behind northwest beach, and the Squire brothers (Joseph, George and William) on lots extending landward from behind southwest beach and other early settlers took in land and began developing them quite independently of the Burden enterprise.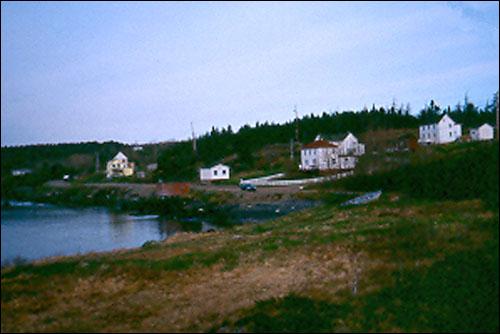 Clay Cove, Eastport, 2000
Clay Cove, Eastport was settled by the Dyke family in the 1860s.
Photo by Gordon Handcock, ©2000. Reproduced by permission of Gordon Handcock.
In other words, Eastport in the early 1870s consisted of the Burden farm and a scattering of independent homesteads, each recently occupied and in the process of being cleared and developed for farming. Eastport was at that time (and still is) one of the most widely dispersed rural settlements in Newfoundland, a pattern reflecting its origins.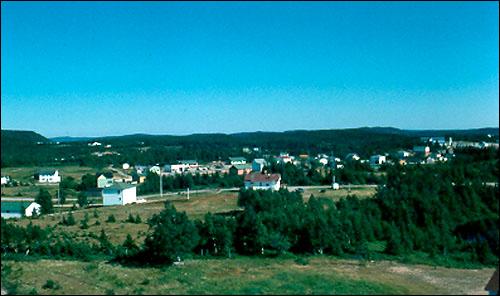 Eastport, 1975
Eastport, looking east from the old water tower. Note the dispersed pattern of homesteads, land clearings and natural woodland.
Photo by Gordon Handcock, ©1975. Reproduced by permission of Gordon Handcock.
Adapting to Agriculture
Despite being somewhat compelled by social and economic circumstances to turn to farming as a means of livelihood, the families who moved from Salvage to Salvage Bay in the 1860s and early 1870s and acquired land did not adapt easily at first. Much more inclined to be fishermen, the menfolk in fact had little mind (or time) for agriculture, a point noted and lamented by several of the resident clergy. While most families cleared land, planted gardens and kept livestock, much of the care and nurture of crop, poultry and animals fell into the domain of women and children and production was mainly on a subsistence level. About 1874 the cod fishery not only recovered but experienced a relative boom period which lasted several decades. Most of the men who had moved to Eastport, Happy Adventure and Sandy Cove, thus continued to follow their former tradition of going to Labrador. This trend continued well into the 20th century. As the Labrador floater fishery began to decline in the 1920s and 1930s, however, more and more families found it more to their advantage to take up agriculture on a commercial basis. Local historian, the late Harold Squire, gives due credit to Kenneth Farwell, formerly an apprentice of James Burden, as the person who reestablished farming on a commercial basis at Eastport after the turn of the century. He also points out that the drastic decline of the Labrador fishery profoundly influenced the increase in farming activity thereafter.
In the 1930s and 1940s many families gave up the Labrador fishery and turned to the land as the main basis of their livelihood. In the 1945 census, some 40 men at Eastport were listed as farmers. At this stage virtually every family was, to some extent, farming root crops and keeping livestock on a commercial basis.