Eastport Peninsula:
Community Origins
Page 6
Salvage is the unrivaled historic community of the Eastport Peninsula. Though now at the end of the line so to speak (i.e. the road), Salvage was the earliest and most substantial settlement on the peninsula and, until the 1950s, the hub of the local settlement system. The centrality of Salvage in the days when settlements were mainly linked by sea is graphically illustrated in a description given a 19th century missionary, the Reverend Frederick J. J. Smith. In 1878 he likened the layout of his mission, consisting of ten settlements mostly on islands, to the shape of a spider: "I live on the body [Salvage] and travel to and from over the legs one after the other". In due course Salvage became the mother settlement of Eastport, Burnside and St. Chad's (formerly Damnable or Damn The Bell). Salvage men and women were also among the founders of Sandy Cove and Happy Adventure and one of the main groups to develop Sandringham.
Salvage
Situated near the seaward side of a prominent and barren headland, but near prime codfishing grounds and the migration routes of harp seals, Salvage includes two main harbours, or basins, Salvage Harbour (locally "The Harbour") and Bishops Harbour. To these can be added neighboring sites named Dark Cove, Wild Cove, Sailors Island, Backside and The Point. Salvage Harbour itself is nearly circular and is almost completely land-locked by bold surrounding hills. Although little danger could befall any vessel sheltering within it, the approach known as the Motion (also the passage into Bishops Harbour) is difficult and dangerous. It is, as the Newfoundland Pilot warns, "safe in ordinary weather for small craft with local knowledge" but "must not be attempted in a heavy sea". When Archdeacon Coster visited Salvage in the 1820s, he confessed that "rugged as the spot is, it has always appeared to me the most interesting little settlement in the Bay of Bonavista, if not in Newfoundland". Coster's comments still ring true. One can still be awed by the formidable natural setting, particularly the imposing hills and the daunting seascape often displaying powerful motions and disguising "hiding rocks and dangerous shoals".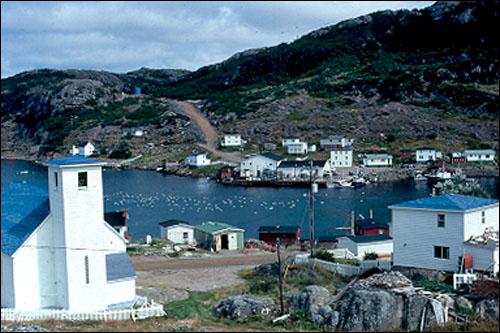 "The Harbour", Salvage, 1981
"The Harbour" is well protected by steep, encircling hills. Rugged but attractive.
Photo by Gordon Handcock, ©1981. Reproduced by permission of Gordon Handcock.
With wooden dwellings (mostly traditional vernacular houses), fish stores and stages (perhaps the best collection surviving in Newfoundland) and other structures neatly adjusted to the sinuosities of the shoreline and well-suited to the requirements of the inshore fishery, Salvage is a kind of synthesis of all that Newfoundland outports are supposed to be. For the Eastport Peninsula, however, Salvage is more than that. It is also a meditation on origins and heritage.
Eastport
Eastport and Sandy Cove are remarkable for their splendidly white sandy beaches, backed by steep sand and clay embankments. Sandy Cove, most of Eastport and part of Happy Adventure share a gently undulating terrace composed of sand, clay, silt and gravels. This terrace, according to geomorphologist Arthur Dyke, a native of Eastport and a descendant of one of its first settlers, represents the remnants of a Pleistocene glacial delta, a feature consisting of glaciomarine and glaciofluvial materials deposited during deglaciation of the coastal area. According to Dyke, the surface of the delta was subsequently modified by surface erosion to provide today's relatively flat landscape. In geomorphological terms, the delta is a very youthful topographic feature in marked contrast to the very ancient Proterozoic rocks exposed along much of the coast and in the surrounding hills, ridges and headlands particularly around Salvage. In its own right the glacial delta represents a multidimensional resource. It gives a very special environmental character to the peninsula and it has helped shape life and labour in this area. It was, for example, originally thickly wooded and represented an excellent source of pine, spruce and fir timber and a well-sheltered area for overwintering by early residents of Salvage. Its soils represents one of the best potential farming areas in eastern Newfoundland. Today its beaches and pleasant pastoral-maritime setting afford an exceptional retreat for holiday makers and retirees.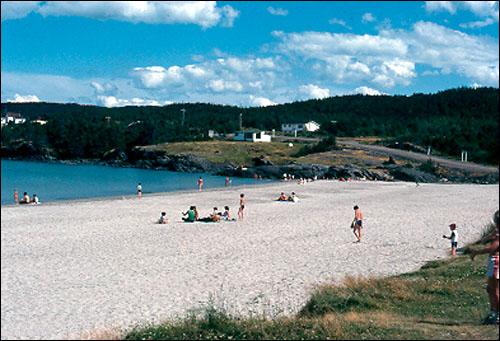 Southwest Beach, Eastport, 1983
This beach is a major recreational and tourist resource.
Photo by Gordon Handcock, ©1983. Reproduced by permission of Gordon Handcock.
Eastport manifests a cultural landscape with an agricultural heritage. Early settlers took in land varying in size from a few acres up to about 100 acres, in the case of merchant James Burden, but mostly in the 10-15 acre range. These lots, mostly quadrangular in shape, were widely dispersed in homestead fashion. A fairly complex road and path system knitted the community together. By the 1940s much of the land suited for pasture and root crops was under utilization.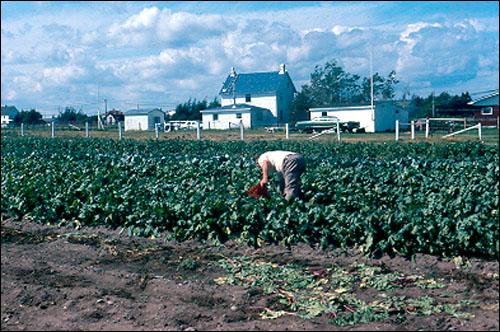 Crisby farmland, Eastport, 1985
Root crops on farmland of the Crisby family.
Photo by Gordon Handcock, ©1985. Reproduced by permission of Gordon Handcock.
Farming activity declined rapidly after Confederation. Since then much of the former farmland along the main roads has been used for housing and commercial activity, but a goodly portion has been restored to woodland by natural regeneration. Older houses are set back from the main roads, newer dwellings follow the suburban mode. Grassy fields interspersed with mixed woodlands and some cultivated gardens impart a pastoral and parklike character rare to the "Rock".
Sandy Cove
The pioneers of Sandy Cove (the Kings and Matchims formerly of Barrow Harbour) occupied land lots (roughly rectangular in shape) on level ground above and behind a steep sand embankment that rises some 75 feet from sea level. These lots were divided by a road running parallel to the "bank". This created an orderly linear settlement with dwellings disposed along both sides of a roadway. Each family occupied a garden for farming. Vegetable crops and livestock helped supplement income from fishing and logging and, for most families, support a mixed household economy.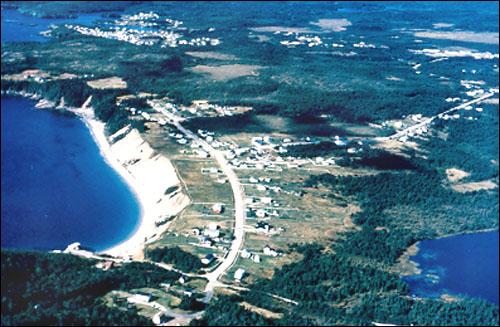 Sandy Cove, September 19, 1986
Glacial delta exposed at Sandy Cove Beach. Note the orderly settlement pattern.
Photo by Gordon Handcock, ©1986. Reproduced by permission of Gordon Handcock.
Subsequent families at Sandy Cove infilled and expanded settlement along the original road but some (late comers) also moved inland and settled along a road to Eastport. Today Sandy Cove has a neat T-shaped layout displaying an array of both traditional vernacular outport houses and newer suburban styled dwellings.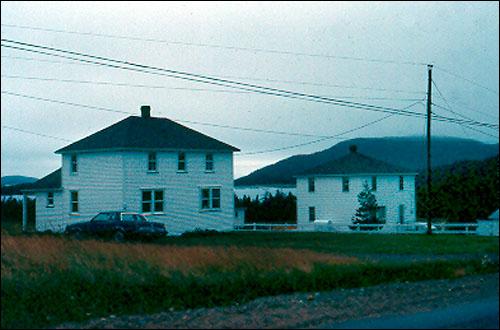 Sandy Cove, 1988
Traditional houses in Sandy Cove.
Photo by Gordon Handcock, ©1988. Reproduced by permission of Gordon Handcock.
Sandy Cove beach faces southward unto Newman Sound and lies alee of prevailing westerly winds and the numbing easterlies that so often afflict visitors to Eastport beach.
Sandy Cove has maintained a population level in the range of 150-175 persons over the last 60-70 years. Like many outports it now functions primarily as a residential base from which residents commute regularly or seasonally to work outside. For others Sandy Cove is a place where attachments are maintained in local primary activities such as fishing or in services. For others it is a place for retirement or as a holiday destination. Community functions and services over the years have been largely shared and integrated with those of Eastport and Happy Adventure. Sandy Cove nourishes the reputation as one of the best kept rural communities in the province.
Happy Adventure
Happy Adventure is an evocative place-name, pleasant-sounding and euphonic. When bestowed in 1817 it was probably intended to convey an expression of well-being, or to reflect a positive experience by the person or persons who named it. But it also could be taken as a name that looks to the future with hopeful expectation. It has been speculated that Happy Adventure commemorates the name of a ship belonging to the notorious 17th century pirate Peter Easton. A more likely explanation is that it was named by George Holbrook, a British Admiralty hydrographer, who surveyed Newman Sound in 1817 and sought sanctuary there during a storm. Whatever its provenance, Happy Adventure is a name that wears well and can be accounted one of the community's cultural assets.
On the landscape Happy Adventure is a settlement consisting of three distinct neighbourhoods clustered around the well-defined inlets of Upper Cove, Little Sandy Cove and Lower Happy Adventure (including Lower Cove and Powells Cove). It also includes a recent landward expansion "in over the gravelly hill" (an escarpment of sand and gravel) along the road toward Eastport. This area, locally the "Old Farm Road", where Happy Adventure takes in a part of the glacial delta, was initially used by the Turners of Lower Cove for vegetable gardens to supplement their fishing and logging enterprises.
Powell's Cove, Happy Adventure, 1986
Powell's Cove was settled in the 1850s.
Photo by Gordon Handcock, ©1986. Reproduced by permission of Gordon Handcock.
Some pioneering families at Happy Adventure were mostly dependent upon exploiting local natural resources while others such as the Lower Cove Turners owned schooners which were built in Newman Sound and used for cod fishing on the coast of Labrador and in the Newfoundland coastal trade. By the turn of the century, many families in Happy Adventure were combining elements of a local economy (inshore fishing, farming, and logging) with seasonal work away from home. This trend increased with the development of the pulp and paper industry. Working "in the lumber woods" (Terra Nova, Gambo, Badger and Howley) during the winter and on spring drives of pulp logs became an established part of a seasonal round until the 1950s. The focus on work away from home then shifted to seasonal employment in construction and to daily commuting.
The population of Happy Adventure peaked in 1956 when 448 persons were recorded. It has declined steadily since and was reported at only 285 in 1996, about the same level as in 1921. Nevertheless, Happy Adventure retains attraction as a setting for many weekenders and summer visitors. Happy Adventure also still maintains an involvement in the inshore and middle distance fisheries and the local economy is supported by a fish processing plant.