Eastport Peninsula:
Inter-Community Family Relationships
Page 12
Broomclose and Sailors Island
Families of Salvage including Bishops Harbour and Dark Cove were very closely intertwined through marriage and migration with those in nearby places especially Broomclose Harbour, Sailors Island, Barrow Harbour, Little Harbour and Wild Cove. In many respects the combined populations of these named localities formed one community. The former settlements of Broomclose Harbour and Sailors Island may be used as to illustrate inter-community family relationships and migrations.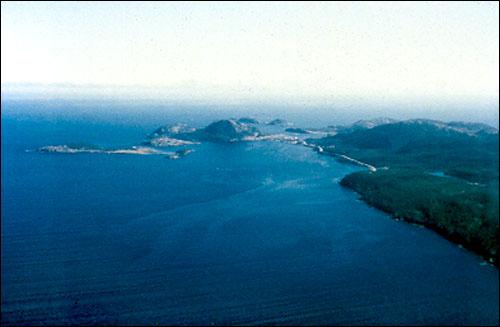 The Headland of the Eastport Peninsula at Salvage, September 19, 1986
An aerial view of the headland of the Eastport Peninsula at Salvage showing the low lying Sailors Island, Wild Cove, Dark Cove and Bishop's Harbour.
Photo by Gordon Handcock, ©1986. Reproduced by permission of Gordon Handcock.
Broomclose [or Broom Close] is a long and narrow rectangularly shaped harbour. It has a two-mile indraft but averages only about 300 yards in width. It bites deep into the headland just southward of Salvage. Although one of the more remarkable natural features on the Eastport Peninsula, it is generally not well known except to Salvage fishers. Shoals, rocks and surging seas at its mouth do not make it an easy harbour to enter. Inside, its shoreline is characterized mainly by precipitous and beetling cliffs that admit only a few places where boats could land with any safety or convenience, or where fishing premises could be built. Despite its forbidding qualities, a few families favoured it and managed to make a living in the fishery.
After the 1820s, several spots in Broomclose Harbour (named Hapgoods Cove, Hefferns Cove and Babstocks) were inhabited by family units surnamed Abgood/Hapgood, Knapper/Napper (Napier), Babstock, Price, Barnes, Heffern/Hefferen/Heffernan and also briefly Barron and Quinton. The earliest recorded families were Joseph and Susanna Knapper (Napper/Napier), formerly of Bonavista, and Jacob and Joanna Abgood/Hapgood of Keels (Hapgood originally from Wimborne Minster, Dorsetshire). Both couples resided in Broomclose in 1831 according to baptismal records of Greenspond. The Broomclose families later relocated to surrounding communities - the Babstocks to Salvage, Sailors Island, Salvage Bay and Happy Adventure, Napier to Sailors Island, Salvage Bay and eventually to Sandy Cove, and the Hefferns and Hapgoods to Salvage. Occasionally the Babstock and Heffern families at Broomclose were included with the census returns and directories of nearby Barrow Harbour. It seems rather they dwelt in Broomclose but also fished out of Barrow Harbour Run at Little Barrow Harbour.
In 1836 the census records Broomclose with two families and a population of seven persons. By 1857 the population had risen to 25 persons in three households. This would have probably included the families of William Babstock and Ann (nee Price); Robert Barnes and Ann (nee Babstock) and William Heffernen and Susannah (nee Lush). The Bonavista Methodist register records the marriage of William Heffern of St. John's and Susannah Lush at Bonavista in 1846. Meanwhile, a family tradition suggest an Irish origin for the Heffern name. In 1901 Broomclose reached its largest censused population ever with 55 persons. A directory compiled from that census identified 12 families, six of them surnamed Heffernen under the headships of John, William, Henry, Frederick, Alex and James. The other six were Hapgoods headed by Richard, John, George, Abram, Andrew and Richard T. By 1911 most of these families had moved away and the census records only three persons.
According to a burial record, Ellen Moss, daughter of John Moss and his wife Elizabeth Brown, was born on Sailors Island in 1836. This may be an error since the next dated event on this small low lying island off Salvage is the baptism of Edward Moss a son of John and Elizabeth Moss in 1858. Parish registers establish the primacy of John and Elizabeth Moss as the pioneer family on Sailors Island and record other early family units by the dates of children baptised as follows:
Henry Moss and Sarah Oldford (a daughter Mary Jane 1859);
Thomas Moss and Ann Hanlan (a son James 1858, also George 1856 and Henry 1858);
Henry Moss and Catherine Gould (son Frederick 1860);
Samuel Napper and Jane Poor/Power (son Joseph 1858, daughter Elizabeth 1859);
James Lane and (1) Ann Oldford (son Kenneth 1859); and (2) Ann Babstock (son Arthur 1863);
Henry Lane and Anne Gould (son Frederick 1860);
Joseph Lane and Hannah Elliott (son Charles 1860);
Benjamin Oldford and Elizabeth Ralph (daughter Susannah 1865);
James Lane and Ann Moss (son Joseph 1869);
John Babstock and Jane Burden (daughter Amelia Ann 1870);
and Thomas Babstock and Sarah Burden (son George 1873).
While most families on the peninsula can trace an ancestry through Salvage, Barrow Harbour, Broomclose, Sailors Island and Little Harbour (Hancocks), other families came into the area from other quarters. As indicated the peopling of Happy Adventure involved an amalgamation or blending of initial families (Hayward, Powell and Wells) from Barrow Harbour with Babstocks from Broomclose as well as Mosses and Turners from Keels, Browns and Hancocks from Kings Cove and Elliotts from Longs Island (but formerly of Keels).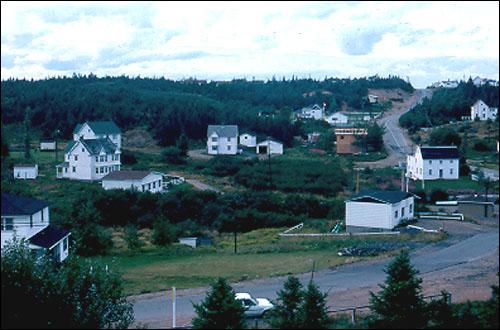 Turner Dwellings, 1986
Turner dwellings in Lower Cove, Happy Adventure.
Photo by Gordon Handcock, ©1986. Reproduced by permission of Gordon Handcock.
The Moss family is one of the most extended patrilines in central and southern Bonavista Bay. Moss families were among the earliest settlers in most communities on the Eastport Peninsula and have retained a presence in them ever since. The surname denotes male descendants of John and William Moss who were settled at Keels in the 1780s or earlier. Their reputed English origin, by family tradition, was the famed town of Corfe Castle in Dorsetshire.
Lovell's directory (1871) based on the Newfoundland census of 1869 records a population on Sailors Island of 52 persons in six household units:
Babstock George, fisherman
Lane James, fisherman
Moss Henry, jun., fisherman
Moss Henry, sen., fisherman
Moss John, fisherman
Oldford Benjamin, fisherman
George Babstock formerly resided at Broomclose and was the son of Thomas Babstock, a native of Oborne, Dorsetshire, England and Sarah Stockley of Barrow Harbour. James Lane and all other Lanes in and around Salvage most likely descended from Joseph Lane and Mary Stockley of Barrow Harbour.
In its prime in the latter part of the 19th century, Sailors Island had over twenty families and a population of about 80. A school-chapel was opened in the 1870s but by this time some families had begun to relocate up the bay. In 1901 family names represented on Sailors Island were Babstock (James, William and John); Lane (Wm. of Joseph, Wm. of James, Levi and Reuben); Moss (Wm. of John, Allan, Stephen, Robert, Frederick, Wm. of Henry, Edward, Abraham and Thomas) and Ralph (Stephen, Charles, Thomas and Moses). The Ralph family, formerly of Flat Island and Port de Grave, came to Sailors Island with Stephen Ralph and his spouse Elizabeth Bright. Evidently Stephen Ralph had winter quarters in Troy Town (Traytown) and was one of the pioneers of that community. Sailors Island was gradually depopulated early in the 20th century. The census of 1921 records only 31 persons. Sailors Island is not included in any subsequent census. A few of the last residents moved their dwelling houses across Sailors Harbour to reside at Dark Cove. Several of these homes are still inhabited.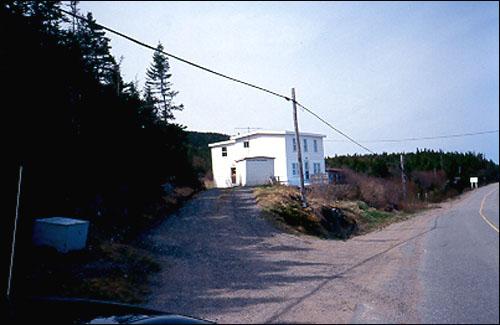 Lane's House, Dark Cove, 2000
Lane's house was built on Sailor's Island but relocated to Dark Cove in the 1930s.
Photo by Gordon Handcock, ©2000. Reproduced by permission of Gordon Handcock.
Some Sailors Island families moved to reside in other communities on the peninsula (Salvage, Eastport, Sandy Cove and St. Chad's) but others migrated to urban and industrial centres elsewhere.