Eastport Peninsula:
Permanent Settlement
Page 5
Origins and Development of Permanent Settlement
Modern day settlement on the Eastport Peninsula traces its origins from families who began establishing permanent residency in Barrow Harbour and Salvage from the 1780s onward. By the 1820s Salvage had become a thriving community of inshore fishing families and had a school and a church. The founding families and those that followed were almost exclusively of Wessex stock, that is, English immigrants who came from the English counties of Dorsetshire, Hampshire and Somerset. Migration into the Salvage-Barrow Harbour area continued but was virtually completed by the 1860s.
Settlement Expansion and Economic Diversification
By the 1850s growing outer headland and island communities of Bonavista Bay were experiencing difficulties brought about by mounting pressures on both resources and space. Many families turned to cod fishing on the coast of Labrador each summer. The Labrador schooner fishery grew apace at Salvage from the 1840s. In addition a significant secondary migration began to establish in "up the bay" locations in the latter half of the 19th century. This resulted in the founding of new communities in former "winter quarter" localities including Happy Adventure, Sandy Cove, Eastport (Salvage Bay), Burnside (Squid Tickle and Holletts Tickle) and St. Chad's (Damnable).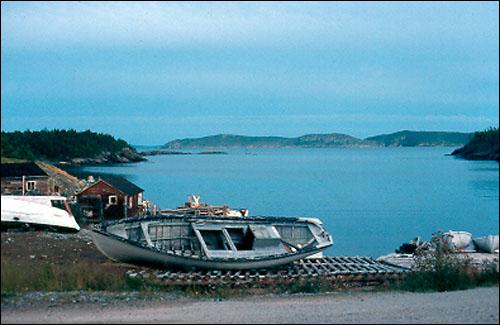 Upper Cove, Happy Adventure, 1986
This area was settled by the Turner family of Keels.
Photo by Gordon Handcock, ©1986. Reproduced by permission of Gordon Handcock.
The Labrador codfishery continued to play a vital economic role in the life of the new communities but was increasingly supplemented with localized land-based activities at home such as logging, lumbering and farming and where possible by the inshore fishery. In the inshore fishery, up-the-bay places such as Happy Adventure and Burnside were less productive than Flat Islands, Salvage and Barrow Harbour for cod, salmon and seals but probably better for taking lobster, herring and squid.
Traditional Period
The period from about 1900 up to the 1940s may be called "Traditional" mainly because during this period a style of life and livelihood which had evolved during the late 19th century was perpetuated. This phase was characterized by the consolidation of mixed commercial economies in which farming and subsistence activities played key roles particularly throughout the Great Depression, the so-called "dirty thirties". During this interval the more socially marginal and isolated settlements of Barrow Harbour, Broomclose, Sailors Island and Little Harbour were abandoned voluntarily in favour of communities with churches, schools and economic activities outside the fishery. This period also witnessed the construction of an inter-community road network on the peninsula linked to the trans-Newfoundland railway at Alexander Bay Station and the creation of a government-sponsored land settlement Sandringham. In other words, the framework of the present settlement system was becoming established and firmly fixed.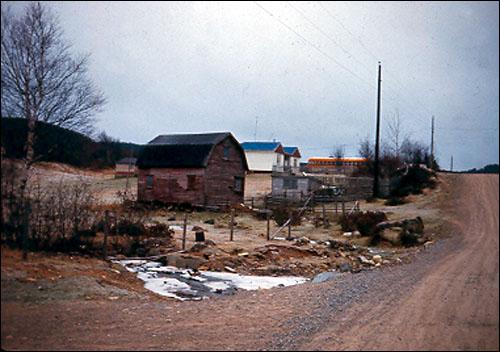 Farmstead, Sandringham, 1969
Photo by Gordon Handcock, ©1969. Reproduced by permission of Gordon Handcock.
The "Traditional Period" was also a period of out-migration and virtually no in-migration. Up to the turn of the century, the Eastport Peninsula had been able to sustain most of its own population growth through settlement expansion and migration within the local area. From this time, however, many young people found it compelling to move further afield. This trend intensified as the Labrador schooner fishery declined. It was also encouraged by increased opportunities for employment with the railway, in "the lumber woods" (especially in cutting pulp wood), at the pulp and paper mill in Grand Falls and from World War II in construction (particularly carpentry at different places but notably at Gander and St. John's). In this interval there was also a significant emigration from the Salvage area to the United States, particularly to Massachusetts.
Modern Times
The recent decades represent a period of new directions, some would say of "revolutionary" change. The post World War II and Confederation era has witnessed socio-economic changes, replacements, innovations and adaptations so profound that many features of traditional community relationships and functions have been almost totally erased. These changes have resulted in a fundamentally new way of life, with new outlooks, values and expectations. Recent changes could be characterised as the adoption of a style of life that is essentially urban but that still retains customs, traditions and rural qualities from the Newfoundland outport heritage. Certainly the communities of the Eastport Peninsula still strongly maintain their respective personalities of place and cultural heritage even as they adjust to changing times. To a large degree though The Peninsula has become one community with its different places interacting socially and economically with each other, and with the outside world, on a daily basis.