Partnered Projects from the Old Site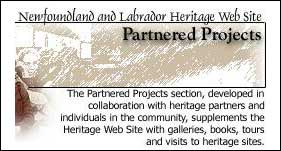 In the past the Newfoundland and Labrador Heritage Web Site had partnered with organizations from around the province to create 23 special projects. On the old site these projects were displayed as separate sites with their own unique web pages.
With the design of the present layout most of these projects have been absorbed into the main site. A few have kept their original pages, and a few have be discontinued.
Below is the list of all 23 projects with links to these sites if they still remain as they were, links to Table of Contents pages if they have been absorbed, or links to Announcement pages if they have been discontinued. They are listed in the same order in which they appeared in the Partnered Projects page on the old site.
Permanent Collection of The Rooms Provincial Art Gallery (formerly the Art Gallery of Newfoundland and Labrador Permanent Collections)
Archives and Special Collections (formerly Bert Riggs: Memorial's Archival Treasures)
A Brief History of the Colonial Building (formerly Colonial Building: 'If These Walls Could Talk')
Ferryland and the Colony of Avalon (formerly Colony of Avalon Web Site)
The Confederation Debate: 50 Years and Counting
Dictionary of Newfoundland English Online
Government House: The Governorship of Newfoundland and Labrador
Grade 8 Social Studies (formerly Grade 8 History Curriculum Guide Reference Site)
Newfoundland & Labrador Studies 2205 (formerly Grade 11 NLS Supplementary Reading Site)
Let The People Decide: Newfoundland 1947-1949
Newfoundland & Labrador in the First World War (formerly Newfoundland and the Great War)
"Once Upon A Mine": An Online Book
Registered Heritage Structures of Newfoundland and Labrador
Silk Robes and Sou'westers: A History of Law and the Courts in Newfoundland and Labrador
Tickle Harbour: Biographies and Music
Women's History Walking Tour of St. John's
Margaret Hawco: Child Labour in Bell Island Mines
Mount Pearl Junior High School
Newfoundland Folk Architecture (formerly Andrew Woodland: Saltbox Architectural Styles)
Stephenville Integrated High School