Women's History Group Walking Tour
In 1997, five women - Angela Drake, Peggy Keats, Linda Cullum, Susan Morrison and Maeve Baird - came together to form the Women's History Group in St. John's, NL. They shared a common interest in unearthing and promoting the history of women's contributions to the social, economic, political, cultural and domestic life of Newfoundland and Labrador. Building on earlier research carried out by the Johnson Family Foundation in 1991, they searched archives and conducted interviews to develop the "Women's Walk," published with help from Status of Women Canada. With its publication in 1997, they looked for ways to reach a wider audience. The Women's Walking Tour on the Heritage Web site in 1998 is the result.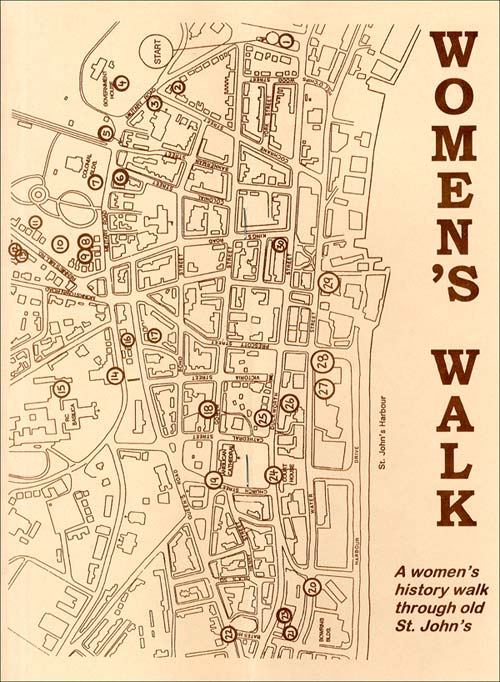 Women's Walking Tour Booklet
Cover of a booklet published by the Women's History Group in 1997.
© 1997, Women's History Group
The main goal is to increase public knowledge and awareness of women's contributions to the history and development of the province in a format that is accessible and fun to use. Usually, men are written up in historical accounts of Newfoundland and Labrador; women's contributions are hidden. In historical accounts that do include women, it is often those of higher class standing - "women worthies" - married to men of wealth and power, whose lives and work are profiled. In this project, the lives of women from across the spectrum of class, race, marital and religious boundaries are included. Working-class women, shop clerks and domestics are profiled alongside the wives of governors.
The Women's Walk booklet is distributed to libraries and schools, and is available at tourist outlets for visitors and local people to experience women's history in St. John's. The Women's Walk on the Heritage Web Site introduces a whole new audience to women's stories.
The Women's Walk is an accessible and dynamic model for promoting women's history. It has generated interest from other regions and sites in Canada as well as in the Philippines. Groups are taking up this model for their own uses and ideas. It is hoped that the Women's Walk will encourage more people to document and preserve the history of women's lives in their own communities.
For an adapted version of the booklet guide visit the Women's History Walking Tour Guide.