Eastport Peninsula Conclusion:
Cultural Preservation
Page 16
The most important cultural event in the human history of any area is its founding by a group of settlers from the outside. The pioneers establish both the biological foundations (the gene pool) and the social and cultural character on which the area subsequently grows and develops. The founding families possess the human values including the organization of space to guide relations among themselves and with the wider world. The norms, beliefs, customs and sets of values derived from forbears provide the members of a group with a sense of identity and the guidelines in trying to gain a livelihood and live a decent life. These norms, beliefs and customs represent the elements of heritage drawn from history. To preserve culture and heritage it is necessary to encourage communities to perpetuate a host of historical activities and traditions, rituals and ceremonies which are embedded in language (including dialect, folklore, storytelling, literature and music), institutions (family, community and religious activities), and the cultural landscape (historic buildings and architecture, settlement patterns, land uses and spaces). These elements are the central features of culture that need preservation and reproduction. Cultural heritage is said to be as important to a group in maintaining its identity as memory is to an individual.
Until recently the Eastport Peninsula has been occupied almost exclusively by a homogeneous cultural group whose ancestors came into the area between the 1780s and 1860s. The settlers were a common stock of migrants with a cultural ancestry derived almost entirely from the English counties of Dorsetshire, Hampshire and Somerset. The pioneers came mainly from among the servants and employees transported to Newfoundland in the cod fishery by merchants and ship owners of Poole. Those choosing to continue in the Newfoundland fishery as a way of life, settled around the shores of convenient harbours near fishing grounds and created communities of fishing families. In doing so it was necessary for them to make numerous cultural adjustments and adaptations. Places such as Salvage and Barrow Harbour were fundamentally different natural environments and work places from the agricultural villages, market towns and manufacturing places of their English homeland.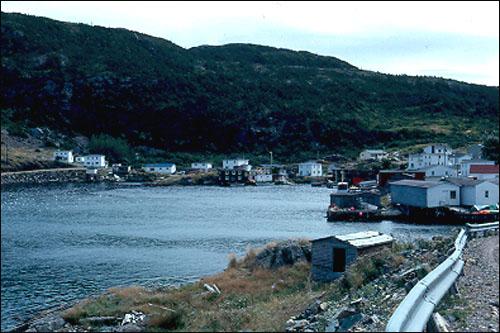 "The Harbour", Salvage, 1981
Places like Salvage had different natural environments and work places than the English counties of Dorsetshire, Hampshire and Somerset.
Photo by Gordon Handcock, ©1981. Reproduced by permission of Gordon Handcock.
Making a living in Bonavista Bay in the cod fishery required a completely new set of routines, skills, knowledge and outlooks from those needed back home in and around the Blackmore Vale, the Somerset borderlands or the Hampshire New Forest regions where the typical forms of employment might include being a labourer in agriculture, a dairyman, a shepherd, a mason, a butcher, a quarryman or a carter. In other words survival in the Newfoundland milieu demanded the acquisition of a completely new set of skills and abilities. Early settlers developed new strategies to sustain themselves, and their descendants subsequently improved on these or adopted others to exploit natural resources and to cope with the much more rigorous climatic and natural environmental conditions of Newfoundland.
Early settlements such as Salvage, Barrow Harbour and Flat Island initially were settled as inshore cod fishing stations but soon developed other economic functions related to the seal fishery, the distant Labrador cod fishery, fall and winter wood cutting activities and other pursuits such as boat building and subsistence farming. From the outset these communities consisted of extended family units, or kin groups, living in close proximity to each other. The extended families functioned as socio-economic units both in making a living and in support of all individuals within the kin group. Most kin groups were paternal which is why most settlements can be strongly associated with specific surnames, and conversely family names with specific outport communities. The attachment and bonding of families with specific places helps explain why it is more common to ask a resident "where do you belong?" rather than "where do you come from?" or "where were you born?" On the Eastport Peninsula by predominance and association one readily identifies Sandy Cove with the surnames Matchim and King, Happy Adventure with Turners, Powells and Elliotts, Burnside with Oldfords and Ralphs, and St. Chads with Hunters, Martins and Trokes. From the surname perspective Napier evokes Sandy Cove, Bull and Crisby are most closely linked with Eastport, and Heffern and Sturge belong to Salvage. Some surnames have spread into several communities and are more closely linked to the peninsula as a whole rather than with specific places. These families would include the surnames Brown, Burden, Babstock, Dyke, Hapgood, Han(d)cock, Lane, Moss and Squire. Historically these peninsular family names were affiliated at one time or another with Salvage. In more recent times surname patterns and community associations have become more complex as the Peninsula becomes increasingly integrated. While many of the older, more historic surnames have weakened through out migration and lowering numbers of births, many new family names have been introduced into the area recently through in-migration, mostly because of retirees and elderly selecting the Peninsula as a place of retirement.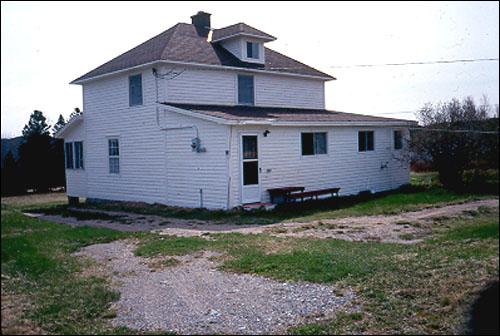 "The Cottage", Eastport, 2000
"The Cottage" is a farm house built by merchant James Burden of Salvage from 1868 to 1870.
Photo by Gordon Handcock, ©2000. Reproduced by permission of Gordon Handcock.
While early settlers found it necessary to forge new ways of making a living and to adopt new strategies of survival, they nonetheless retained and perpetuated many of their former cultural traits and social customs particularly those related to belief systems, language, folklore and habitual behaviour. The vernacular dialects of Dorsetshire and adjacent counties from the 18th century have been well preserved on the Peninsula particularly among the more elderly. These include such traits such as the habitual dropping of the letter "h", before a vowel or adding one on as in "Appy Hadventure", and the use of non-standard grammar, phrases, vocabulary and pronunciation.
On the spiritual side families on the Eastport Peninsula tend to retain rituals and traditions related to the tenets of English Protestantism. The churches and schools formally represented the main public institutions around which community life was focused. Clergymen and teachers once played very key roles in setting and upholding social and moral standards though the most fundamental unit in establishing behavioural and cultural norms was the family. Most families on the Eastport Peninsula have a cultural legacy associated with the teachings of the Anglican (Church of England) Church or with the United Church (formerly Methodism)- which by ancestry links them also with the two major Christian denominations of Wessex.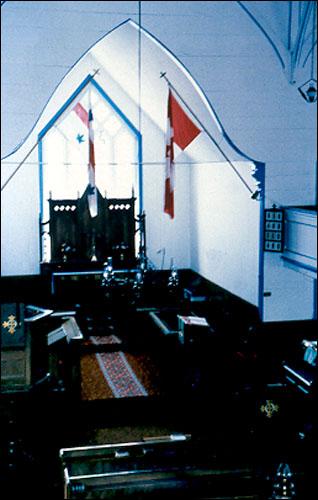 St. Stephen's Church, Salvage, 1990
Built from 1858 to 1862, this Anglican church is the oldest structure on the Eastport Peninsula.
Photo by Gordon Handcock, ©1990. Reproduced by permission of Gordon Handcock.
The Wessex settlers of the Eastport Peninsula brought with them and practiced to a large degree values associated with English puritanism which emphasized such notions as the strict observance of the Sabbath (Sunday), obedience to parental, civil and religious authority, thriftiness, and frugality. Hard work was regarded by most as an important virtue, and idleness and wastefulness were generally detested. Methodism demanded a stricter moral code than Anglicanism and forbade the use of alcohol, dancing and card playing. Wessex secular and folk traditions, however, added new dimensions to the belief and behavioral systems. As in their former English homeland, the people who settled in central Bonavista Bay were much given to superstitious beliefs and inclined to be somewhat fatalistic about life. At the same time they were, and are, inclined to be extremely good humoured and sharp witted even in circumstances of difficulty.
---
ACKNOWLEDGEMENTS
Numerous colleagues, relatives, friends, former students and informants have shared in developing this paper. Their input has been an important part of it. In particular I thank my colleague and friend Dr. Chesley Sanger for helpful advice and encouragement. The paper draws liberally from an earlier work by Dr. Alan Macpherson on the peopling of central Bonavista Bay. Archaeologist Laurie Maclean generously shared information on the early Indigenous occupance of Bonavista Bay. The late Harold Squire's early history of Eastport was a useful reference and Fred Pafford's computer compilation of Salvage parish records was extremely helpful also. The transcripts of interviews with elderly persons conducted by high school students of Kevin Major in the 1970s and printed in the magazine STAGEHEAD constitute an extremely valuable source reference on settlement origins and aspects of traditional life. Dr. Arthur S. Dyke's study of the Eastport glacial-fluvial delta is an important document on the peninsula's physical geography, also one with significant human relevance. Another important source of information was provided by term papers completed by undergraduate students for courses at Memorial University. Among these were Scott Hapgood on Burnside; Audrey Matchim, Clar Matchim and Denise Edwards (three separate papers) on Sandy Cove; Norma Powell on Happy Adventure; Winston Dyke on the Dyke Family and Eastport; Mildred Powell (nee Dyke) on the Dyke Family and Clay Cove; Cheryl Handcock on the Moss Family and Eastport and Sharon Handcock on Salvage.
Over the years many individuals have shared with me their memories and personal knowledge on different aspects of local history. Notably among these were my parents Norman and Isabelle Handcock, my wife's (Margaret's) parents - Leander and Edith Hunter, Silas and Violet Dyke, A. Prince Dyke, Ches Crisby, J. M. (Mac) Moss, Harold Squire, Harold and Belle Handcock, Wilfred and Marion Handcock, Maxwell (Mac) Bradley, Fred Bradley, Peirce Bradley, Cleeves and Fred Oldford, Augustus Oldford, Dorothy Rose (nee Oldford), Donald Powell, Mildred Powell, Allister Powell, Phoebe Turner, Willis and May Turner, Neville Squire, Alexander and Lizzie Mary Dunn, Eldon Moss, Gerald Hunter, Norman Bull, John W. Bull, Colin Bull, Reg Bull, Llewellyn Crisby, Roy Dyke, Jacob and Gertie Dyke, Bert C. Bull, Annie Lane, Roy Babstock (all three), Ephriam Brown, Gerald Brown, Sidney Lane, Ray Troke, Richard (Dick) King, Clayton King, Gordon and Fred Brown, Heber and Selby Moss, Charles Moss, Muriel Crisby, Jim Crisby, Claude Turner, Bill Bradley, Pat Bradley, Greg Bradley, Kenneth and Irene Bradley, Agnes Squire, Bill Lane, Gilbert Heffern, Stewart and June Sturge, Alph and Josie Handcock, Gilbert and Sarah Turner, Greg Handcock, Ralph and Owen Turner, Lewis and Beatrice Handcock, Katie and Martha Babstock, Anne Piercey, Gertie Handcock, Albert G. Hall, Nigel Rusted, George and Sylvester Hiscock, Harold and Minnie Troke, Donald and Dorothy Handcock, Thomas Hunter, Robert Martin, Thomas C. Turner, Harvey Turner, Nelson Matchim, Edgar Napier, Calvin Ralph, Ivan Ralph, Samson Squire, Christine Squire, Rex Vivian, Ray Penny, Moses Morgan, Newton Morgan, Bert Ralph, the Mosses (Lew, Jim, Jack, Frank and Ralph), William (Bill) Samson, Henry Squire, Elizabeth (Liz) Matchim, Andrew Brown and Marcus Moss. To those I have forgotten to mention by name I offer my sincere apologies but I give my sincere thanks to all.
Gordon Handcock