Chanteurs et compositeurs
Pour composer leurs chansons, les Terre-Neuviens se sont toujours inspirés de l'actualité, de leur vécu et de leur collectivité, mettant en scène héros, traîtres et originaux et évoquant toutes sortes d'événements allant de l'épique au comique.
Mais les meilleures chansons de Terre-Neuve-et-Labrador font beaucoup plus que relater des aventures ou évoquer l'histoire. Elles témoignent du pays et de ses gens en articulant leurs espoirs, leurs rêves, leurs mythes et leurs craintes. Elles offrent un aperçu des qualités les plus remarquables du caractère terre-neuvien, notamment l'humour, l'ironie, l'ambivalence et la résistance.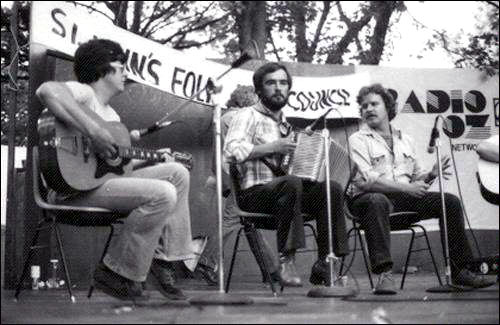 Musiciens en spectacle, 1979
Musiciens terre-neuviens sur la scène du Newfoundland and Labrador Folk Festival, au parc Bannerman de St. John's, 1979.
Avec la permission de la Division des archives et collections spéciales (Coll-154), Memorial University of Newfoundland, St. John's, T.-N.-L.
« Chaque arbre, chaque pierre, cache une chanson, » expliquait Harry Martin, un des compositeurs les plus renommés du Labrador. « Il s'agit simplement de les transposer sur papier. Il est aisé d'écrire une chanson sur cet immense territoire (le big land) qu'est le Labrador. » [Traduction libre]
En ce sens, partout dans la province, les auteurs-compositeurs sont considérés comme les porte-paroles de Terre-Neuve-et-Labrador. Certains des plus notables sont présentés ci-dessous.
Anita Best
Johnny Burke (en anglais seulement)
Byron "Fiddler" Chaulk (en anglais seulement)
Eddie Eastman (en anglais seulement)
Jim Fidler (en anglais seulement)
Harry Hibbs (en anglais seulement)
Ron Hynes (en anglais seulement)
Jimmy Linegar (en anglais seulement)
Harry Martin (en anglais seulement)
Pamela Morgan and Noel Dinn (en anglais seulement)
Dick Nolan (en anglais seulement)
Arthur Scammell