Eddie Eastman
Eddie Rowsell (b. 1950) -Eastman is his stage name- first performed for an audience at age nine, when construction crews building the Trans-Canada Highway gathered at his parents' home in Terra Nova, Newfoundland, for an evening of musical entertainment. Eddie recalls playing into the wee hours, prompted by $2.00 bills from the revellers.
Among his influences, which reached him through radio and gramophone, Eddie cites Webb Pierce and Ernest Tubb, along with Johnny Cash, Marty Robbins, Merle Haggard and Charley Pride. Eddie hardly strayed from this musical tradition, and in 1981, he described country-rock as "a bit of a fad" noting that the fans were "still not into all the music that I grew up with."
Country Ducats
Eddie began singing professionally on a part-time basis in 1968 while attending college in St. John's, NL. In 1971, he took up music full-time as the lead singer of the Country Ducats, a popular country-music band from Newfoundland's west coast.
Eddie toured Newfoundland several times with the Country Ducats. In 1972, the group recorded an album in Nashville, using well-known musicians Scotty Moore and D.J. Fontana. The album sold approximately 5,000 copies, mainly in Newfoundland, and the experience introduced Eddie to Nashville, the home of country music.
Bob Cousins and Terra Nova Express
In 1976, now married to Pauline Blackwood of St. John's, Eddie left the Country Ducats and moved to Toronto. There he met Bob Cousins, who became his business manager, after Eddie had put together a backing band.
Eddie named his band Terra Nova Express, and, at Cousins' prompting, adopted Eastman as his professional name. With minor personnel changes, Terra Nova Express remained with Eddie until his move to Nashville in the late 1980s.
Cousins first move was to record Eddie's self-penned "Eastbound 401" and release the song on Bel Air records, an independent label Cousins set up in the basement of his Toronto home. Eddie brought a box of the singles to Newfoundland in Christmas of 1977 and persuaded a St. John's distributor to purchase 200. The song rose rapidly to number one on a local radio chart, marking the beginning of Eddie's equally rapid rise in the Canadian country music world.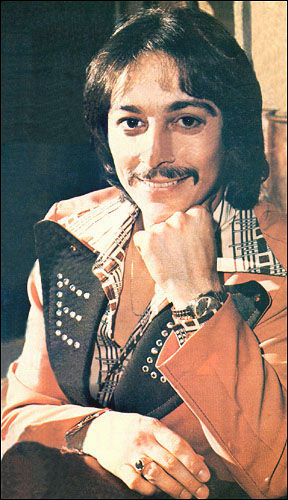 Eddie Eastman, 1979
Eastman's popularity was greatest during the late 1970s and early 1980s.
Reproduced by permission of The Newfoundland Herald. From The Newfoundland Herald TV Week 34:22 (St John's: The Newfoundland Herald, ©1979) cover.
"Big Time Years"
Numerous accolades came Eddie's way in the late 1970s and early 1980s. Those were, in his own words, his "big time years." In November 1978, he was the Radio Programmers Music (RPM) Awards choice for Best New Artist of the Year; in 1979 he was RPM's choice for Top Male Vocalist; in 1980 he won the Canadian Country Music Award for Male Vocalist of the Year; in 1981 a Juno award forCountry Male Vocalist of the Year came his way, as did RPM's Big Country Award for Best Country Male Singer; in 1982 the International Country Music Awards in Texas named him Country Male Vocalist of the Year; and in 1983 he won a second Juno award for Country Male Vocalist of the Year. In April of 1980, Eddie made his international debut at the Marlboro International Music Festival of Country Music at Wembley Stadium in England.
Television exposure accompanied the recognition and awards. The Tommy Hunter Show, The Ronnie Prophet Show, The Family Brown, The Alan Thicke Show, and The Carroll Baker Show all gave Eddie valuable commercial exposure. In the U.S, Eddie appeared on Dick Stacey's Music Jamboree in Bangor, Me. In 1985, after he began distributing his singles on Artisan Records, a Nashville independent label, Eddie supported the singles with appearances on Nashville Now, Wraparound Nashville, and the Nashville Network's New Country Show.
Distribution Problems
Despite the success, however, distribution problems plagued Eddie in the early 1980s. Small independent labels like Bel-Air Records, BookshopRecords, Diamond Records, and Artisan Records in Nashville, which Eddieentrusted at various times with the distribution of his material, had to compete in a market dominated by major labels who were industriously marketing their own artists. Consequently, and possibly with repercussions for his songwriting, Eddie toured at a gruelling pace in order to maintain his profile and help sell his material.
The Eddie Eastman Show
In 1983, Eddie and Bob Cousins parted company. Back home in Newfoundland, Eddie began taping The Eddie Eastman Show, a half-hour variety program. A totalof 39 episodes were taped, and the show ran during the 1984 and 1985 television seasons on the CBC in the Maritimes. In 1985, Eddie recorded "The Winning Side," his fourth album.
U.S. Music Market
In 1987, feeling he had peaked in Canada, Eddie moved to Nashville, Tennessee, hoping to break into the U.S. country music market. At this point,except for tours and showcases, Eddie gave up his frontman status, concentrating instead on songwriting for other artists. Despite his efforts, major success in the United States has so far proven elusive.
In the 1990s, Eddie continued to record and tour, though not as extensively as in the past. In 1990, the album "Living in the Fast Lane" was released, followed by the "Trying to Make a Living" album in 1992. Both albums were distributed on the independent Bookshop Records label, and Eddie's tours insupport of both albums took him through his home province and the Maritimes. Nashville remains his focus, and there he continues to write and perform.