Harry Hibbs
By the late 1960s there was large community of Newfoundland expatriates in southwestern Ontario, many of them longing for music from back home. Harry Hibbs (1942-1989) became a major star in this community and eventually became one of the most popular recording artists in Newfoundland as well.
Hibbs was born on Bell Island and moved to Toronto at the age of 20 to work as a press operator. He never considered a career in music until a 1967 industrial accident left him on crutches and unable to work. Hibbs was encouraged to take his accordion playing and singing on stage by a friend and fellow Bell Islander who had recently opened the Caribou Club, a nightclub and music venue catering to Newfoundlanders in Toronto. Hibbs made his debut there in 1968.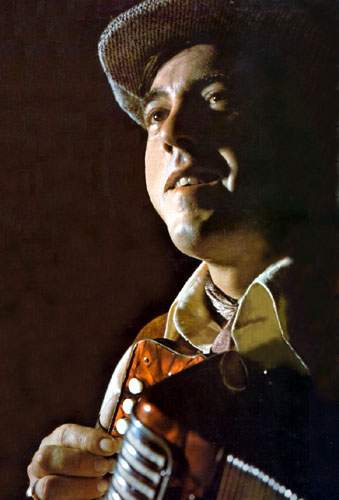 Harry Hibbs, 1971
A corrected detail from the cover of the album The All New Harry Hibbs with Shrimp Cocktail.
Courtesy of The Estate of Harry Hibbs.
He was an immediate hit and within months had recorded his first album, Harry Hibbs At The Caribou Club. Not long after that he began hosting a weekly television show, which was broadcast in the Toronto and Hamilton area until 1976. Hibbs also appeared on numerous other television shows and at festivals across the country and returned to Newfoundland to perform regularly. By 1982 he had recorded 15 albums, seven of which had earned gold records. The recordings consisted of traditional jigs, reels and ballads and contemporary songs written in the same vein.