Byron "Fiddler" Chaulk
Byron "Fiddler" Chaulk (1935–1993) was born in Pearl River, Labrador, where a few families survived by trapping, hunting and fishing. By the age of 15 both he and his father were working for the American military base at Happy Valley-Goose Bay. "When the military came to Goose Bay people came from Canada and everywhere," he said. "The way of life in Labrador had changed." Chaulk wrote songs that chronicle those changes and speak to the contrast between old and new.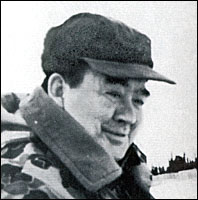 Byron "Fiddler" Chaulk, ca. 1983
Byron "Fiddler" Chaulk, neither a musician nor a singer, claimed to have only "a knack for putting words together."
Reproduced by permission of Phoebe Chaulk. From Them Days 21:2 (Happy Valley-Goose Bay, Labrador: Labrador East Integrated School Board, ©1996) 6.
The Broken Promise, a folk ballad about a romance between a Labrador girl and an American soldier, is said to be the first song Chaulk ever wrote. His second, High On The Mountain Of Old Mokami, has become a Labrador standard. Inspired by a mountain near Northwest River, the song is a celebration of the land and the Labrador life:
"They can talk of their cities, their riches untold,
All the things they have bought with their silver and gold.
All the gold that they have couldn't buy what I see,
From high on the mountain of old Mokami."
Chaulk spent most of his life in Goose Bay, but made frequent trips into the country. "I love to hunt and fish and trap," he told a Memorial University researcher in 1983. "I guess it runs in my blood." It also helped keep him in touch with the land and the way of life celebrated in many of his best known compositions, such as The Grand River Song, The Trapper's Song and Nobody Lives There Anymore.
Chaulk was not a musician or singer, claiming to have only "a knack for putting words together." Many of his songs have been widely performed, and have been recorded by singers like Shirley Montague and Gerald Mitchell.