Ron Hynes
Ron Hynes (1950-2015 ) was the composer behind what is perhaps the most widely known Newfoundland song, Sonny's Dream. Hynes was also a prolific and highly respected songwriter and one of the province's most visible entertainers.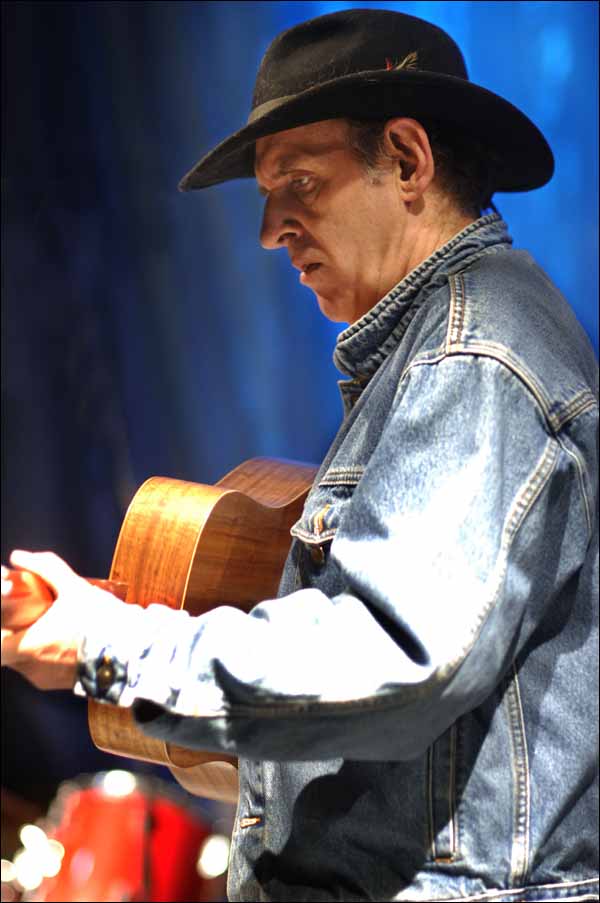 Ron Hynes, 2005
Photo by Greg Locke. Reproduced with the permission of Lynn Horne. ©2005.
Born in Ferryland, Hynes began his career with a 1972 album called Discovery, recorded in Halifax. From there he moved to Toronto to work as a singer and songwriter. By 1975 he was back in Newfoundland, writing music and lyrics for stage productions by the Mummer's Troupe. In 1977 he starred in The Bard Of Prescott Street, a show about the life and music of Johnny Burke.
In 1978, Hynes was part of the cast of a CBC Television music and comedy series called The Root Cellar. The series gave birth to the Wonderful Grand Band, which became one of Newfoundland's most popular acts. Combining traditional and original songs, fresh musical ideas and comic interludes, the band spent six years touring, producing its own television series and recording two albums.
When the Wonderful Grand Band disbanded in 1983, Hynes focused on building and marketing a repertoire of new songs. He also returned to musical theatre, acted in television and film and recorded a children's album called Small Fry.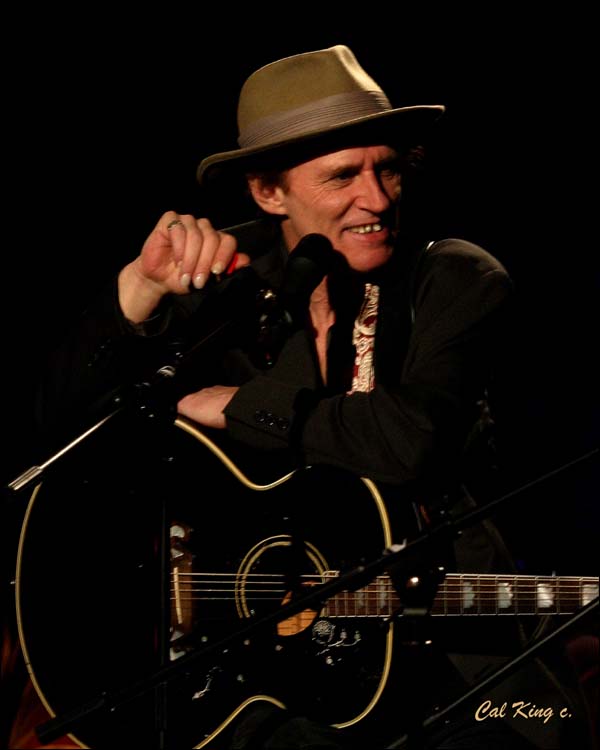 Ron Hynes, 2004
Photo by Cal King. Reproduced with the permission of Lynn Horne. ©2004.
By 1992 Hynes had compiled a catalogue of several hundred songs and a reputation as one of Canada's finest composers of folk and country music. Signed to a recording contract with EMI Canada, he released two critically acclaimed albums: Cryer's Paradise (1993) and Face To The Gale (1996). His association with EMI ended in 1997, but in the same year he and his wife Connie released 11:11 Newfoundland Women Sing Songs By Ron and Connie Hynes. Two more independently released albums followed: Standing in Line in the Rain in 1998 and The Sandcastle Sessions in 2001.
In 2003 he released Get Back Change with the label Borealis. It earned the Country Recording Of The Year and Album Of The Year at the 2004 ECMA awards. He published his first songbook Songs Of Ron Hynes - Volume One in 2005, and released the self-titled CD Ron Hynes in 2006. In the same year (2006) he was presented with a "Lifetime Achievement Award" from St. John's Folk Arts Council. He was also the winner of Male Solo Recording of the Year at the 2007 East Coast Music Awards. In 2010, he released the album Stealing Genius.
Known as "the man of a thousand songs," his work was prolific and acclaimed. Sonny's Dream remains his most popular song, a folk classic covered by dozens of bands and singers worldwide. Other Ron Hynes songs have been performed by Murray McLaughlin, Valdy, Christie Moore, Emmylou Harris, John McDermott and countless other artists.
In July 2012, it was announced that Ron Hynes was diagnosed with throat cancer. On August 11, 2012, he sang to a sold-out audience of more than 3,000 people at Mile Once Centre in St. John's and shared the stage with a reunited Wonderful Grand Band and other local performers.
Hynes died in hospital three years later, on November 19, 2015.