Jimmy Linegar
His parents and older brother played traditional jigs and reels on the button accordion, but when 13-year-old Jimmy Linegar (b. 1936) heard country music, the guitar became his instrument and Hank Snow his principal influence. Jimmy appeared three times on local radio in 1949, and between 1952 and 1956 he was a regular on radio stations CJON and VOCM. In summer, he toured his country music repertoire about Newfoundland, travelling by road when possible and by boat when necessary. In the 1960s, he ventured to the Canadian mainland, where he played in several bands and made the rounds of small clubs and bars. After returning home in the late 1960s, he played with various Newfoundland musicians and singers. He still performs occasionally, but he has not sought to regain the popularity he had during the early 1950s.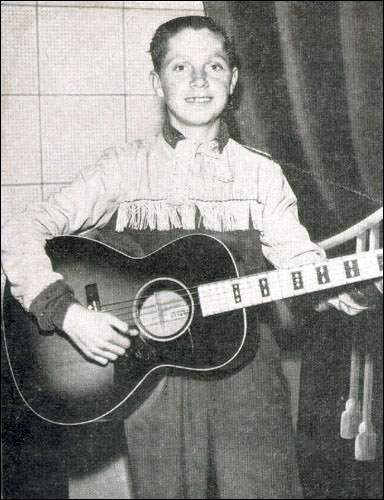 Jimmy Linegar, 1952
In the 1950s, Jimmy Linegar, or the "Kid Ranger", had his own show on CJON radio station.
Photo by C.F. Ruggles. From Newfoundland Radio in Pictures, 1952 (St. John's, Nfld: Guardian Press, ©1952) 42.
Early Career
Jimmy first heard country music on a gramophone his parents acquired in 1949. An early favourite was Alberta Slim, whose rendition of Two Little Eyes that Shine sparked Jimmy's interest in singing. Jimmy sang this song on his first radio appearance on the CBN (later CBC) show "The Children's Savings Program" in 1949, accompanied on piano by program host Bob MacLeod.
For his second appearance, Jimmy sang Hank Snow's Little Buddy, Snow having superseded Alberta Slim as Jimmy's favourite country singer. By his third appearance, sometime in 1950, Jimmy could accompany himself on guitar.
Radio Spot
In 1952, forced to leave school for financial reasons, 15-year-old Jimmy found a radio spot playing four nights per week on Great Eastern Oil's "Bargain Hour Program," first on CJON and then on VOCM. With this exposure, Jimmy became "virtually the only widely-known name in Newfoundland country music," and the attendant publicity enabled him to tour the isolated settlements along Newfoundland's largely roadless coast with some success. His repertoire included songs by Hank Snow, Wilf Carter, Doc Williams, Eddy Arnold and Hank Williams, along with any requested material.
Jimmy continued alternating his radio appearances with summer tours until 1956, when rock-and-roll cut into his audience. With the youth market for country music considerably lessened and recorded music now more palatable to audiences, Jimmy's radio spot was cancelled, forcing him to find alternate ways of making a living from country music.
Moving Around
He went to the Canadian mainland. Although he met with some success, including a stint as guitarist for Canadian fiddle champion Ned Landry, Jimmy's foray into the mainland country music scene proved financially unrewarding, though it did afford him the opportunity to record his self-penned single, an A-side titled Golden Strings backed with Bubbles and Johnny One-Eye.
In 1967 Jimmy returned to Newfoundland. Throughout the 1970s he toured with various Newfoundland singers and musicians. In 1975 he played lead guitar with Botwood singer Rex Hemeon, and in 1976 he toured Newfoundland with John White, a well-known singer of traditional Newfoundland songs. In the summer of 1979, he was asked to emcee the Nova Scotia Bluegrass Festival, an indication of his renown outside Newfoundland. In November of that year he made the first of two appearances on the CBC television program Come All Ye.
Jimmy no longer performs regularly. Except for appearances at the annual Newfoundland and Labrador Folk Festival in St. John's and an occasional concert for senior citizens, he contents himself with playing for his own amusement as well as making violins, a hobby he took up in the late 1960s.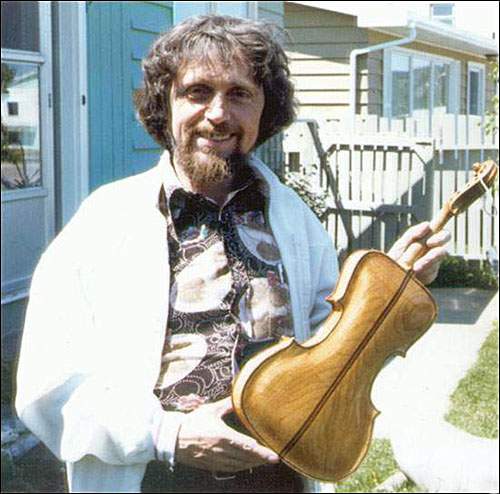 Jimmy Linegar, 1979
Linegar holds his first dreadnought fiddle, partly built.
Photo by Neil Rosenberg, ©1979. Reproduced by permission of Neil Rosenberg.
Present Day Renown
To this day, Jimmy remains a well-known personality among Newfoundland people of both his and later generations. Winston Elms, a resident of Quirpon, at the tip of Newfoundland's Northern Peninsula, saw Jimmy perform in 1956 and recalls as a boy of 12 or 14 walking "...about five miles to listen to Jimmy Linegar...it was a big thing for us because we used to hear him on the radio, you see.... And we thought he was great. He used to sing all the western songs, and he told some pretty good jokes, too." Even among people in their early twenties, the name Jimmy Linegar can "ring a bell."
As the first Newfoundland musician to bring live performances of country music to the isolated Newfoundland outports, Jimmy Linegar helped to popularise and perhaps legitimise a musical form not indigenous to the island's shores. Along the way, he undoubtedly inspired budding local musicians to try their hand at country music.