Sisters of Mercy Convent
(From the Women's History Walking Tour Booklet)
The first convent St. John's Bishop Fleming provided for the Sisters of Mercy had the distinction of being the first convent of the congregation established outside the British Isles.
Three pioneering Sisters first came to Newfoundland from Ireland in 1842. However, within six months two of the Sisters returned to Ireland, claiming poor health as the excuse for their departure. Sister Francis Creedon, determined to succeed, obtained permission to stay despite letters urging her to return to Ireland.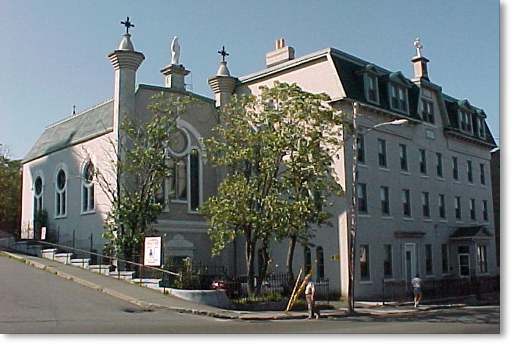 The Sisters of Mercy Convent
170 Military Road
Photo by Duleepa Wijayawardhana, 1998.
She was joined in the order early in 1843 by Sister Mary Joseph Nugent, a highly educated woman engaged in the translation of Italian religious texts, teaching and nursing. Tragically, in the spring of 1847, Sister Mary Joseph Nugent contracted typhus while nursing a young man off an immigrant ship from Ireland and died shortly thereafter at the age at forty-eight.
Undaunted and alone, Sister Francis Creedon was forced to close the school but continued with nursing and caring for the elderly. Joined by her niece in 1848 and a young novice from Ireland in 1850, the congregation began to flourish. The school was reopened in 1850 and the sisters expanded their concerns to include prisoners in the jail, old people and orphans.
The present stone building was opened in 1857. Since that time, this old building has seen many inevitable additions and changes, housing at times an orphanage, a boarding school, a school for small boys and girls, and commercial courses.