Presentation Sisters
(From the Women's History Walking Tour Booklet)
The Congregation of the Sisters of the Presentation was founded by Nano Nagle in 1776 in Cork, Ireland, to provide for the education of the poor. In response to a request from Bishop Michael Fleming of Newfoundland for volunteers to establish a mission, four sisters arrived in St. John's in September 1833, and opened their first school in October of the same year.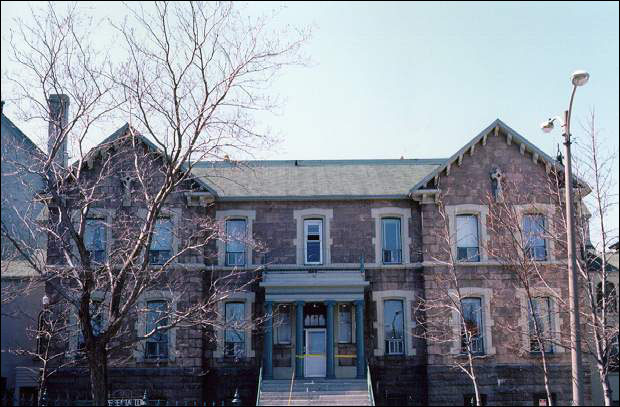 The Convent of the Presentation Sisters
Adjacent to the Basilica, Military Road, St. John's, NL
© 1998, Lisa LeDrew
The renovated accommodations, formerly a tavern with the name of "The Rising Sun", immediately proved to be inadequate for the large number of students wishing to be admitted. The sisters moved their residence to a site on Nunnery Hill, just off Gower Street, and work was started on the building of a large convent and school on Long's Hill, subsequently opened in 1844, and destroyed by fire in 1846 along with the greater part of the city of St. John's.
The Motherhouse of the Presentation Sisters was built along with a school to replace those destroyed buildings, and was opened in 1853.
If you walk past the church and around the corner to the offices, you will find a public exhibition about the church and the work of the Presentation Sisters.