E. Vera Perlin and Molly P. Dingle
(From the Women's History Walking Tour Booklet)
---
E. Vera Perlin (1902-1974)
Vera Perlin dedicated much of her life to creating opportunities for mentally handicapped children. In her work on the Advisory Board of the United Church Orphanage she encountered many mentally handicapped children and became concerned that no provision was made for their education. In 1954 she established, with Molly Dingle, the first school for them in the basement of the United Church Orphanage.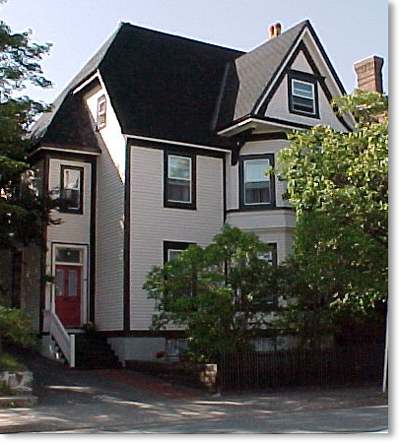 The Perlin Family Home
40 Queen's Road
Photo by Duleepa Wijayawardhana, 1998.
Her efforts led to the addition of new classes in the city, as well as the formation of an association, now the Newfoundland Association for Community Living, which branched out across the province. Her work was recognized in the granting of several awards, including Newfoundland Woman of the Century from the National Jewish Council in 1967, Officer of the Order of Canada in 1968, and an Honourary Doctorate of Law from Memorial University in 1970.
---
Molly P. Dingle (1892-1987)
In 1908, at the age of 16, Molly Dingle began as a teacher's aid at Holloway School, then the Methodist College, and joined the staff of the school in 1915. When she retired in 1952, she was its principal.
In 1953, she was approached by Vera Perlin to begin planning a school for the intellectual disabled. She joined the staff of the first school opened in 1954 and operated from the United Church orphanage on Hamilton Avenue. Molly taught at the Vera Perlin School until 1969, having devoted 60 years of her life to teaching.
She was awarded an M.B.E in 1949 for her contribution to education in Newfoundland. Years later, Molly was honoured by the Association for the Help of Retarded Children for her immense contribution to the work of the organization.