Anna Templeton (1916-1995)
(From the Women's History Walking Tour Booklet)
Anna Catherine Templeton was born in St. John's, the second eldest in the business family of R.A. Templeton. She was educated at Prince of Wales College, and earned a pre-science degree at Memorial College before studying Home Economics at MacDonald College in Montreal.
In 1938, Anna returned home to become a Field Worker, then Organizing Secretary of the Jubilee Guilds of Newfoundland and Labrador. With this job, she began a lifelong involvement with craft development and women's work in the province. She traveled the province alone, teaching other women, an unusual task for an urban, single, young woman of the upper middle class in the 1930s and 1940s.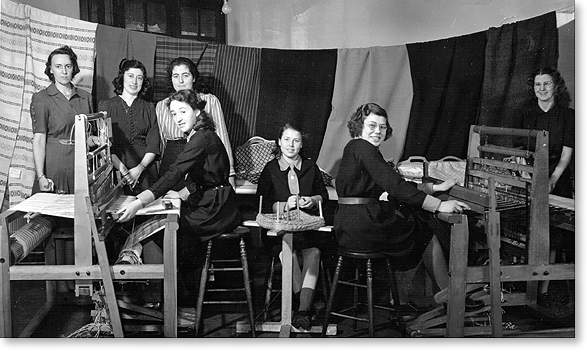 Anna Templeton, 1943
Courtesy of Archives and Special Collections (Newfoundland and Labrador Women's Institutes, Collection 166), Queen Elizabeth II Library, Memorial University of Newfoundland, St. John's, NL.
In 1965, Anna became supervisor of the Craft Training Division of the Department of Education. Her exceptional contribution to craft education provided the foundation for contemporary efforts in craft development. In 1994, the new Textile Studies Centre of the College of the North Atlantic was named the Anna Templeton Centre in her honour. It continues the tradition of innovation and creativity so loved by Anna Templeton.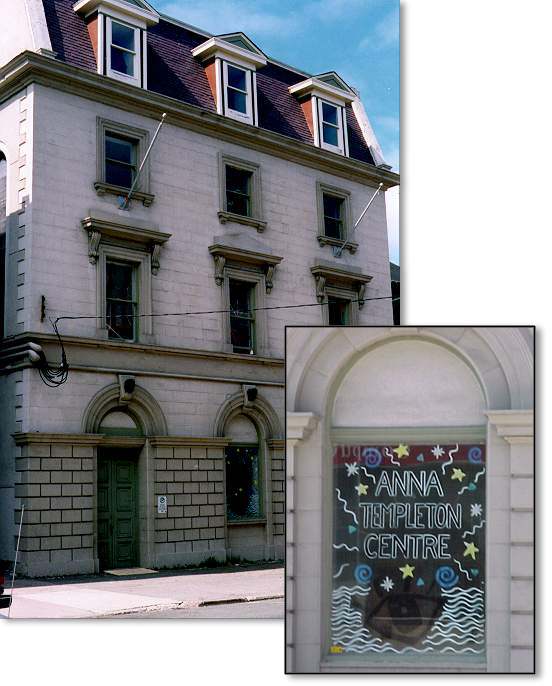 Anna Templeton Centre
278 Duckworth Street, St. John's, NL
© 1998, Lisa LeDrew
In recognition of her untiring inspiration of rural women to learn new skills and knowledge, Anna was awarded the Centennial Medal in 1967, and an Honourary Doctor of Laws degree from Memorial University in 1985.