Women and the Court House: Louise M. Saunders and Catherine Snow
(From the Women's History Walking Tour Booklet)
---
Louise M. Saunders (1893-1969)
Louise Saunders was admitted to the Bar in 1933, becoming the first female lawyer in Newfoundland. She began her career as a legal secretary in the office of Richard A. Squires (who was Prime Minister of Newfoundland during the 1920s), articled under Squires, and eventually practised in partnership with him. She later established the firm of Saunders and Carew.
Besides her career, Louise was active in the community as a charter member of the Local Council of Women, which she served as legal advisor until her death in 1969. In 1954, she took first prize for a painting of St. Thomas' Church in the first government sponsored Arts and Letters competition.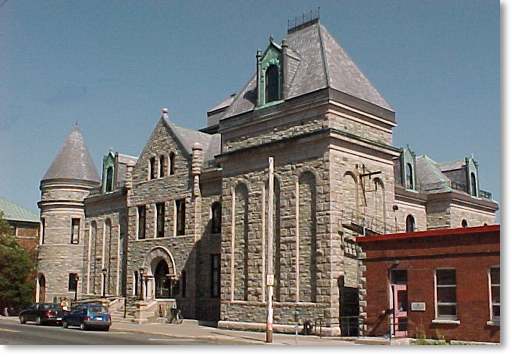 The Court House
311 Duckworth Street, St. John's, NL
Photo by Duleepa Wijayawardhana, 1998.
---
Catherine Snow (?-1834)
Catherine Snow had the distinction of being the last woman hanged in Newfoundland, out of the 2nd story of the old Court House in 1834.
She had lived common law and then married an abusive planter, John Snow, in Port au Grave. When her husband was murdered, she was implicated along with her cousin Tobias Mandeville, with whom she was having an affair, and an indentured servant from Ireland named Arthur. All three were tried together, even though Arthur had renounced his indictment of Catherine.
Found guilty, the men were hanged two weeks later. Catherine's execution was delayed due to her pregnancy. The Catholic church supported Catherine's innocence throughout, but an appeal was unsuccessful. The climate of religious tension at the time may have been a contributing factor.