Dora Russell (1912-1986)
(From the Women's History Walking Tour Booklet)
Dora Russell was born in Change Islands, educated at Bishop Spencer School and studied for two years at Teacher's Summer School after Grade 11. She began teaching in St. Mary's Anglican School in the west end of St. John's in 1933, but resigned when she married in 1935. For the next ten years, Dora lived in various rural communities with her husband, who was a magistrate.
In 1945, Dora Russell became the first woman's editor of The Evening Telegram newspaper in St. John's. During her four years with the paper, she wrote many columns, editorials, and fictional pieces - all from a woman's perspective. In her work, she supported local women in political, business, volunteer and domestic roles, and stressed the activities of the local women's community. She profiled many local women in her column, 'Woman of the Week'.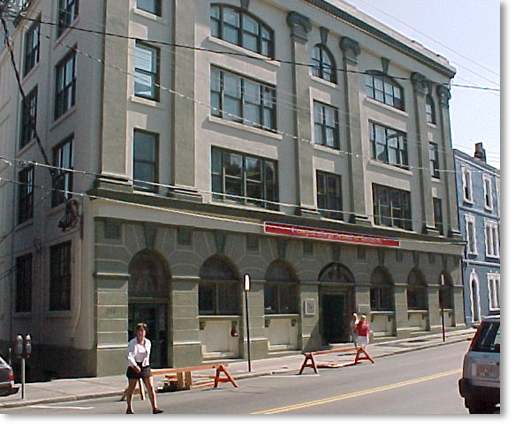 The Former Evening Telegram Building
275 Duckworth Street, St. John's, NL
Photo by Duleepa Wijayawardhana, 1998.
With the advent of the Confederation debates, Dora resigned from The Evening Telegram in a disagreement over the newspaper's political position. Never one to be idle, Dora continued to care for her family of five children while interesting herself in studies of astronomy and music, and the work of the Girl Guides, The Jubilee Guilds and St. Thomas' Anglican Church. Dora was awarded the Queen's Silver Jubilee Medal in 1977 for her work with the Girl Guides.
(Thanks to: Tara Harris, A Study of Voice in the Writings of Dora Russell, MA Thesis, MUN, 1995. )