Commission Governors, 1934-1948
Responsible government was suspended in 1934, and replaced by Commission of government, during which Newfoundland was administered by unelected commissioners appointed by the British government. Designed as a temporary expedient, the commission was composed of three British and three Newfoundland members, and chaired by the governor. In some ways, this was a return to the situation as it had existed before a legislature was established in 1832, but the governor's role was ambiguous.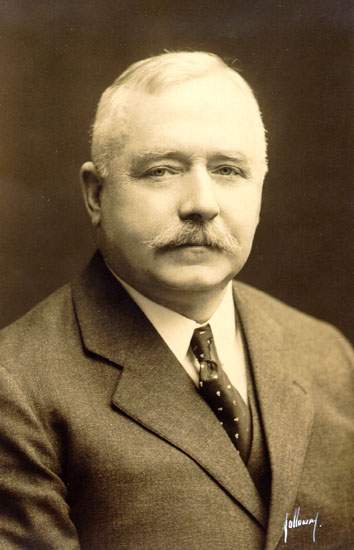 Frederick Alderdice, Newfoundland Prime Minister (1932-1934)
Frederick Alderdice (1872-1936) was Prime Minister of Newfoundland when responsible government was suspended in 1934.
Courtesy of The Rooms Provincial Archives Division (A23-101), St. John's, NL.
Clearly, the governor played a different role than under responsible government; since he chaired meetings of the Commission, he could participate actively in its discussions, and could vote in cases of a tie. His influence was therefore direct rather than indirect. At the same time, he was instructed to act only on the Commission's advice. The governor continued to be the central official link between Newfoundland and the Dominions Office in London, and to carry out a range of other duties, formal and informal. There was no other position like it in the British Empire and Commonwealth, and the personality of the governor was an important factor in how the role was defined.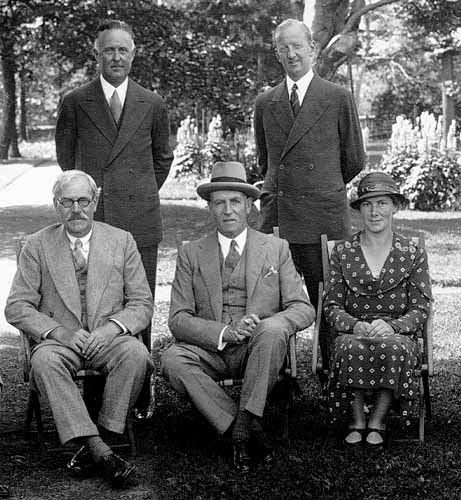 Admiral Sir Murray Anderson
Murray Anderson (1874-1936) was appointed governor of Newfoundland in 1933. This picture, taken on Government House grounds in August 1934, shows Anderson (seated in the centre), entertaining Ramsay MacDonald (seated left), the prime minister of Great Britain.
Courtesy of The Rooms Provincial Archives Division (B18-11), St. John's, NL.
The first governor under Commission, Sir Murray Anderson, tried to play a neutral role, intervening in affairs only when there was a deadlock. His successor, the bluff Sir Humphrey Walwyn, was far more inclined to play an active role, which brought him into conflict with some of the Commissioners. The ill-defined nature of the position certainly suited Sir Gordon Macdonald, Newfoundland's last British governor, whose job it was to bring about Confederation if at all possible.
(Much of this information is derived from S.J.R. Noel, Politics in Newfoundland (University of Toronto Press, 1971)).