Lieutenant-Governors, 1949-Present
The office of lieutenant-governor was established in Newfoundland and Labrador in 1949, with the adoption of provincial status within the Canadian confederation. The lieutenant-governor represents the federal principle, in that he or she is appointed by the governor-general on the advice of the prime minister of Canada. At the same time, however, the lieutenant-governor is the provincial representative of the Crown, and as such possesses all the formal and discretionary powers that are exercised by the monarch and the governor-general.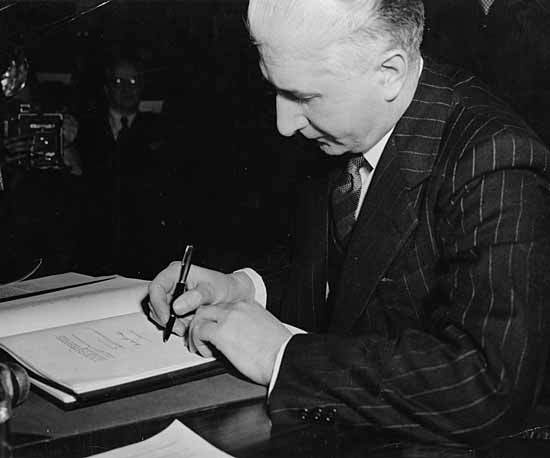 Lieutenant-Governor Albert Joseph Walsh
Albert Walsh (1900-1958) became Newfoundland's first lieutenant-governor following Confederation. The above picture shows Walsh, the chairman of Newfoundland Delegation, signing the Terms of Union between Canada and Newfoundland in the Senate chamber in Ottawa.
Courtesy of The Rooms Provincial Archives Division (B16-60), St. John's, NL.
The lieutenant-governor has the duty to open sessions of the House of Assembly, and to read the Speech from the Throne, as well as to prorogue and close it. He or she gives royal assent to provincial legislation and orders-in-council. In addition, the lieutenant-governor has the responsibility to select the provincial premier and to appoint members of the provincial government. In exercising these responsibilities, the lieutenant-governor invariably acts according to precedent and on the advice of the provincial government. However, there are occasions when the lieutenant-governor may be called upon to use his or her discretionary powers. This was the case in Newfoundland and Labrador in 1971-72, when an existing government was defeated in a general election, but the incoming government did not have a clear majority in the House of Assembly.
The lieutenant-governor also has important social responsibilities. He or she hosts official visitors, in particular members of the royal family and heads of state, and meets the general public at the New Year's Day levee, the summer Garden Party, and during visits to all parts of the province. Government House is frequently used for awards and other ceremonies.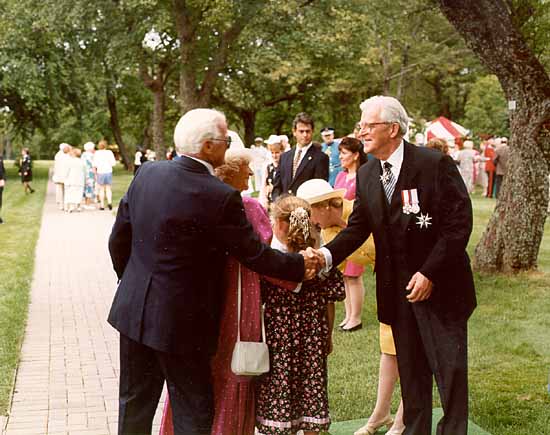 Government House Garden Party
The former lieutenant-governor of Newfoundland and Labrador, his Honour, A. M. House, greets arriving guests at the 1999 Government House garden party. The garden party is held annually on the Government House grounds.
Reproduced by permission of Government House, © 1999.
The lieutenant-governor is usually appointed for a five-year term, which can be extended. Appointees have generally served the province and the country for many years, some in a political capacity. Whatever his or her background, the lieutenant-governor cannot be politically partisan, though the support and encouragement of charitable and community organizations has become part of the responsibilities of office.