Miscellaneous Artifacts - Page 2
Miscellaneous Artifacts From Ferryland Archaological Site, NL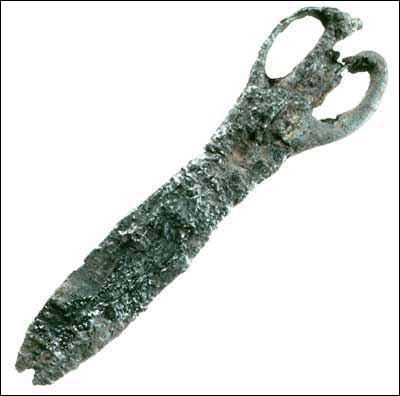 Scissors (Fld-221)
Approximately 10 cm long, it is one of a number of scissors and shears found in many areas, and dating throughout the 17th century.
Broken Windowpane (Fld-417)
Broken windowpane from the Kirke house midden, which indicates the upper-class nature of the dwelling. What appears to be a scratched inscription near the center is indecipherable.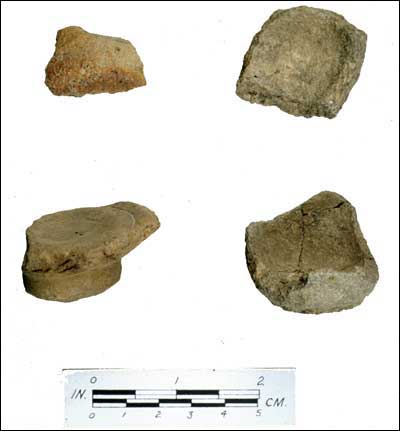 Fragments of Crucibles and Cupels (Fld-421)
Fragments of crucibles and cupels, found in the earliest layers of the waterfront warehouse, indicate that an alchemist, or goldfiner, was assaying local rocks in a search for precious metals during the first years of the Avalon settlement.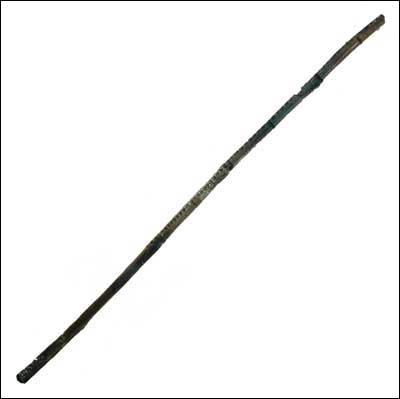 Tally Stick (Fld-446)
Approximately 30 cm long, this notched stick from the privy is a tally stick, commonly used for record-keeping during the 17th century.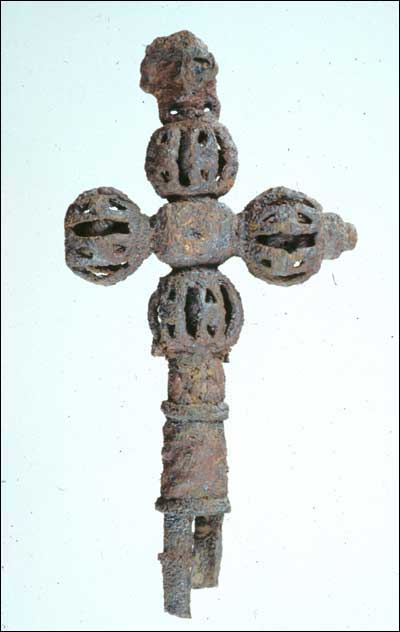 Ornate Iron Cross (Fld-077)
Ornate iron cross which has the interior of the orbs, and the socket into which a wooden shaft was fitted, lined with brass. Traces of gold on the surface indicate that the cross was once gilt. Its origin remains a mystery. It was in the forge at the time it was destroyed around the mid-17th century.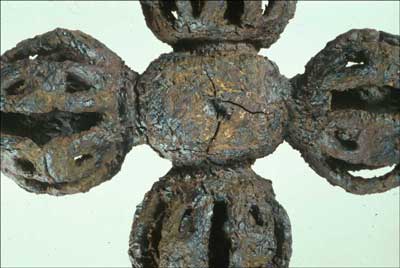 Detail of Ornate Iron Cross (Fld-344)
Detail of iron cross, showing traces of gold in the central portion.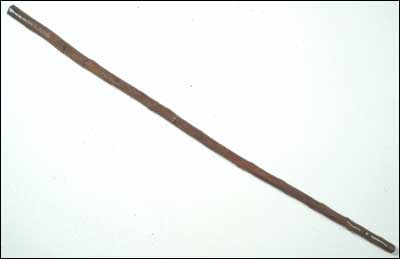 Walking Stick (Fld-082)
Walking stick of English holly (ilex aquifolium), brought from the British Isles and discarded in the privy about mid-century. A perforation in the upper end probably once held a leather thong.
Pewter Tobacco Pipe Fragment (Fld-160)
Fragment of a pewter tobacco pipe from the waterfront. It probably once had a wooden stem.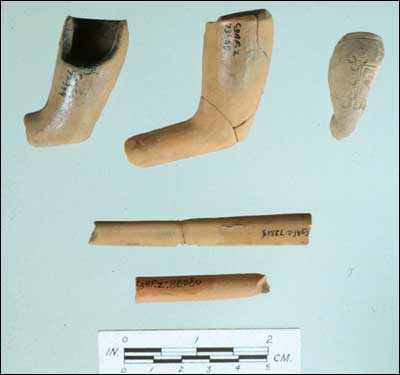 Fragments of Red Clay Pipes (Fld-247)
Fragments of red clay pipes manufactured in Virginia or elsewhere in the Chesapeake, which probably arrived at Avalon with shipments of tobacco.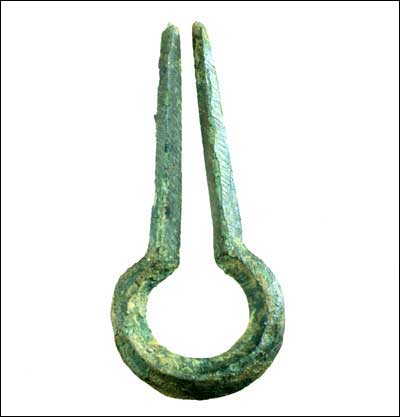 Mouth Harp (Fld-454)
Approximately 5 cm long, the mouth harp was found on the floor of the cowhouse destroyed in 1696.