Miscellaneous Artifacts - Page 5
Miscellaneous Artifacts From Ferryland Archaological Site, NL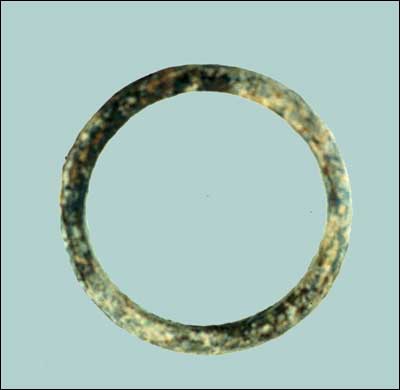 Brass friendship ring (Fld-168)
Brass friendship ring from the late 17th century bearing the inscription "BE TRUE IN HART" on the inside.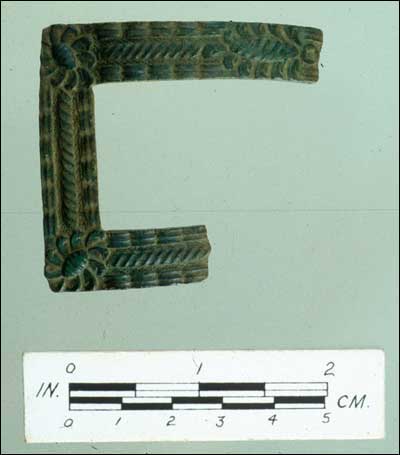 Brass Shoe Buckle (Fld-439)
Brass buckle, probably a shoe buckle, dating from the late 17th century.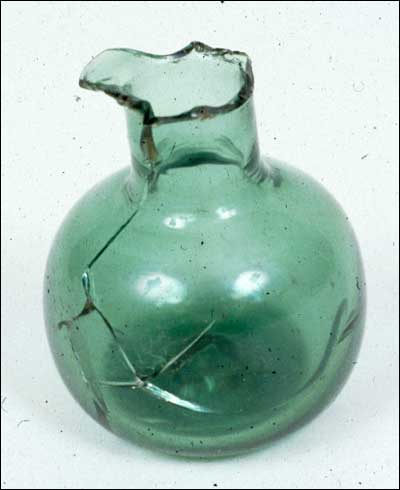 Small Glass Bottle (Fld-146)
Small glass bottle, on the cowhouse floor at the time it burned in 1696. It may have been used to hold medicine or perfume.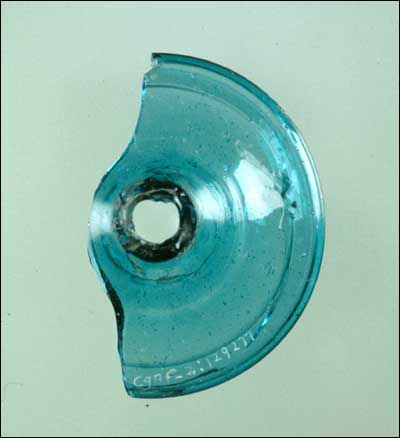 Wineglass Foot (Fld-409)
Foot of a wineglass dating from the first half of the 17th century. Although wineglasses are rare on 17th-century sites in England, a number have been found at Ferryland. The foot was approximately 5 cm in diameter.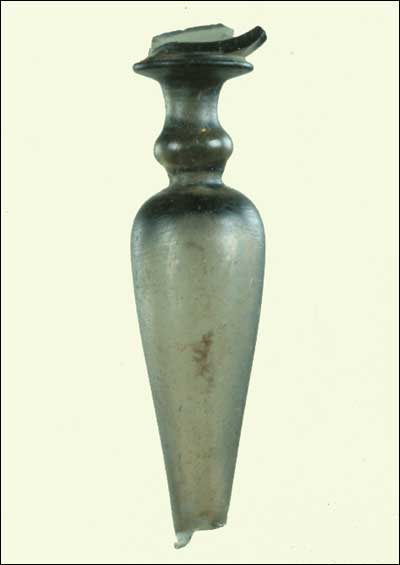 Wineglass Stem (Fld-414)
Wineglass stem dredged from The Pool can be dated stylistically to the early 17th century, or the time of Avalon. The artifact was about 10 cm in length.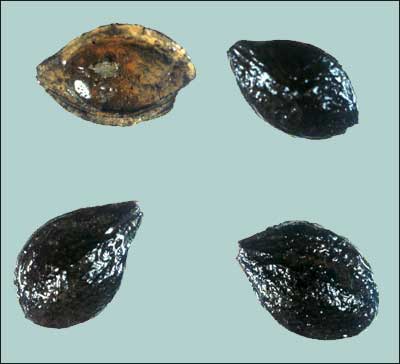 Plum Pits (Fld-177)
Plum pits were discarded in the privy throughout the 17th century. The plum trees found on the Ferryland site and throughout the southern Avalon Peninsula today are descended from plums brought by the first settlers at Avalon.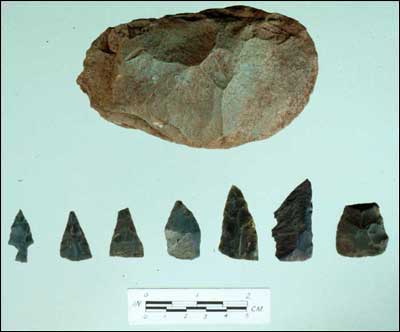 Small Chert Arrowpoints and a Large Chopper or Blank (Fld-330)
Small chert arrowpoints and a large chopper or blank, associated with Beothuk Indian hearths dating from the early 1500s.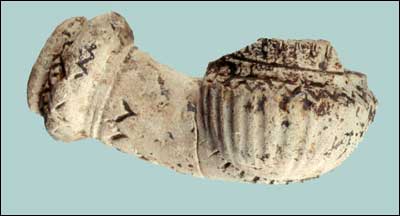 Tobacco Pipe (Fld-427)
Approximately 5 cm long, this unusual tobacco pipe is thought to be West African in origin. A near-identical pipe was recovered from the wreck of the HMS Sapphire at nearby Bay Bulls. The Sapphire and the cowhouse where the Ferryland example was found were both destroyed in 1696. The pipe may have come from Virginia as a novelty, or may indicate the presence of people of African origin at Ferryland during the late 17th century.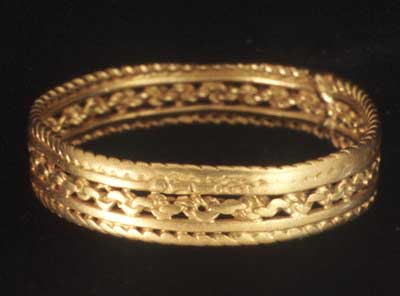 Gold Finger Ring
Gold finger ring consisting of a fine chain, two small bands and a twisted gold wire, found in a layer dating to the last years of the 17th century. It may have been lost during the French attack on September 21, 1696.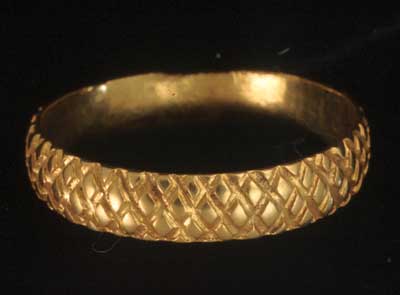 Gold finger Ring with Cross-hatched Decoration
Gold finger ring with cross-hatched decoration, found only 2 m from the other ring and probably lost at the same time. The two rings are of different sizes.