Margaret Iris Duley (1894-1968)
Tiré du livret Women's History Walking Tour (Promenade guidée sur l'histoire des femmes)
Margaret Iris Duley, première romancière terre-neuvienne, a publié quatre œuvres. Ses romans, implicitement féministes, traitent de sujets controversés, comme le divorce et la sexualité des femmes, sur lesquels les suffragettes de son temps étaient restées silencieuses. Passés à peu près inaperçus dans la province, ces romans ont été accueillis favorablement par la critique à New York et en Angleterre.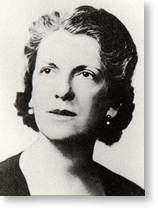 Margaret Iris Duley
Avec la permission de la Division des archives et collections spéciales (Collection Alison Feder MF-213), bibliothèque Queen Elizabeth II, Memorial University of Newfoundland, St. John's, T.-N.-L.
Margaret était aussi une excellente actrice. Inscrite à l'Academy of Drama and Education de Londres, elle a été contrainte à rentrer à l'île de Terre-Neuve au moment de la déclaration de la Première Guerre mondiale. Une carrière sur les planches était impensable à St. John's pour une femme de sa classe sociale, mais elle a tenu avec doigté un salon littéraire où on entendait histoires, poésie et récitations.
Sa nièce, l'écrivaine Margot Duley, a évoqué sa « personnalité libérée, son franc parler et son charisme dans une société qui réprimait ces qualités. » Ses œuvres comprennent The Eyes of the Gull (1936), Cold Pastoral (1939), et Highway to Valour (1941). Son dernier roman, The Caribou Hut (1949), met en scène l'auberge terre-neuvienne au King George V Institute, durant la Deuxième Guerre mondiale.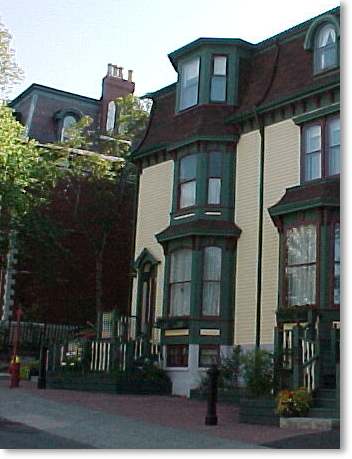 Résidence de Margaret Iris Duley
51, ch. Rennies Mill, St. John's, T.-N.-L.
Photographie de Duleepa Wijayawardhana, 1998.
(Les informations dans le livret Women's History Walking Tour proviennent d'une entrevue avec Margot Duley dans The Finest Kind, Voices of Newfoundland and Labrador Women, de Marian Frances White)