Traditional Instrumental Music
In recognition of the province's rich folk music heritage, the School of Music and Department of Folklore at Memorial University of Newfoundland offer courses in fiddle and accordion playing. The fiddle has been one of the most popular musical instruments in Newfoundland and Labrador. Accordingly, fiddle music has received attention from the recording industry and folk music researchers, who have showcased such talented players as Rufus Guinchard (1899-1990) and Émile Benoit (1913-1992).
Rufus Guinchard
Rufus Guinchard was born in Daniel's Harbour on Newfoundland's Northern Peninsula, where he taught himself to play the tunes of older community fiddlers on his father's fiddle. As a youth he began to play at kitchen dances, providing jigs and reels or step-tunes and doubles. Guinchard also learned to beat his feet in time to the music while playing, much like the clogging associated with French Canadian fiddlers. This skill helped fiddle players to maintain the steady rhythms of old-fashioned set dances, cotillions and step dances.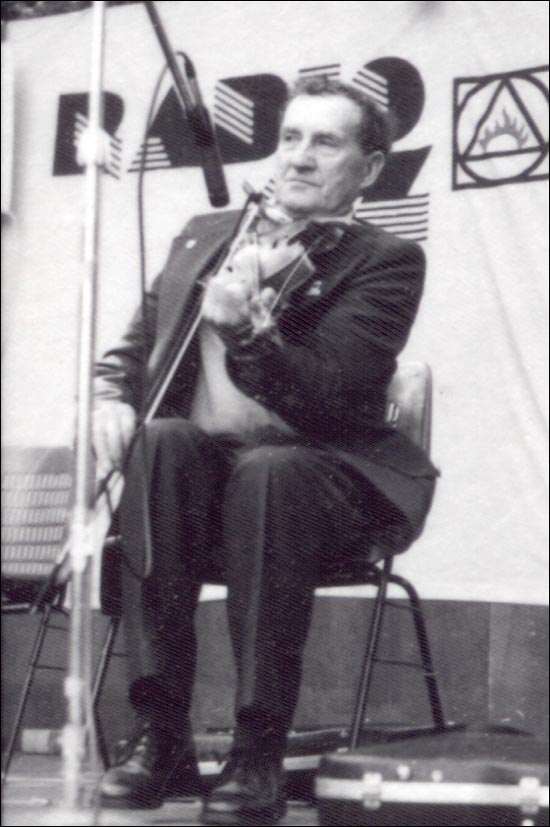 Rufus Guinchard at the St. John's Folk Festival, 1979
Guinchard (1899-1990) began playing the fiddle at the age of 11.
Courtesy of Archives and Special Collections (Coll - 154), Memorial University of Newfoundland, St. John's, NL.
As the popularity of kitchen dances declined, Guinchard played for occasional dances held in schools or community halls and in local clubs. From 1972-1978 he was a member of the Breakwater Boys, a group of Newfoundland musicians who performed concerts across the country while promoting a local publishing company. After leaving the group, Guinchard performed in major Canadian cities, as well as in England, France and the United States. In 1975 Guinchard found something of a protégé in Kelly Russell, then a fledgling fiddler in his late teens, who made a concerted effort to learn from him and other eminent musicians.
Russell eventually founded Pigeon Inlet Productions, a recording company largely dedicated to Newfoundland folk music and storytelling. The company produced an album of Rufus Guinchard's fiddle music entitled Rufus Guinchard: Step Tunes and Doubles. Russell has continued his musical career as a fiddler with such groups as Figgy Duff, the Wonderful Grand Band, the Plankerdown Band and the Irish Descendants. Along the way he has crossed musical paths with many other well-known musicians, including Émile Benoit.
Émile Benoit
Benoit is another example of a Newfoundland fiddler who started off playing at house dances and went on to perform at national and international venues. He was born in l'Anse-à-Canards (Black Duck Brook), a francophone community on the Port-au-Port Peninsula of western Newfoundland in 1913.
At about the age of eight Émile began to mimic the posture, foot-tapping and singing of a fiddler while using a toy instrument made of scrap wood and string. When he was 12 his uncle presented him with a real violin made of old parts, juniper and cat gut. He also taught Émile to play his first tunes and Émile progressed from there. He played at house parties, weddings and parish events. He learned music from other fiddlers, from the radio and television, and composed his own.
Émile Benoit's fiddling style suggested a confluence of Irish, French, Scottish, Canadian and American influences. But as he told researcher Colin Quigley, who considers Benoit a model of creativity within tradition, "Everybody got a sound" (Quigley 214). Émile was a fisherman until the age of 67, and when the cultural resurgence began in Newfoundland in the late 1960s he emerged as one of the province's most prominent and honoured musicians.
Émile Benoit (1913-1992), n.d.
In the late 1960s Benoit was one of the province's most prominent and honoured musicians. He is seen here on stage with his daughter Roberta.
From Colin Quigley, Music from the Heart: Compositions of a Folk Fiddler (Athens, Ga.: University of Georgia Press, ©1995) 5.
A "Fiddler"
In Newfoundland music tradition, a fiddler is not always a fiddler. Sometimes a fiddler is actually an accordion player. That is, the term "fiddler" is also used to refer to someone who plays dance music on the accordion. Both instruments have the ability to produce the articulated notes of a danceable tune. In an informal house time setting, a fiddler might play in non-dance rhythms and be favourably received, but a musician's talent is often gauged by the ability to produce a rhythm that encourages dancing in a public setting. A trend towards livelier traditional step dancing coincided with the emergence of the accordion as the more popular traditional dance music instrument by the middle of the 20th century, because it produces a more penetrating sound. The button accordion is the most popular type.
Harry Hibbs and Minnie White
Amongst Newfoundland and Labrador's most distinguished accordion players are Harry Hibbs and Minnie White. Hibbs (1942-1989) was born on Bell Island and moved to Toronto, Ontario, in 1962. After being injured in an industrial accident, he began playing at the Caribou Club in Toronto, where his TV show At the Caribou was based until 1973. It was there he made his first recording. The show then relocated to Cambridge, was renamed The Harry Hibbs Show, and aired weekly until 1976. In 1972 he received a Maple Award (precursor of the Juno Award) for Best Folk Artist. Hibbs continued to play accordion and sing, performing and recording Irish and Newfoundland music into the 1980s. By 1988 he had produced 19 albums. In February, 2001 Harry Hibbs was posthumously awarded the Dr. Helen Creighton Lifetime Achievement Award by the East Coast Music Association. He has been credited with making a major contribution to Newfoundland music, particularly among expatriate Newfoundlanders in other parts of Canada, and with the popularization of east coast folksongs.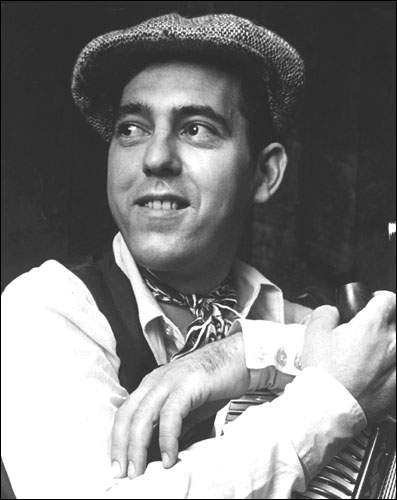 Harry Hibbs, 1971
This photo of Hibbs was originally a publicity still used for the cover of the February issue of Canadian Composer.
Courtesy of The Estate of Harry Hibbs.
The establishment of the Harry Hibbs Awards for Perseverance by the Porcupine Awards in 1991 has also recognized Hibbs' legacy to Newfoundland folk music. The 1994 recipient was Minnie (nee Hoskins) White, an accomplished accordionist who was born in St. Alban's on Newfoundland's southeast coast in 1916. Like many other instrumentalists, White learned to play from a relative, in this case her father, Samuel Hoskins, who played mouth organ, fiddle and accordion. Minnie also learned to play several instruments and gave her first performance for dancers at a house party when she was about eight years old. When she was 16 her family moved to the Codroy Valley, where she accompanied fiddlers as a pianist at community dances.
White began to build an enduring reputation as "First Lady of the Accordion" in the 1960s. She was awarded the Order of Canada in 1993 and inducted into the Newfoundland and Labrador Arts Council Hall of Honour the following year. During the summer of 1998 the community of Upper Ferry declared "Minnie White Day" in her honour. In 1999 she was recognized with the Dr. Helen Creigthon Lifetime Achievement Award.
Other Instruments
In the last 50 years the guitar has risen in popularity. Other instruments used to play traditional music include the jews-harp, comb, musical saw, spoons, bones and ugly stick. The jews-harp is held between the teeth and played by striking the end of a flexible piece of metal with the finger. As the metal vibrates it produces sound that the player can alter by changing the shape of the mouth.
Some instruments are homemade or are ordinary items put to musical use. Thus a comb is wrapped with a piece of thin paper and held between the lips to produce a vibrating hum.
The musical saw is in fact an ordinary handsaw coaxed to make music by bending it, and stroking it with a violin bow.
The spoons are regular metals spoons held in pairs with the convex sides hitting against each other as the player taps out a rhythm against his free hand and leg or different parts of the body.
The bones are made from two dried meat bones that are played by holding one steady while the other is worked back and forth.
The ugly stick is about four feet long, to which bottle caps, tin cans, small bells and other noisemakers are attached. It is played by thumping the stick, and striking its attachments with a drumstick.
When no other instruments are available voices can supply chin music, a kind of improvised rhythmic music usually comprised of nonsense words. It is also called cheek music, gob music or mouth music and it is yet another example of the resourcefulness of people who value and enjoy their musical heritage.