This page is from a heritage partnered project. It was written in 1998 by students from Stephenville Integrated High School and edited by their teachers. It has not been vetted by the heritage website's academic editor.
In 1941 the United States established the Ernest Harmon Air Force Base in Stephenville, Newfoundland, which was operational for 24 years. The construction and operation of the base offered many positive benefits to the area during its existence. However, the passing of time has brought to light the significant cost Stephenville paid environmentally.
The Americans constructed underground fuel storage tanks and pipelines. Several buildings were constructed for the storage and handling of chemicals and hazardous products. The natural flow of streams was diverted to allow for the construction of lengthy runways. Numerous land-fill sites were established where all sorts of environmentally disastrous wastes were casually dumped and buried.
As a direct result of the base, there are significant environmental concerns associated with Stephenville and the surrounding area. In the late 1990s an environmental audit and assessment of the area was undertaken by the NLHC (Newfoundland and Labrador Housing Corporation), to determine the type of cleanup required. The audit included extensive surveys and research of abandoned fuel lines, underground storage tanks and abandoned buildings, as well as their environmental impacts and health risks. Many people feel the audit did an excellent job on the specific areas of concern it studied, but it did not study the dump-sites left by the Americans. Much more work needs to be done in this area.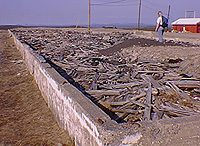 Pinetree Radar Base Ruins
The Pinetree Radar Base ruins lie alongside a frequently used walking trail known locally as the Mountain Table Trail. Close to the Air Force base, community members have expressed concerns over possible contamination of the area.
It has been many decades since the Americans left Stephenville. Why has the clean up taken so long to get underway? Maybe it was prompted by the discovery made in Argentia of a similar environmental disaster.