Stella Burry (1897-1991)
(From the Women's History Walking Tour Booklet)
Stella Burry was born in Greenspond, Bonavista Bay, the daughter of a fisherman and a mother who encouraged her to study. Stella began teaching at the age of 17, but the massive poverty she encountered led her to reconsider her career.
In 1922, she attended Methodist National Training School for Missionaries and Deaconesses in Toronto, majoring in social work. Returning to St. John's in 1938, she worked with the United Church developing programs in social welfare, including a community centre for domestic workers and a co-operative women's credit union.
Emmanuel House, once the United Church hostel for young outport women, was founded in 1946. Stella was instrumental in establishing the hostel, and served as its director until 1966.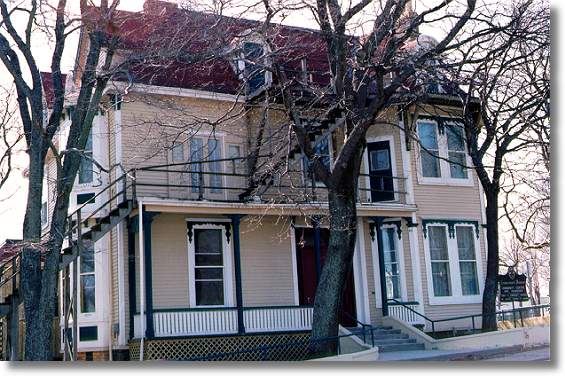 Emmanuel House
83 Cochrane Street
© 1999, Lisa LeDrew.
Stella was also a founding member of the Community Services Council in St. John's, and the Newfoundland and Labrador Association for the Aging. In 1967, she was awarded the St. John's City Council Citizen of the Year, and in 1971 received an honourary Doctor of Divinity degree from the Pine Hill Divinity Hall in Halifax.
Stella Burry never married, believing if she did, she would have to give up her community activism and commitments in order to raise a family.