Scottish Involvement in the Fishery
Scots participated in Newfoundland and Labrador's resident fishery during the 19th century, but primarily as merchants instead of as fishers. This was in contrast to English and Irish settlers, who worked in far greater numbers as fishers than they did as merchants. Although Scottish merchant firms were outnumbered by English firms, they were among the wealthiest and most successful on the island, and frequently exported more fish overseas than their competitors.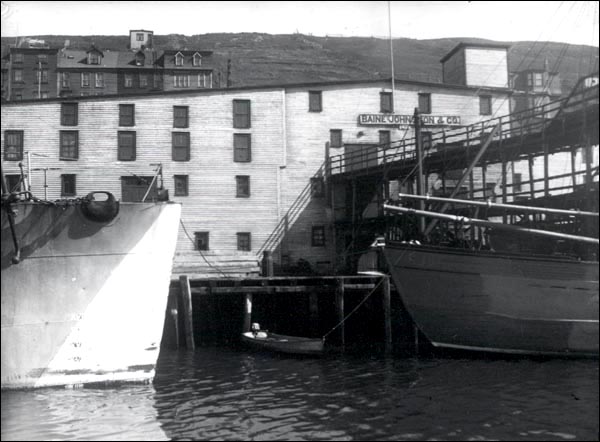 Baine Johnston and Company at St. John's, n.d.
Baine Johnston and Company was one of several Scottish merchant firms active in Newfoundland and Labrador during the 19th century.
Photographer unknown. Reproduced by permission of Archives and Special Collections (Coll. 137 03.04.011), Queen Elizabeth II Library, Memorial University, St. John's, NL.
Almost all Scottish people involved in the fishery were Lowlanders living in St. John's and other commercial centres on the Avalon Peninsula and Bonavista Bay. Most came from the port towns of Greenock and Glasgow, which had established regular trade links with Newfoundland and Labrador during the 18th century. As the colony's fishery evolved from a migratory industry to a resident one in the early 19th century, it became profitable for Scottish merchants to establish premises on the island.
Early Ties with Newfoundland and Labrador Fishery
Scottish involvement with the Newfoundland and Labrador fisheries was almost nonexistent before 1707, when Scotland and England joined to form the United Kingdom of Great Britain. After that point, it became easier for Scottish merchants to participate in commercial activities with English colonies overseas, which included Newfoundland and Labrador.
However, Scottish merchant ships were slow to engage in the Newfoundland and Labrador trade, which was instead dominated by vessels from England's West Country for much of the 18th century. Some Lowland ships began arriving at St. John's and other island ports by the 1720s, but their visits were sporadic and not a part of regular trade routines. These were usually sack ships, importing food and equipment to island merchants in exchange for fish to be sold overseas, predominantly to buyers in southern European ports during the 18th century.
Scottish merchants dramatically increased their involvement with the Newfoundland and Labrador trade during the American Revolutionary War (1775–1783). Hostilities not only disrupted trade between Scottish merchants and the American colonies, but also made it difficult for Newfoundland and Labrador to import food and gear from American ports. This in turn created an opportunity for Scottish merchants to ship goods to the island of Newfoundland.
Between 1764 and 1771, Scotland's exports to Newfoundland and Labrador were worth approximately £985 a year; they jumped in value to more than £17,000 in 1776, the second year of hostilities, and averaged more than £10,000 a year from 1776 until 1785. Scottish exports to the colony were predominantly food, drink and manufactured goods. Most merchant firms dealing with Newfoundland and Labrador were located at Greenock, with smaller numbers based at Glasgow, Edinburgh, and other Lowland port towns.
Some Scottish merchants established premises on the island of Newfoundland before the end of the century. One such firm was Lang, Baine and Company, which opened a fisheries supply and trading outlet at Port de Grave in 1780 before moving to St. John's by 1801. However, most merchants involved in the Newfoundland and Labrador trade operated out of the Scottish Lowlands during the 18th century.
Resident Fishery
This changed early in the 19th century, when the Napoleonic Wars (1803-1815) gave the colony an almost complete monopoly over the international fish trade. Immigrants arrived from overseas to take part in the lucrative industry, which quickly evolved from a migratory operation to a resident one. The colony's expanding economy and population created new opportunities in commerce and trade for resident merchants and many arrived from the United Kingdom during the early decades of the 1800s. Most emigrated from England, but some also arrived from the Scottish Lowlands.
Scottish merchants almost exclusively settled in or near commercial centres on Newfoundland's east coast and most were based at St. John's, the island's centre of commerce and trade. Prominent 19th-century Scottish firms at St. John's included Baine, Johnston and Company; Rennie, Stuart, and Company; Cunningham and Company; and Crawford and Company. Other Lowland merchants opened premises elsewhere on the east coast, particularly in Conception Bay and the Bonavista Peninsula; these included John Munn and Company at Harbour Grace, Archibald Graham in Trinity, and John Thomson in Catalina.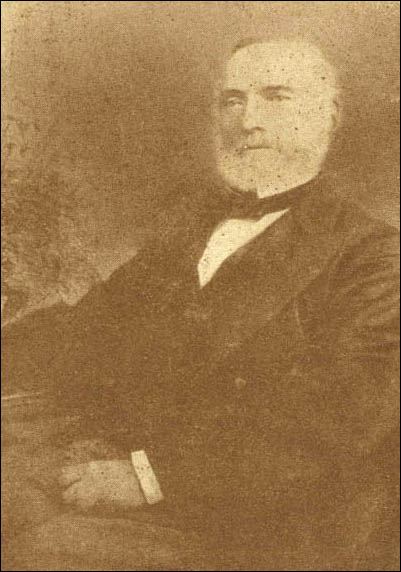 John Munn, n.d.
Scottish merchant John Munn co-founded the firm Punton and Munn (later John Munn and Company) at Harbour Grace in the 1830s.
Image reproduced from Colonial Commerce 26.6 (31 May 1917) p. 12.
Although easily outnumbered by their English competitors, Scottish merchants were among the wealthiest and most successful on the island. Of the 68 merchant wharves existing at St. John's in 1809, 10 belonged to Scots; most were better insured than English and Irish firms, indicating they were the more valuable businesses. Although some firms did experience financial difficulties and were forced to close (John Munn and Company, for example, declared bankruptcy during the Bank Crash of 1894), others continued to prosper. This is true of Baine, Johnston and Company, which is still active today in the wholesale and retail trades, as well as in the fields of real estate and insurance.
The success of Lowland firms may have been due to the limited direct involvement of Scottish merchants with the fishery. Unlike English merchants, many Scots had no immediate business dealings with fishers. They instead acted as wholesalers who supplied outport merchants with provisions and gear (usually imported from Scotland) in exchange for fish and fish products, which the firm then exported to buyers in southern Europe, South America, and the West Indies.
As a result, the merchant avoided many of the risks associated with the fishery. Scottish merchants did not have to rely on dozens of fishers to catch and cure cod, nor did they have to decide between extending and curtailing credit to those same fishers in times of hardship. Some firms, such as Lang, Baine and Company, exported fish on commission instead of buying it outright and selling it overseas; even if prices fell on the volatile international market, exporters would still earn their commission. Further, manufactured goods imported from the Scottish Lowlands often sold for less than handmade items from England's West Country, giving Scottish merchants a supply advantage over their English competitors.
Seal Fishery and Commercial Whaling
Scottish merchants also became involved in Newfoundland and Labrador's seal fishery during the 19th century, offering provisions in exchange for seal pelts and oil to be exported overseas. Two Scottish firms, Walter Grieve and Company and Baine, Johnston and Company, were among the first on the island to use steamers in the hunt after they bought the Scottish-made SS Wolf and SS Bloodhound, respectively.
In addition to resident firms, seal and whale merchants based in the Scottish towns of Dundee and Peterhead also engaged in the seal hunt during the last few decades of the 19th century, when stocks in the Davis Strait failed. These merchants sent steamers into Newfoundland and Labrador waters and often employed local sealers and captains. Some also bought facilities at St. John's to boil oil and store equipment. However, seal stocks fell into decline during the 1880s, which prompted the Dundee and Peterhead merchants to steadily decrease their involvement in the hunt until they withdrew from it altogether in 1901.
Some Scottish firms involved with the seal hunt were also active in whaling. This was the case with the Dundee whaling firms of Alexander Stephen and Sons and the Dundee Seal and Whale Fishing Company. Both firms maintained facilities at St. John's between 1876 and 1900 and employed Newfoundland and Labrador workers in sealing and whaling expeditions. Ships usually departed for the seal hunt first and then travelled north to harvest bowhead whales in Baffin Bay and the Davis Strait. The firms also processed some whale carcasses at their St. John's factories before withdrawing from the island altogether in 1900.