Harmon Corporation
This page is from a heritage partnered project. It was written in 1998 by students from Stephenville Integrated High School and edited by their teachers. It has not been vetted by the heritage website's academic editor.
The Harmon Corporation was opened after the Americans left the Harmon Airfield Base in Stephenville, Newfoundland and Labrador, in 1966. The base had supported the town's economy by providing employment for twenty years. Once the Americans left Stephenville, the town's economy slumped drastically. The Harmon Corporation, a provincial crown corporation, was formed in an attempt to boost the town's economy.
The corporation was not officially incorporated until 1967, but it became active in February of 1966. It then existed informally as a branch of the provincial Department of Public Works. It continued in this manner until July 1, 1967, when it was given funds and allowed to operate under its own board of directors.
The first board of directors was appointed by the lieutenant-governor and the mayor of Stephenville. They included: Albert Martin - Chairman; Derek Hammond - General Manager; George Warren - Deputy Minister of Public Works; Clarence Powell - Chairman of the Board of Commissioners of Public Utilities; Kevin Walsh - Stephenville Mayor; and Directors Barbara Wekenhan and James Campbell.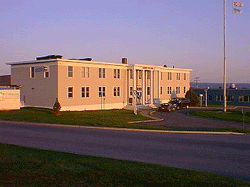 Harmon Building
The corporation opened up in the building on Oregon Drive that was the main base of operation for the Americans.
In order for the corporation to maintain, advertise and promote property, in an effort to re-establish the town's economy, it was given wide powers, including: the right to buy, sell, or lease property; to make, or obtain loans; to issue bonds, or debentures; to construct buildings, utility systems and recreation areas; and to advertise and make known the advantages of establishing a business in the area. It was also given all the rights and powers of a local improvement district. The Federal Government gave the corporation some one hundred and fifty million dollars of property, on 8,000 acres of land. These were the tools used to attract industry and create jobs in the area.
Since the corporation was given all these powers, by 1998 it leased, sold or transferred ninety percent of its buildings and reduced its staff from 120 people to 14. It attracted almost 200 companies and created over 2,000 jobs. The corporation had not received any government support since 1976. It is not difficult to imagine what Stephenville would have become after the American Air Force Base closed, if it were not for the Harmon Corporation.