Meech Lake
The Meech Lake Accord was a set of constitutional amendments agreed upon by the federal and provincial governments on 30 April 1987. It would have granted the provinces greater control over immigration and Supreme Court appointments, a veto over constitutional changes, and increased control over federal spending in areas of provincial jurisdiction, such as education and health care. It would also have recognized Quebec as a distinct society within Canada. The Accord had to be approved by Parliament and all provincial legislatures within three years.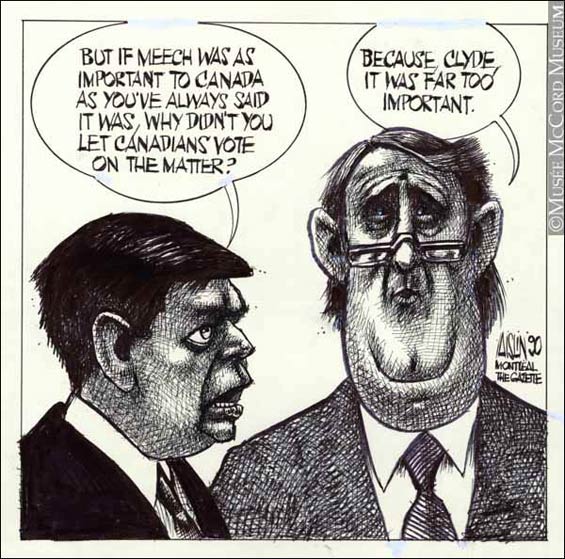 Wells and Mulroney Cartoon, 1990
Aware that public opinion was on his side, Wells challenged Mulroney to call a referendum and allow Canadians to vote on the Accord. Mulroney refused.
As the 1990 deadline approached, there was heated public debate about adopting the Accord. The premier of Newfoundland and Labrador, Clyde Wells, was a vocal opponent. Elected two years after the Accord was negotiated, Wells argued that Meech Lake would give Quebec greater legislative powers than the other provinces, make it almost impossible to enact future constitutional reforms, and undermine federal funding to Canada's poorer provinces. The federal government countered that defeating the Accord would threaten national unity by reviving the separatist movement in Quebec. In the end, Meech Lake failed when the ratification deadline passed without the necessary support from Newfoundland and Labrador and Manitoba.
Negotiating Meech Lake
The Meech Lake Accord addressed Quebec's concerns about changes made to the Canadian constitution in 1982. Before 1982, the constitution was embodied in the British North America Acts of 1867-1975 (renamed the Constitution Acts in 1982) and could only be amended by the British Parliament. The Liberal Prime Minister Pierre Trudeau initiated talks with the 10 provinces in 1980, aiming to gain constitutional independence. This resulted in the 1982 Constitution Act.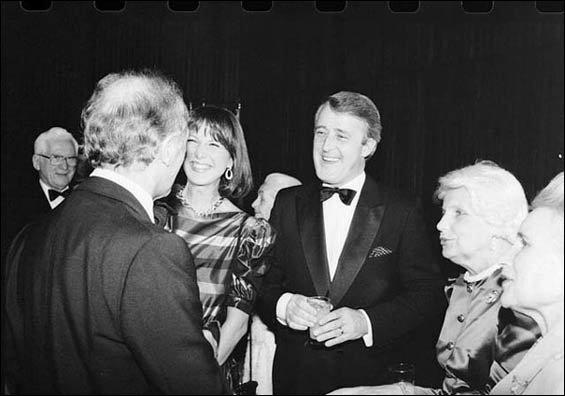 Mulroney with Trudeau, 1984
Mulroney speaking with Trudeau at a gala event in Ottawa in 1984.
© Government of Canada. Reproduced with the permission of the Minister of Public Works and Government Services Canada (2012). Source: Library and Archives Canada/Credit: Robert Cooper/Canada. Office of the Prime Minister collection/
PA-152416
The legislation introduced the Canadian Charter of Rights and Freedoms and made it possible for Canada unilaterally to modify its own constitution. It was endorsed by every province except for Quebec, which remained dissatisfied with some of the Act's provisions. In particular, Quebec wanted formal recognition as a distinct society within Canada. Quebec did not sign onto the new legislation, but was nevertheless bound by it.
Before his victory in the 1984 federal election, Progressive Conservative leader Brian Mulroney promised to bring Quebec into the constitution by reopening negotiations. In response, the Quebec Minister of Intergovernmental Affairs, Gil Rémillard, outlined in 1986 the conditions that could secure Quebec's acceptance. This document became the basis of the draft document known as the Meech Lake Accord.
The Meech Lake Accord consisted of six major provisions:
It recognized Quebec as a distinct society within Canada, and acknowledged that Quebec's English-speaking minority, and French-speaking minorities elsewhere, were a fundamental characteristic of Canada.
It restricted federal spending powers in areas of provincial jurisdiction. Ottawa gave the provinces money to help pay for day-care and other programs, but tensions existed when it imposed conditions on such funding. Under Meech Lake, any province would be able to opt out of these programs and still receive federal funding, as long as it created another program of comparable quality.
It entrenched existing agreements between the provinces and Ottawa over immigration.
It gave the provinces greater say over appointments to the Senate and Supreme Court of Canada. In the case of the Senate, whichever province was affected by the vacancy nominated replacements. In the case of the Supreme Court, a minimum of three out of nine judges had to come from and be nominated by Quebec; all other appointees could be nominated by any of the other provinces. The federal government would choose judges and senators from names submitted by the provinces.
The Accord granted each of the provinces, and Parliament, a veto over future constitutional amendments relating to central institutions, the creation of new provinces, and the use of the English or French language.
It made mandatory an annual First Ministers' Conference to discuss the economy and constitutional matters.
Prime Minister Mulroney and all 10 premiers signed the Accord on 30 April 1987. According to Canadian law, the provincial legislatures and Parliament had to approve the Accord within a three-year period in order to amend the Constitution. Meech Lake's deadline was 23 June 1990.
The Newfoundland and Labrador House of Assembly ratified the Accord on 7 July 1987. Then Premier Brian Peckford supported Meech Lake because he felt it would decentralize federal control over natural resources and give the province a greater say over fisheries management. In January 1989, Peckford retired from politics and Clyde Wells, a former corporate and constitutional lawyer, won a general election that April.
Accord Opposed by Wells
Wells strongly opposed Meech Lake and announced in his 25 May 1989 Throne Speech that he would ask the House of Assembly to rescind its approval. He outlined three main concerns. The veto clause, he argued, would make future constitutional amendments practically impossible. This included Senate reform, which Wells supported because he believed a Triple-E Senate (in which every province is equally represented, regardless of population) would help bring economic prosperity to Canada's poorer provinces by countering the overwhelming strength of Ontario and Quebec in the House of Commons.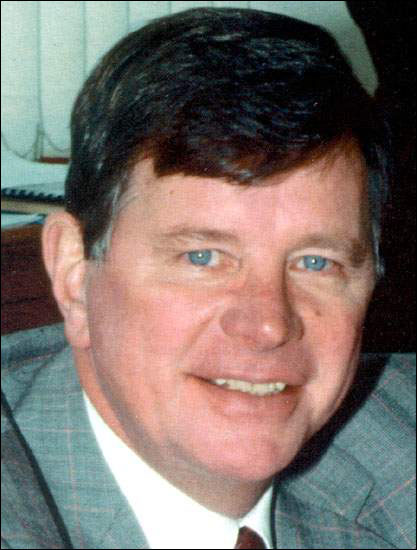 Clyde Wells, 1993
Newfoundland Premier Clyde Wells strongly opposed the Meech Lake Accord and announced in his 25 May 1989 Throne Speech that he would ask the House of Assembly to rescind its approval.
Reproduced by permission of The Newfoundland Herald. From The Newfoundland Herald 48:18 (St. John's: The Newfoundland Herald, ©1993).
He also argued that restrictions on federal spending would disadvantage the poorer provinces. Finally, Wells's third and most controversial concern was that by placing the distinct society clause in the body of the Accord instead of its preamble, the agreement would grant Quebec special legislative status and undermine the Charter of Rights and Freedoms.
Wells was joined in his opposition to Meech Lake by former Prime Minister Pierre Trudeau and the New Brunswick and Manitoba governments - the only two provinces that had not yet ratified the Accord when Wells assumed office. Like Wells, Manitoba Premier Gary Filmon and New Brunswick Premier Frank McKenna had both been elected after Meech Lake was negotiated and expressed reservations over its provisions. Trudeau was one of the Accord's earliest critics, arguing that the distinct society clause would undermine national unity and perhaps even lead to the breakup of Canada.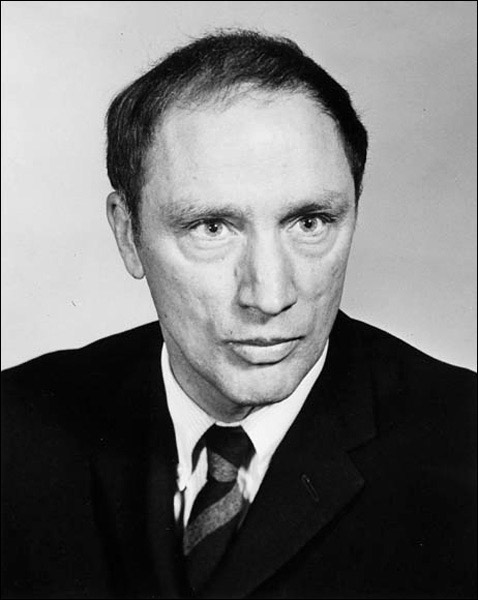 Pierre Elliott Trudeau, n.d.
Former Prime Minister Pierre Trudeau was one of the Meech Lake Accord's earliest critics.
© Library and Archives Canada. Reproduced with the permission of Library and Archives Canada. Source: Library and Archives Canada/Credit: Duncan Cameron/Duncan Cameron fonds/
C-025002
It was Wells, however, who became the Accord's most outspoken and prominent critic. Articulate, informed, and passionate, he frequently appeared on national newscasts. John Crosbie, an Accord supporter and a Mulroney cabinet minister, wrote of Wells's influence in his memoirs: "Clyde was a dangerous opponent. He appeared to know his dossier well, to be knowledgeable. He came across well on television" (Crosbie 366).
Wells attracted much support from English-speaking Canadians, whose opposition to the Accord increased after he took office. Polls showed that while a majority of Canadians outside Quebec favoured the Accord in 1987, a majority opposed it by June 1990. Wells received thousands of letters of support from across the country (excluding Quebec) and was widely viewed as an underdog taking a stand against the much more powerful governments of Quebec and Ottawa to protect his vision of national unity. "No federation," he told reporters, "is likely to survive for very long if one of its supposedly equal provinces has a legislative jurisdiction in excess of that of the other provinces" (Simpson 165).
At the same time, Wells drew sharp criticism from the Quebec government and public, as well as from the federal government and the premiers who supported the Accord. As its deadline drew near, debate surrounding the Accord became increasingly heated and divisive. Mulroney threatened that if Meech Lake failed, then Quebec's separatist movement would gain strength and possibly break up the country. This was echoed by Quebec's federal cabinet minister Lucien Bouchard, but dismissed by Wells as a tactic to pressure the Accord's opponents into ratifying the deal.
He vehemently denied that his views were a rejection of Quebec culture, a position Crosbie later supported in his memoirs: "People didn't understand Wells. They thought he was hostile to Quebec and Quebecers. But that wasn't it at all. He had a fanatical idea of what the Constitution should say, and how it should deal with every province. In his view, every province was absolutely equal to every other province, and should, therefore, have exactly the same powers" (Crosbie 365). Aware that public opinion was on his side, Wells challenged Mulroney to call a referendum and allow Canadians to vote on the Accord. Mulroney refused.
Final Days of Debate
Debate culminated in a marathon First Ministers' Conference convened to discuss the Accord, which lasted from 3-10 June 1990. Two months earlier, on 6 April, the Newfoundland and Labrador legislature formally rescinded its support for Meech Lake, making it, Manitoba, and New Brunswick the final three holdouts.
At the end of the conference, the three premiers agreed to ask their legislatures to vote on the Accord before the 23 June deadline. In exchange, they were given guarantees that some of their constitutional concerns, including Senate reform, the veto clause, and aboriginal issues, would be discussed at future First Ministers' Conferences. The distinct society clause remained untouched.
Although Wells was unbending in his opposition to the Accord, he agreed to allow a free vote in the House of Assembly. When the conference ended, he stated: "I found myself constantly being pressured to agree to do something under the fear and threat that failure to do it may do irreparable harm to the country. And I don't want any responsibility for doing irreparable harm to any part of this nation" (Hoy 207).
The ratification process, however, unraveled after a member of the Manitoba Legislative Assembly, Elijah Harper, blocked the vote on a procedural point. To meet the deadline, the Manitoba assembly had to bypass its usual process of public consultations, but needed unanimous consent from all members of the legislative assembly do so. Harper argued that aboriginal groups had not been involved in negotiating the Accord and on 12 June objected to ratifying the agreement without public consultation.
New Brunswick ratified the Accord three days later, but Wells delayed holding a vote. The federal government agreed to give Manitoba a three-month extension if Newfoundland and Labrador ratified the Accord by the 23 June deadline. Wells accused Ottawa of pressuring his province into accepting the Accord and argued that if Manitoba had an extension, then Newfoundland and Labrador should have one as well. Ottawa refused and the Accord died after its deadline for ratification passed without support from Manitoba or Newfoundland and Labrador.
Aftermath
The debate surrounding Meech Lake and its ensuing failure created a political backlash in Quebec. Disillusioned with mainstream federal parties, a coalition of Quebec Members of Parliament broke away from the Liberal and Conservative parties in 1990 to form the Bloc Quebecois. Led by former Conservative cabinet minister Lucien Bouchard, the party won 54 of Quebec's 75 seats in the 1993 federal election. Its mandate is to promote Quebec sovereignty and Quebec's interests in the House of Commons.
As separatist sentiments increased in Quebec, Canada's first ministers negotiated a second package of proposed constitutional amendments in 1992. Known as the Charlottetown Accord, it was largely a second version of Meech Lake, expanded to include provisions for Senate reform, aboriginal self-government, and other issues that had contributed to the collapse of the first Accord. Wells supported the new Accord and promoted it across the country. Unlike Meech Lake, however, it had to be approved by the Canadian people in a national referendum instead of ratified by provincial legislatures.
This referendum was held on 26 October 1992. Although the Charlottetown Accord received a majority of votes in Newfoundland and Labrador, New Brunswick, Prince Edward Island, Ontario, and the Northwest Territories, it was opposed by the other provinces, particularly Quebec. In total, 54 per cent of voters across the country rejected the Accord. Constitutional debate has not reopened since then, although the federal government passed the Quebecois motion in 2006, recognizing Quebec as a nation within Canada.