St. John's Status of Women Council, The Women's Centre
(From the Women's History Walking Tour Booklet)
This building represents the first Women's Centre in Canada to be owned by its members and is also the longest continuously running Centre in the country.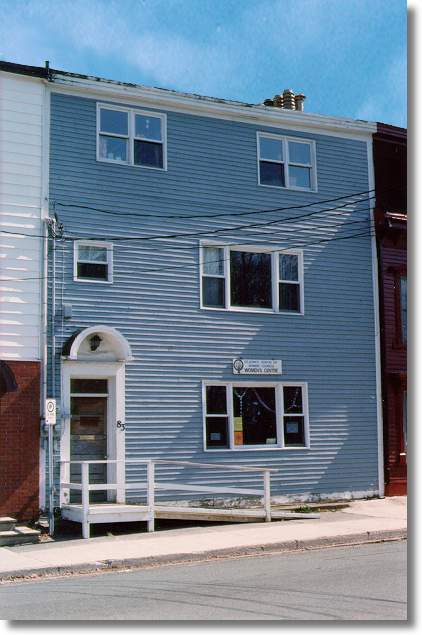 St. John's Women's Centre, 1998
83 Military Road, St. John's, NL
© 1998, Lisa LeDrew.
The Newfoundland Status of Women Council (NSWC) was founded during the winter of 1972 after the Royal Commission on the Status of Women report was released by the federal government. The NSWC ran a Women's Centre from various rented homes in the city before buying the house on Military Road, which opened June 25, 1978.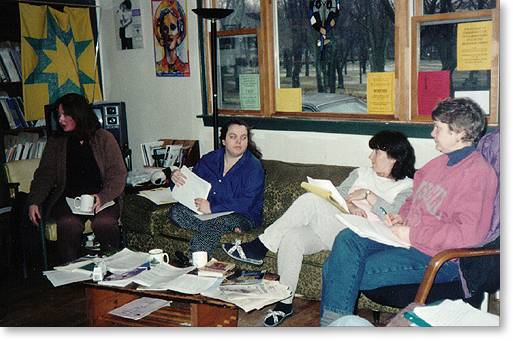 Inside the St. John's Women's Centre, 1998
A writer's workshop, January 1998.
© 1998, St. John's Women's Centre.
The actual purchase of this property is testimony to the dedication of the women involved. The Council had no money, so 20 women were asked to loan $100 each for the downpayment. As well, two Council members signed personal guarantees for the mortgage. The extensive renovations needed in the building were carried out by women hired under federal grants to train women for nontraditional trades.
Over the years, the Women's Centre has also housed the Newfoundland Chapter of the Canadian Abortion Rights Action League, Women's Health Education Project, The St. John's Rape Crisis and Information Centre, and the committee that founded the province's first shelter for battered women and their children.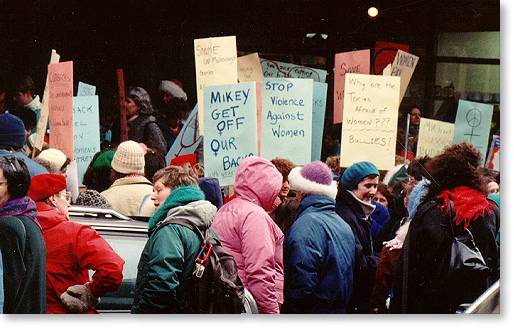 Demonstration staged at the Offices of the Secretary of State, St. John's, 1990
Successful demonstration to restore funding for women's centres across Canada.
© 1990, St. John's Women's Centre.
The NSWC changed its name to the St. John's Status of Women Council in the late 1980's as Status of Women Councils were created in other areas of the province.
(Thanks to Wendy Williams.)