Julia Salter Earle (1878-1945)
(From the Women's History Walking Tour Booklet)
Julia Salter Earle was outstanding among the women of her time for her advocacy to improve the lot of the working classes. During the Depression, she led a march of about 500 unemployed men through the streets of St. John's to the Colonial Building. She provided much of the impetus for the founding of the Ladies Branch of the Newfoundland Industrial Workers Association, of which she became President.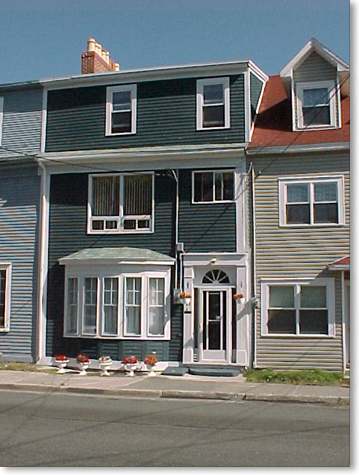 Julia Salter Earle's Home
63 Military Road, St. John's, NL
Photo by Duleepa Wijayawardhana, 1998.
Julia attempted to use the union to publicize poor wages and working conditions for female workers. Although not a member of the suffragist movement, Julia appears to have had strong feminist convictions. Twice she ran for City Council as a Labour candidate, but although she came close in 1925, she was unsuccessful in both attempts.