Planters
Every fishing property usually included a planter's house, a store with goods and supplies, and cabins for fishing equipment and the crews. Each planter tried to keep records covering contracts made with seasonally hired fishermen, the purchase of goods, sales of cod, promissory notes, credit advances granted or received, and so on. The planter regularly had recourse to the clerk/notary of the colony to register his transactions. Although the planters hired mainly shallop crews, some owned schooners and even ships. These vessels were used to take cod to France, and to trade with the other French colonies, including Québec and the West Indies. Wages paid to the seasonal hired fishermen, the cost of bringing them over, and the expense of goods and fishing implements, often caused a high level of debt – at least that is what the few surviving estate inventories seem to indicate.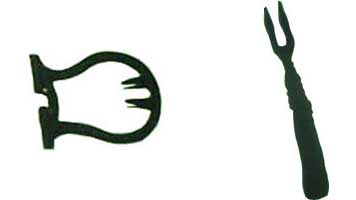 Buckle and Cooking Fork from the Excavation at Plaisance
These and other artifacts were uncovered by archaeologists working at the ruins of Castle Hill in the late 20th century. They reflect the economic activity of 17th and 18th century Plaisance, in which the military garrison helped to stimulate trade and commerce in necessary goods. These artifacts are now on display at the Castle Hill Interpretation Centre.
Photo by Edward Power. Reproduced by permission of Department of Education, Government of Newfoundland and Labrador ©1982.
By combining several business activities, a few Plaisance planters managed to climb the social ladder, become merchants, and even to occupy posts in the colony's small public and military administration. A few had access to the Superior Council of Île Royale after 1715. Guillaume Delort was a classic case. A broker, he bought and sold goods and ships on his own account, and for merchants from other ports such as Québec and St-Jean-de-Luz. A few planters from Plaisance and Île Royale owed him money when they died, for supplies of provisions and fishing equipment. His brother-in-law André Carrerot, was also very active. As for Joseph Lartigue, he arrived in Plaisance as a hired fisherman and his name appears in the records from 1708. Eventually, according to his own estimate, he became one of the richest planters in Plaisance. But the Daccarrette family (Joannis, Michel and Jacques) was perhaps the most prestigious; its members were involved in the fisheries, trade and privateering, and there were strong family connections to Bayonne, France
.