Agnes Marion Ayre (1890-1940)
(From the Women's History Walking Tour Booklet)
Agnes Marion Ayre had a lifelong interest in botany, and in 1935 published Wild Flowers of Newfoundland, Part III. This book was the only volume of a planned series of five to be published. She had completed 1,000 life-sized water colour paintings with a historical record of each species, but due to a lack of money, a break-in at the office she was using, and then her illness, she barely managed to get the one volume to print. In order to get the book published, the paint was washed off her illustrations and the historical notes were cut considerably.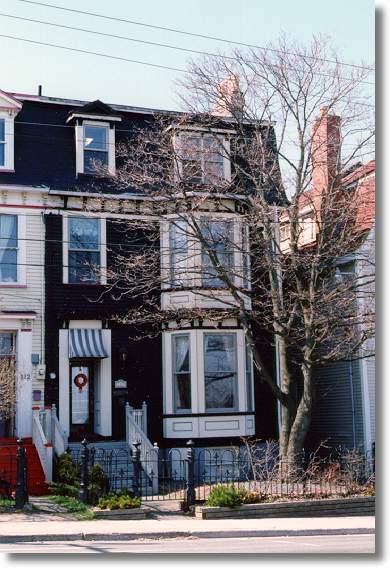 Home of Agnes Marion Ayre
120 Military Road, St. John's, NL
Photo by Lisa LeDrew. © 1999.
Agnes Marion Ayre collected five-sixths of the then known flora of the province. After her death much of her work - paintings, pressed flowers and field notes - was not properly stored and was lost. What remains has been donated to Memorial University, and can be viewed by appointment at the Agnes Marion Ayre Herbarium.
In addition to her scientific work she was active in the Women's Franchise League in the 1920s, a founding member of the Historical Society and the Newfoundland Art Society, and published a book entitled Newfoundland Names.