Reginald Shepherd (1924-2002)
I paint realistically, but I am not a true realist because I take poetic licence when painting ... I like to feel that I have enabled the viewer to see beyond a mere likeness of the subject and understand why I thought the subject worth expressing. I have been called a poetic-realist.
--Reginald Shepherd, 1985
Excerpt from artist statement in 12 Newfoundland Painters exhibition publication, organized by Memorial University Art Gallery, 1985.
Personal Life, Education and Career
Reginald Shepherd was born in Portugal Cove, Newfoundland, in 1924, and spent his formative years in the picturesque communities of Port de Grave and Bishops Cove in Conception Bay. Both of his parents were teachers. As a young boy, he accompanied the local artist A.E. Harris, on sketching trips around the Conception Bay area.
Upon graduation from high school in 1941, Shepherd found work as a sign painter at the American Naval Base at Argentia. In 1942, he enlisted in the Royal Canadian Air Force and served as a paramedic. He was posted at Gander, Newfoundland in 1943, where he took evening art lessons from a British serviceman who was also a graduate of the Glasgow School of Art. One of Shepherd's paintings from this period, For Freedom, was exhibited in a group show of servicemen's art at the National Gallery of Canada in 1944.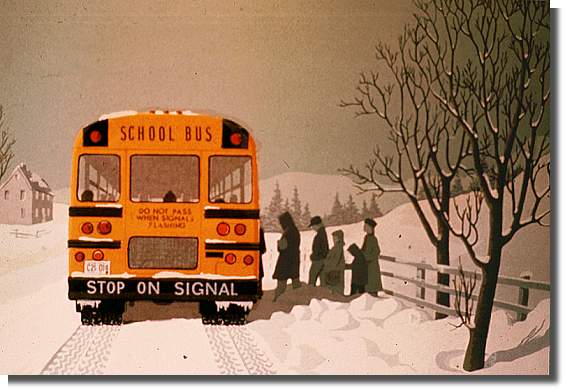 School Bus, Conception Bay
1972
Serigraph, 6/90
32.8 x 53.5 cm
After the war, Shepherd enrolled in the Ontario College of Art, where he met fellow Newfoundlander, Helen Parsons. They married in 1948. The couple moved back to St. John's in 1949 and established the Newfoundland Academy of Art (NAA), the first art school in the province. Initially, the NAA was a house in downtown St. John's renovated to accommodate the school, the Shepherds' own private studios, and their living quarters.
During the 1950s, Shepherd also lectured in art at Memorial University of Newfoundland and began an art therapy program at the Waterford Hospital. He was awarded a Royal Society of Canada Fellowship in 1956, which allowed him to study for a year in Europe, primarily in Holland. After the NAA's closure in 1961, Shepherd taught art for 18 years at Prince of Wales Collegiate, a St. John's high school. He also worked on his studio art, chiefly serigraphs and watercolours of the Conception Bay area. He received much critical acclaim. He was elected to the Royal Canadian Academy of Arts in 1976 and received an honorary degree from Memorial University of Newfoundland in 1988.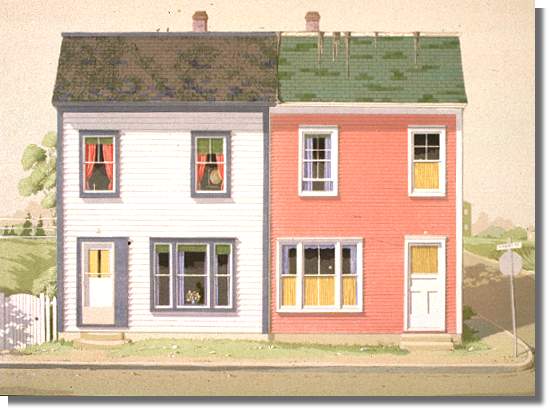 Sunday Afternoon
1987
Serigraph, 60/60
38.1 x 51 cm
Artwork and Collections
Shepherd's landscapes have a fairy-tale quality, which he described as "poetic realism." They were exhibited across the province, the country, and in Europe. His solo exhibitions include those at the University of Toronto in 1969 and at the Memorial University Art Gallery (now The Rooms Provincial Art Gallery) in 1972. In 1983-84 he exhibited in England and Ireland. Four Decades, a retrospective of his and Helen Shepherd's work, was held in the Memorial University Art Gallery in 1989. The Rooms Provincial Art Gallery held a second major retrospective of their work in 2005. That same year saw the publication of the book Reginald Shepherd, Helen Parsons Shepherd: A Life Composed, edited by Ronald Rompkey.
In addition to The Rooms Provincial Art Gallery's Permanent Collection, Shepherd's work is part of private and public collections, including those of the Assembly of First Nations at Ottawa, Dalhousie Art Gallery in Halifax, and the Government of Newfoundland and Labrador.
Shepherd spent his summers at Clarke's Beach, Newfoundland, and his winters in St. John's. He died in June 2002.