Bringing It to the World
Traditions
In their mind's eye, most Newfoundlanders can see the "kitchen party": Drinkers and carousers crowd around a woodstove or step dance across the floor, while a few musicians sit in the corner trading songs and tunes. The kitchen party has been enshrined as an iconic image of the Newfoundland lifestyle, turning up in television shows, music videos and tourism promotion campaigns.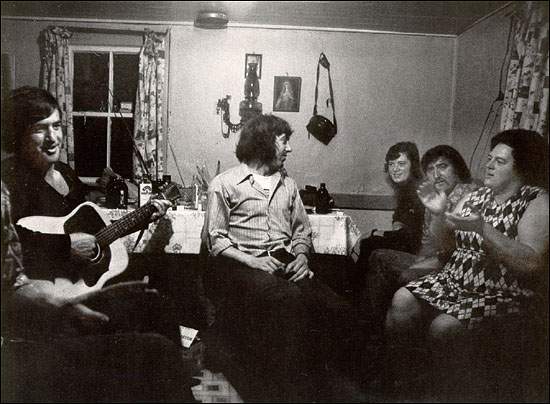 Kitchen Party, Conche, n.d.
The kitchen party has been enshrined as an iconic image of the Newfoundland lifestyle. Pictured here are Stan Fitzgerald, Jerome Flynn, Gerard and Alice Simmons, and Kathleen Flynn.
Reproduced by permission of Candace Cochrane. From Candace Cochrane, Outport: Reflections from the Newfoundland Coast, edited by Roger Page (Don Mills, Ontario: Addison-Wesley Publishers, ©1981) 126.
The tradition of household entertainment continues to thrive, and on a Saturday night makeshift jam sessions still unfold in kitchens, living rooms and basements around the province. But over the last century Newfoundland and Labrador music has grown far beyond the kitchen, absorbing a broad range of influences, adapting to new technology and developing as an entertainment and a business. Today's professional musicians strive to strike a balance, retaining the spontaneity and intimacy of the kitchen party while bringing their work to concert halls, sophisticated recording projects and international audiences.
Like other folk traditions, Newfoundland and Labrador music first evolved as a pastime shared among friends, neighbours and co-workers. Many tunes and ballads were well known in homes and workplaces long before they were heard in more formal settings. The evolution of Celtic-based music, in particular, cannot be separated from the daily life of early settlers. Jigs and reels were played for dancing, "chin music" originated as a way to sing a tune when no instruments were available, shanties were matched to the rhythms of manual labour and ballads were, among other things, stories told to help pass long and uneventful evenings. More formal musical performances were usually reserved for church services, spiritual music having been sung and played since the first settlements were established and first churches built. Military and church bands also provided entertainment during public occasions and ceremonies.
Musicians
The first professional musicians of note were the balladeers and theatre companies of the late 19th and early 20th centuries. Johnny Burke, James Murphy and several other singers were popular in the St. John's area. They also sold "broadsides", printed copies of songs they had written. The songs were usually topical, referring to local characters and events, which helped assure their success. A few, such as Burke's Kelligrew's Soiree, are still among the province's favourites. Many of the balladeers worked with local theatre troupes to produce operettas and other musical shows, which became particularly popular in St. John's and Harbour Grace. By the turn of the century folk musicians were also beginning to emerge publicly and were commonly heard at garden parties and community halls.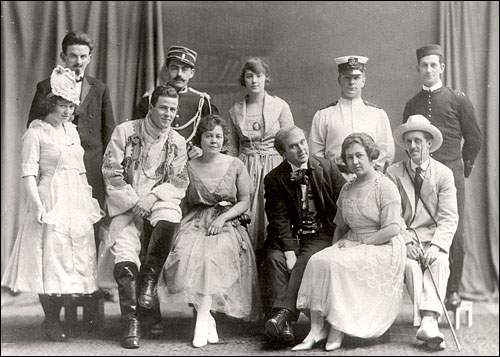 Cast of "The Prince of Pilsen," a Musical Comedy Opera, 1921
In the late 19th and early 20th centuries, operettas and other musical shows became popular in St. John's and Harbour Grace.
Photo by Holloway. Courtesy of Archives and Special Collections (MF-287, 1.13), Memorial University of Newfoundland, St. John's, NL.
Local music found a wider audience and new commercial potential with the advent of radio. In the 1920s and 1930s Newfoundland's most popular radio programs included The Big Six and The Irene B. Mellon, both of which featured live performances of Irish and Newfoundland music. Much of it would have been familiar to listeners, while other songs were introduced via the radio broadcasts and absorbed into the local folk tradition. Entertainers such as John White would later credit the early radio shows for inspiring a love of music, teaching them songs and creating an enthusiastic audience for their work.
Music Media
The first songbooks also appeared early in the century, with the Gerald S. Doyle songbook, in particular, finding its way into thousands of homes. Record players also became fixtures in many homes and stars like the McNulty Family, a popular Irish-American group, sold thousands of records across the island. By 1943 Newfoundland had its first local hit record, Art Scammell's Squid Jiggin' Ground.
Songs and tunes continued to be shared among families and neighbours. But people now demanded entertainment in nightclubs, dance halls and other public venues. Singers, accordion players, fiddlers and small ensembles moved from the household to the stage and their music changed to suit the new setting. Microphones and amplifiers were used, allowing performers to become more adventurous and varied in their styles of singing and playing. As the century progressed through World War Two, Confederation and the babyboom, Newfoundland and Labrador were exposed to a greater variety of music than ever before.
People embraced swing, country and western, pop and rock and roll, styles of music designed for large audiences and venues. It was not long before drum kits and electric instruments were commonplace and the different styles began to bleed into one another. Among the most popular performers of the 1950s and 1960s were Wilf Doyle, a traditional accordion player who formed a touring band, the Solidaires, specializing in big band swing music, a local country singer named Jimmy Linegar and various rock and roll dance groups.
In Ontario singers like Harry Hibbs and Dick Nolan appealed to large audiences of expatriate Newfoundlanders with dance music rooted in the Irish and Newfoundland folk repertoire. Most successful acts were now releasing long-playing records and singles and earning radio airplay. For several years Harry Hibbs was one of the top selling acts in Canada, though he ultimately saw little income from his record sales.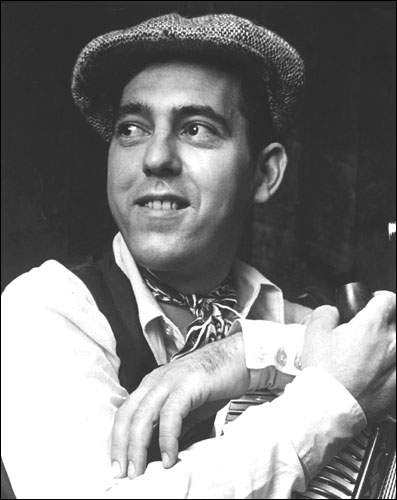 Harry Hibbs, 1971
With record sales of over 1.5 million, Harry Hibbs is one of the top-selling Canadian artists of all time.
Courtesy of The Estate of Harry Hibbs.
Activity and Exposure
By the 1960s nightclubs rivalled homes and churches as the primary social and musical venues. An ambitious generation of musicians had emerged, intenton selling records, performing concerts and bringing local music to listeners around the world. All Around The Circle, a variety show made in St. John's and emphasizing local music, was a staple on CBC Television throughout the 1960s and 1970s. Another key television series was Ryan's Fancy, hosted by the group of the same name. They travelled to communities around the island and the Maritimes, featuring local musicians in their home settings. Harry Hibbs and The Wonderful Grand Band also hosted popular television shows.
Despite the increased activity and exposure, commercial gains were modest and Newfoundland artists struggled in a competitive entertainment industry. But the music was gaining a national reputation for its singular sound and local acts travelled frequently to folk festivals across Canada and in some regions of the United States and Europe. The traditional sound continued to evolve as artists absorbed international influences and raised their musicianship to new standards expected by audiences. Advances in technology also coloured the music and assisted the quest for broader audiences. In the 1980s the means to create records, tapes and compact discs became cheaper and more accessible, leading to a substantial increase in Newfoundland recordingson the market. The widespread availability of recording technology encouraged artists to improve their technical, musical and business skills.
The 1990s saw new efforts to establish local music as a viable business with untapped potential. The performing arts gained more government recognition as commercial industries, seen as particularly valuable to tourism. Organizations such as the Music Industry Association of Newfoundland and Labrador offered support and education to local artists. There were renewed attempts to build a music business infrastructure, with local entrepreneurs playing a greater role in artist management, cd distribution, publicity and promotion.
The East Coast Music Awards
The annual East Coast Music Awards, beginning in 1991, suggested exciting new possibilities for commercial success among local musicians. A glamorous televised awards show accompanied by a three-day business conference, the awards brought Atlantic Canadian music to the attention of promoters, record companies and the media in Canada, the U.S. and Europe. Only a few artists have fulfilled the promise of mass-market stardom suggested by the event. But the ECMA's ongoing promotional efforts cannot be discounted. Many Newfoundland artists have found new levels of success in niche markets: rock bands use networks of musicians and promoters to reach new audiences, folk musicians find work on the "folk circuit" of coffee houses and festivals, songwriters sell their material to other recording artists. There are still very few Newfoundland artists who can sell thousands of copies of a new recording. But in the last ten years audiences outside the province have embraced the music as never before. The success stories include the Irish Descendants and Buddy Wasisname and the Other Fellers. The biggest is Great Big Sea, a quartet that has sold traditional Newfoundland music to a new audience of young adults and college students.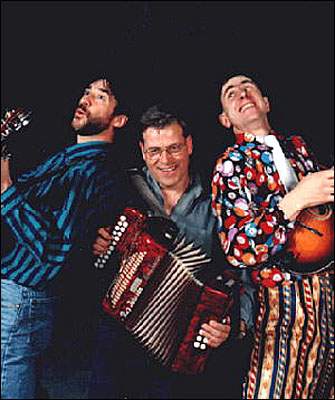 Buddy Wasisname and the Other Fellers, 2001
Members of the group are (L-R) Wayne Chaulk, Ray Johnson and Kevin Blackmore.
Photo by Bernie Hollett. Courtesy of Buddy Wasisname and the Other Fellers.
Maintaining Vitality
Many Newfoundlanders continue to perform traditional, Celtic-based music in its more traditional form. But a self-conscious "purist" ethic is not strong among musicians or audiences. Artists who specialize in styles such as traditional, pop, country or classical music often set aside those boundaries to work together. Most performers absorb new influences in varying degrees and use new technologies to enhance their style. There are inevitable tensions between outside and indigenous sounds, between audience expectations and the musicians' desire to break new ground, between the pursuit of music as an art form and its exploitation as a commercial product. But these tensions have helped the music grow and retain its vitality. This vitality must be maintained if Newfoundland and Labrador music is to find new audiences in the future.