Josephina Kalleo
I would like for someone to carry on what I've been doing. It would teach the children about what those days were like and they will always know. They should know their traditional way of life.
- Josephina Kalleo, 1989
Excerpt from artist statement in Labrador Biography Project compiled by Memorial University Art Gallery, 1989.
Josephina Kalleo was a visual artist known for her detailed drawings of traditional Inuit lifestyles.
She was born in 1920 at Nain, Labrador and was educated at the community's Moravian Mission School.
After raising her five children, Kalleo began to draw while working for the Torng'sok Cultural Centre in Nain, where she transcribed tapes of spoken Inuktitut, her first and only language. In the early 1980s, she received a grant from the Department of the Secretary of State to complete an ambitious series of 45 drawings based on her childhood memories.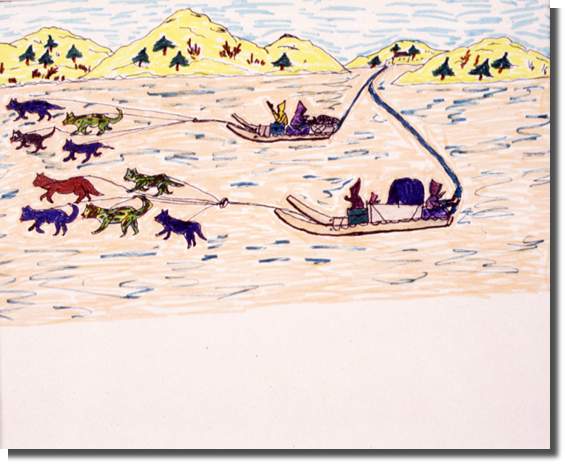 Travelling by Dog-Team
Unknown Date
Felt-Tipped Drawing
17.7 x 22 cm
Using coloured felt- tipped markers, she created detailed images that depicted the lifestyles of the Labrador Inuit in the 1920s. The illustrations showed people hunting, fishing, berry picking, trapping, playing games, getting married, going to school, and preparing for Christmas. Works such as Traditional Foods, The Spring Camp, The Old Days, Education, Women as Trappers, Festive Dress, Unequal Trading, and Boats documented many aspects of Inuit life.
These drawings, along with Kalleo's explanations of them, were published in the 1984 book Taipsumane, an Inuktitut word meaning "Them Days." The text was written in Inuit syllabics, Moravian Inuktitut (using the English alphabet), and standard English. It remains a valuable record of traditional Labrador Inuit life. The book was incorporated into the Newfoundland and Labrador school curriculum and taught in social studies classes. Kalleo's drawings are also highly regarded for their use of colour, detail, and composition.
The original 45 drawings toured throughout the province in the exhibition Taipsumane: Drawings by Josephina Kalleo, organized in 1984 by the Memorial University Art Gallery (now The Rooms Provincial Art Gallery). The gallery later acquired the 45 drawings for its Permanent Collection and exhibited them as part of its 2002 group show, North and South: Tradition, Invention and Intervention in Labrador.
Kalleo died in 1993 at the age of 73.