English Settlement
The initial establishment of a British population in Newfoundland can be traced to the English colonizing schemes in the early 17th century, particularly the planting of a colony at Cupers Cove (Cupids, Conception Bay) by the London and Bristol Company in 1610, and the southern Avalon plantation. Throughout the 17th century the settled population was augmented by fishermen and their families from the English fishing fleets engaged in the migratory cod fishery. The settlers, or planters as they were frequently known, were individuals who for one reason or another voluntarily chose to remain in Newfoundland, at least for a few years, rather than return to England. Some planters overwintered as caretakers of supplies and properties belonging to West of England fish merchants and ship owners. Others engaged in winter activities such as hunting and trapping, wood cutting and boat building. It is likely that most of these planter families expected to return home, and indeed many of those that survived did.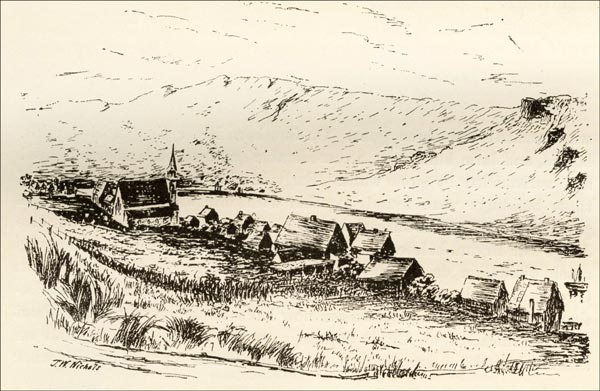 Cupids, NL, n.d.
Cupids, or Cupers Cove, was first settled in 1610 by the London and Bristol Company.
Drawing by J.W. Nichols. From D.W. Prowse, A History of Newfoundland from the English, Colonial and Foreign Records (London: Macmillan, 1895) 97.
Permanent Settlement
Settlements that came to be occupied each winter were rarely occupied for many years by the same people, but some families did persist. Most importantly, residency and the presence of women, even in small numbers, gave rise to a native-born population and provided the demographic basis for a well-rooted permanent population. By the 1670s there was at least one family in 30 different settlements along the east coast of Newfoundland between Trepassey in the south and Salvage to the north. St. John's had about 30 resident families and Bonavista, the second largest place, half that number. Life in these settlements was burdensome, tenuous and unstable, and lacked the support of any community institutions or any meaningful form of civil government. Legal authority, such as it was, rested with fishing admirals, captains of the first arriving migratory fishing ships in the different harbours.
Planters
Newfoundland planters occupied shore premises, also known as rooms or plantations, and operated fishing boats. Their establishments included male fishing servants and most often members of the planter's family. Although most of the early planters operated a single boat and hired on average five servants for a fishing season, some were substantial employers who owned five boats or more, and maintained (employed, housed, and victualled) 25 servants or more. Most planters raised some garden produce and kept livestock, especially hogs, which together with fish, seabirds, seals, wild fruit and game helped to supplement imported food.
Widowed female planters such as Lady Sara Kirke and Lady Hopkins at Ferryland and Margaret Taverner at Bay de Verde, operated boats in the inshore cod fishery by employing their kinsmen or hired boatmasters and fishing servants. A few 17th century planters such as Jeremy Fortune of Harbour Main and Andrew Mahone of Petty Harbour, were probably Irish, but almost all of the 150-200 planters dispersed along the east coast of Newfoundland in the 1670s were English.
All planters depended on fishing and trading ships from the outside for some basic food staples, clothing, fishing equipment and supplies and to market their cod, cod oil and other produce. For the most part, the lifelines of 17th century Newfoundland planters were connected to the fishing ships of the West of England, English sack (cargo) vessels and New England traders. English ships furnished food such as bread and flour, manufactured goods and fishing equipment from home, but also brought Irish produce such as butter, salted beef and pork, and clothing materials. New Englanders were noted for bringing livestock, bread and flour, but especially tobacco, and vast quantities of West Indian rum and molasses.
Permanent Trading Premises
Beginning in the early 18th century, a number of English and a few New England merchants began to build and maintain year-round trading premises in some of the principal harbours. By the 1760s, some of these premises, or plantations, were much larger in scale than any of the early formal colonies, employed hundreds of servants, and supported numerous resident families, including those of agents, bookkeepers, clerks and tradesmen (carpenters, blacksmiths, sailmakers and others). These mercantile centres formed important cornerstones for the growth of a permanent population in their respective regions. Among the more important of these mercantile colonies were St. John's, Carbonear, Harbour Grace, Brigus, Bay Roberts, Trinity, Greenspond, Fogo, Twillingate, Ferryland, Trepassey, St. Mary's, Placentia, Burin, St. Lawrence, Harbour Breton, Sandy Point, Bonne Bay, Forteau and Battle Harbour.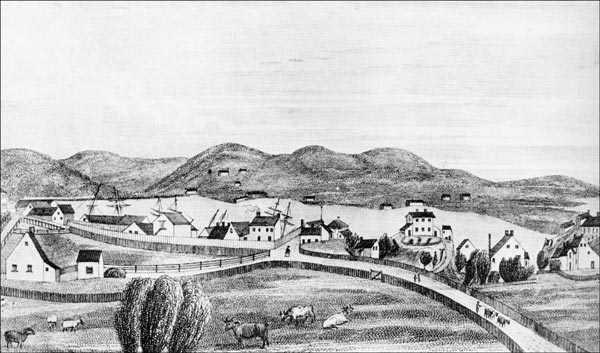 Trinity, ca. 1840
Trinity was an important mercantile community in the 1700s.
Artist unknown. From Philip Tocque, Wandering Thoughts (London: Thomas Richardson, 1846) 365.
The Settlement Process
The process of settling in Newfoundland normally involved a period of servitude as an apprentice or indentured servant (in the fishery or a related trade), marriage and the establishment of a household either as a resident boatkeeper (planter) or as shareman with a planter or employer. In 1791, Justice John Reeves explained that resident boatkeepers had emerged from a class of individuals who had little or no property beforehand. They were rather "common fishermen" who, having had some success, aspired to become planters and were then set up by merchants who hoped to make a profit from supplying them and marketing their produce. Meanwhile, the Poole merchant, George Garland, noted that the class of persons called "planters" were formerly servants or sailors who had chosen to remain in Newfoundland after the period of their servitude had expired. The other key ingredient was social and that was marriage. Most persons who became planters either married locally in Newfoundland or brought out wives from England or Ireland.