Scottish Occupations
Scottish immigrants to Newfoundland and Labrador worked predominantly in the fields of commerce and agriculture during the 19th century. Many Lowlanders settled on the Avalon Peninsula, where the colony's centres of trade were located. They generally belonged to the middle and upper-middle classes and worked as merchants, merchants' agents, shopkeepers, and in other occupations related to business and commerce. Some also worked outside of trade, often as doctors, ministers, politicians, educators, and in other prominent positions.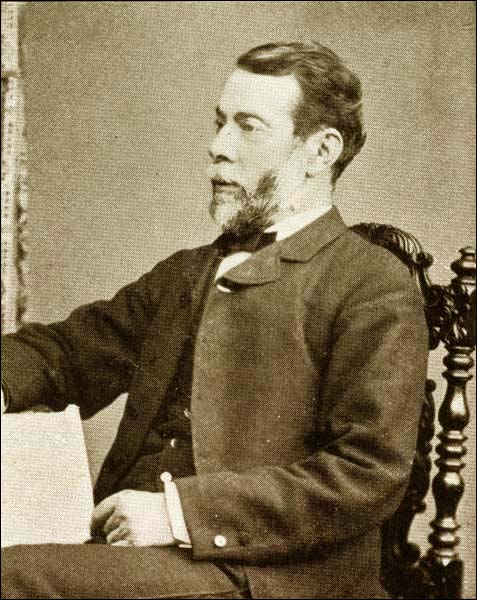 Robert S. Munn, ca. 1894
Scottish merchant Robert S. Munn migrated to Newfoundland and Labrador in 1851. He was one of the many Lowland Scots to settle on the Avalon Peninsula during the 19th century.
From Henry Youmans Mott, Newfoundland Men. (Concord: T.W. & J.F. Cragg, 1894) 69.
A separate group of Scots migrated to the island's southwest coast between 1840 and 1860. These were mostly agricultural families in search of farmland. They settled in the Codroy Valley and St. George's Bay, where some of the island's richest soils existed. Many families cleared land on the banks of the Grand and Little Codroy Rivers, where they grew vegetables, raised livestock, cultivated hay and established pastures.
Merchant Firms
Newfoundland and Labrador's resident population experienced a sudden increase in the early years of the 19th century. The Napoleonic Wars (1803-1815) gave the colony a near-monopoly over the international saltfish trade and helped transform its migratory fishery into a resident operation. The colony's growing economy and population created new opportunities in commerce and trade, which attracted merchants from overseas. Most came from England, but many also arrived from the Scottish Lowlands, where merchant firms had been regularly trading with Newfoundland and Labrador since the 18th century.
Most Scottish merchants settled in or near commercial centres on the Avalon Peninsula, and some of the most influential built premises along the St. John's waterfront. These included Baine, Johnston and Company; Rennie, Stuart, and Company; Cunningham and Company; and Crawford and Company. Other prominent Scots merchants set up shop outside of St. John's, particularly in Conception Bay and the Bonavista Peninsula; these included John Munn and Company at Harbour Grace, Archibald Graham in Trinity, and John Thomson in Catalina.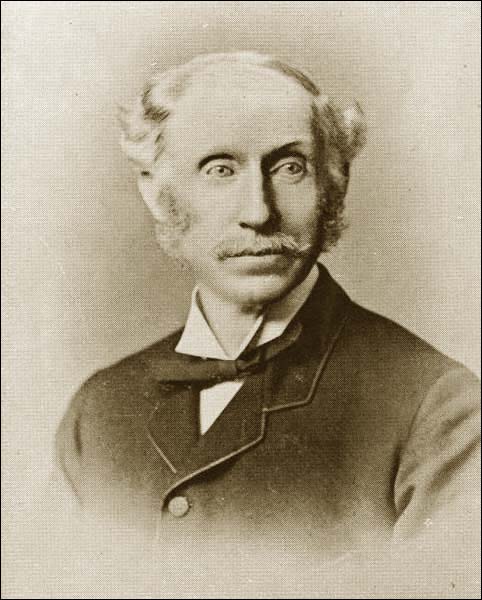 Sir Robert Thorburn, ca. 1894
Scottish merchant Robert Thorburn moved to St. John's in 1852 to work for Baine, Johnston and Company. He entered politics in the 1860s and became Newfoundland and Labrador's prime minister in 1885.
From Henry Youmans Mott, Newfoundland Men. (Concord: T.W. & J.F. Cragg, 1894) 51.
Many Scottish merchant firms were wholesalers and did not deal directly with fishers. They instead supplied outport merchants with provisions and manufactured goods (largely imported from Scotland) in exchange for fish and fish products, which the firm then sold to buyers in Europe, South America, and the Caribbean. By 1810, Scottish merchants were exporting 13 per cent of all saltfish produced in Newfoundland and Labrador and their firms were among the wealthiest and most successful on the island. Of the 68 merchant wharves existing at St. John's in 1809, 10 belonged to Scots; most were better insured than English and Irish firms, indicating they operated the most valuable businesses.
Agriculture
In contrast to the Lowland Scots on Newfoundland's east coast were a group of Highlanders living in the Codroy Valley and St. George's Bay. These migrated to the island between 1840 and 1860 and most arrived from Cape Breton, where either they or their ancestors had emigrated in the late 18th and early 19th centuries. Unlike the mercantile Scots living on the Avalon Peninsula, those who came to the west coast were agricultural workers in search of farmland. Most arrived in large kin groups composed of nuclear and extended family members.
Although researchers estimate that at least 51 Highland families arrived in western Newfoundland, their precise numbers are unknown, largely because census data labeled all Scottish, English, Irish, and French migrants from Cape Breton as 'British Colonialist' during the time of peak migrations. Prominent Scottish families who migrated to the west coast included the MacIsaacs, Gillises, Campbells, and MacNeills.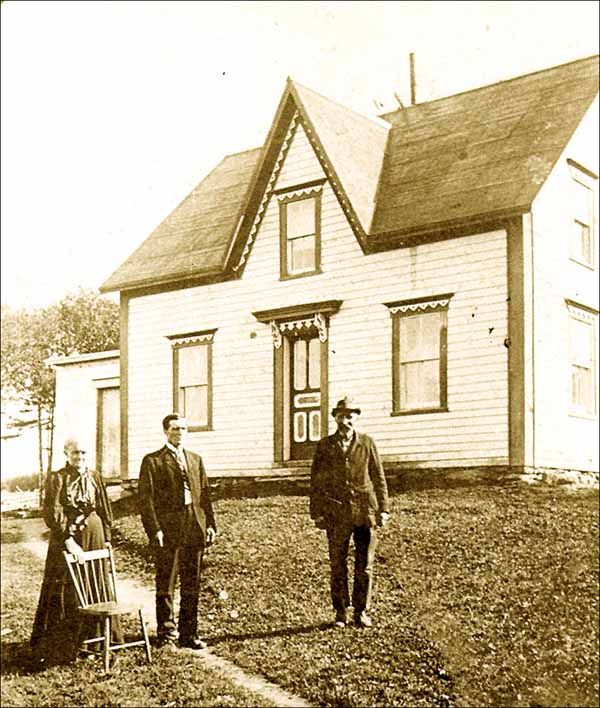 The MacArthur home, ca. 1920s
The MacArthur family was one of several families that emigrated from the Scottish Highlands to Newfoundland's west coast during the 19th century. Most Highlanders settled in the Codroy Valley and St. George's Bay and many of their descendents still live in the area today.
From Margaret Bennett Knight, Some Aspects of the Scottish Gaelic Traditions of the Codroy Valley, Newfoundland (Unpublished Thesis, Memorial University of Newfoundland, 1975).
By 1857, the approximately 422 inhabitants living in the Codroy Valley and St. George's Bay areas had cleared roughly 550 acres of land. Alongside cultivating vegetables, many residents raised livestock – primarily sheep and cattle – and produced butter and other dairy products. West-coast farmers sold many of their crops and agricultural goods to markets on Newfoundland's south coast, primarily in the Channel-Port aux Basques area. Although some Scottish families also engaged in the salmon fishery at the Grand and Little Codroy Rivers, farming remained their primary means of income.
Other Occupations
Not all Scottish immigrants to Newfoundland and Labrador worked as farmers or merchants in the 19th century; many also entered the fields of politics, medicine, education, business, and religion. This was particularly true of Scots living on the island's east coast, who were generally well-educated, financially well-off, and part of the middle and upper-middle classes.
Although their numbers were small compared to residents of English and Irish descent, Scottish migrants contributed much to their communities; some made significant and far-reaching changes to Newfoundland and Labrador society. Political reformer and physician William Carson, for example, published the first political protest pamphlets in St. John's and helped bring representative government to Newfoundland and Labrador. He also helped establish the first civilian hospital at St. John's, known as the Riverhead Hospital, which opened on 7 May 1814 in what is today Victoria Park.
Explorer William Cormack, born in St. John's but raised in Scotland, trekked across Newfoundland in 1822 and provided the first accurate description of the island's interior, including its flora, fauna, and geological formations. His expedition is widely considered one of the most important and informative in Newfoundland's exploration history. In addition, Cormack founded the Boeothick Institution in 1827 and did much to record and preserve valuable information about Beothuk culture and society.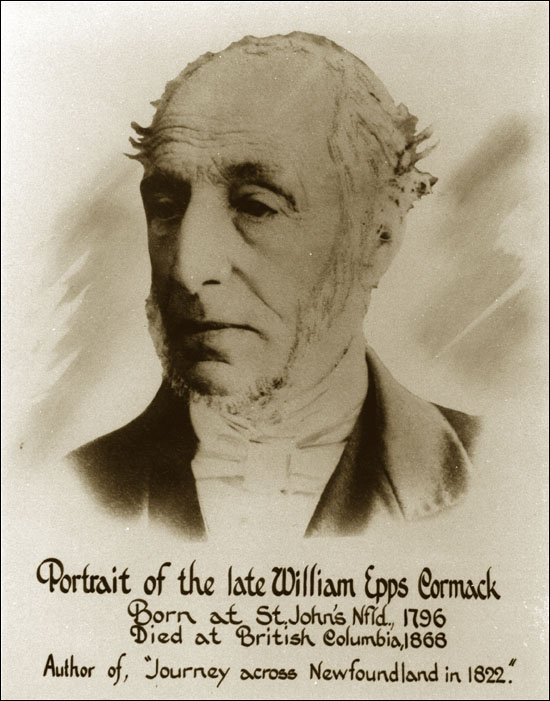 William Epps Cormack, 1796-1868
Cormack provided the first detailed description of the island's interior and founded the "Boeothick Institution" in 1827.
Courtesy of Archives and Special Collections, Memorial University, St. John's, NL.
Another Scottish explorer, John MacLean, worked in Labrador for the Hudson's Bay Company (HBC). He became the first white man to journey overland from Ungava Bay to Hamilton Inlet in 1838, and the following year became the first white man to visit the Grand Falls (today known as the Churchill Falls). Alongside MacLean, several other Scottish traders worked for the HBC in Labrador. Prominent among these was Sir Donald Smith (made Lord Strathcona in 1897), who became the HBC's chief trader for Labrador in 1852 and established the company's headquarters at North West River.
Scots-Canadian contractor Robert G. Reid made a lasting impact on Newfoundland and Labrador society and economy by building the Newfoundland railway in the 1890s. Construction of the mainline and its branches opened up the island's interior and made it possible for government and business officials to exploit the region's previously undeveloped natural resources. It also revolutionized local communications and transportation by providing the first overland route across island and connecting rural villages to larger centres.