Remembering A Woman of Labrador
From the files of The Gazette August 25, 1994.
Introduction
Nancy Grenville died on Aug. 9, 1994 at her home at Tamarack Farm, Sutton, Que. She was the first archivist at the Centre for Newfoundland Studies, and introduced many to the world of archives. Although born in the United States, Nancy spent much of her life in Canada and eventually became a Canadian citizen. Nancy and her husband, David, lived in St. John's between 1974 and 1989, and during that time came to love all of Newfoundland, but particularly Labrador; they travelled the Labrador coast on a number of occasions. She was a strong believer in the preservation of our archival heritage and dedicated herself to that end during her years at Memorial University of Newfoundland.
Nancy's love of Labrador was evident in the delight she expressed whenever the archives acquired any material with Labrador content. Such was her expression of joy when in January 1982 a package arrived at the Centre for Newfoundland Studies from David Zimmerly, Arctic ethnologist with the National Museum of Man, Ottawa. Accompanying the package was a letter which stated
"To Whom It May Concern:
I would like to donate the enclosed materials to the Newfoundland and Labrador Room of the library of Memorial University of Newfoundland. The material consists of the original handwritten materials by Elizabeth Goudie which I transcribed and edited into the book Woman of Labrador."
Elizabeth Goudie
Elizabeth Goudie was born April 20, 1902, at Mud Lake, Labrador, the daughter of Sarah Michelin and Joseph Blake. Her ancestors included Inuit, Innu, English and Scots. She spent most of her early years in and around Lake Melville or on the Labrador coast. At 18 she married Jim Goudie, a trapper, with whom she had nine children, one of whom, Joe, served as member of the House of Assembly for Naskaupi (1975-85) and held several portfolios in the administrations of Frank Moores and Brian Peckford.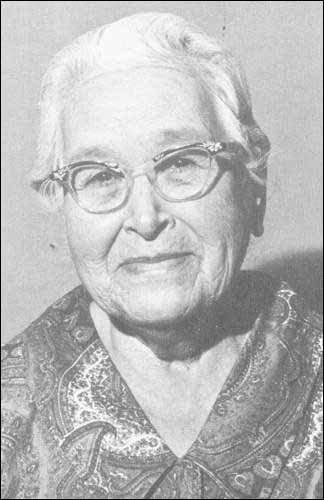 Elizabeth Goudie
Courtesy of Archives and Special Collections, Memorial University of Newfoundland, St. John's, NL.
In 1963 Jim Goudie died and Elizabeth, with more time on her hands than usual, began to reminisce about her life in Labrador and the many changes she had been witness to over the past 60 years. She soon realized that the knowledge she had must be recorded or her grandchildren and their descendants might never know a vital part of their heritage. She had little formal schooling, but she put pen to paper and wrote the story of her life.
Her autobiography contains a wealth of information on life in rural Labrador, her life as a trapper's wife, the changes brought by the establishment of military bases at Goose Bay, and the early years of Confederation in Happy Valley. She finished her writing in June 1971.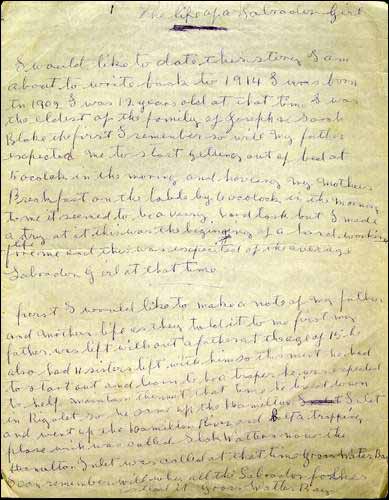 Manuscript page from Elizabeth Goudie's Woman of Labrador
First page of Elizabeth Goudie's handwritten manuscript of her autobiography, Woman of Labrador. It was edited by David Zimmerly and published in 1973 by Peter Martin Associates.
Courtesy of Archives and Special Collections, Memorial University of Newfoundland, St. John's, NL.
It was around this time that David Zimmerly, an anthropological researcher from Memorial University, met Elizabeth Goudie. While stationed in Happy Valley he heard of Goudie's memoirs and went to talk to her about them. Amazed that she had no one to help her edit the memoirs for publication, he volunteered and spent much of his spare time during the fall and winter of 1971-72 working with her. The book was finally published by Peter Martin Associates of Ottawa in July 1973 as Woman of Labrador, with an introduction by Zimmerly. It was immediately acknowledged as a unique contribution to the cultural history of Labrador.
In 1975, in recognition of her life and work, Elizabeth Goudie was awarded an honorary doctor of laws degree from Memorial University; in 1980 the provincial government building in Happy Valley-Goose Bay was named after her. Elizabeth Goudie died June 10, 1982.
The package from Zimmerly which arrived at the Centre for Newfoundland Studies in 1982 contained the original handwritten manuscript of Elizabeth Goudie's memoirs, written in two Hilroy exercise books. There were also a number of loose leaves containing other reminiscences not included in the book and a copy of Zimmerly's edited typescript. This package of material is part of the archival heritage preserved for future generations in the Centre for Newfoundland Studies. It represents an important part of the legacy of Elizabeth Goudie and Nancy Grenville.