Post-1949 Communications and Transportation
Advances in communication and transportation technology during the second half of the 20th century significantly altered the way Newfoundland and Labrador people interacted with each other and the rest of the world. Roads and highways replaced the sea and railway as the dominant form of transportation, while air travel allowed people to reach faraway places with greater speed than ever before.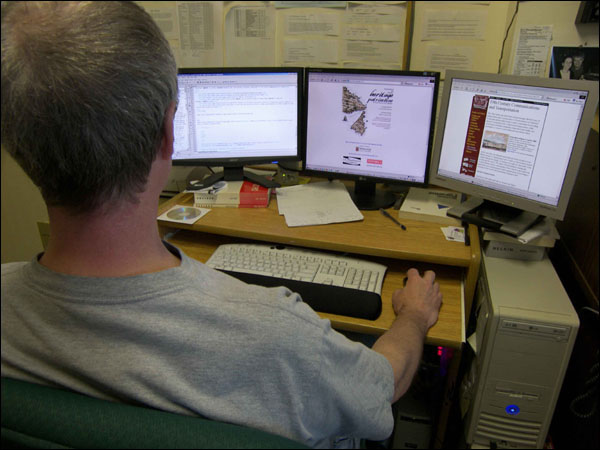 NL Heritage Web Site Workstation, 2008
The emergence of the Internet in the 1990s revolutionized the way people, governments and businesses operate.
Photo by Jenny Higgins. Reproduced by permission of Jenny Higgins. ©2008.
At the same time, telephones facilitated long-distance communications, while television and radio made local and international news almost instantly available to the public. The emergence of the Internet in the 1990s further diminished the restraints of time and space and revolutionized the way people, governments, and businesses operate. Today, cell phones, tablets, computers, and similar devices connect the Newfoundland and Labrador people to the rest of the world on an unprecedented scale.
Land-Based Transportation
After Confederation, the federal and provincial governments devised a series of road-building programs to better connect communities across Newfoundland and Labrador with each other and the rest of Canada. Chief among these was the Trans-Canada Highway, which spanned the island and linked it with Nova Scotia by ferry. Work on the Newfoundland and Labrador portion of the highway ended in 1965 at a cost of $92 million to the federal government and $28 million to the province. Known as Route 1, the 903-kilometre trans-island road ran northeasterly from Port aux Basques to Corner Brook before heading east to Gander and southeast to St. John's.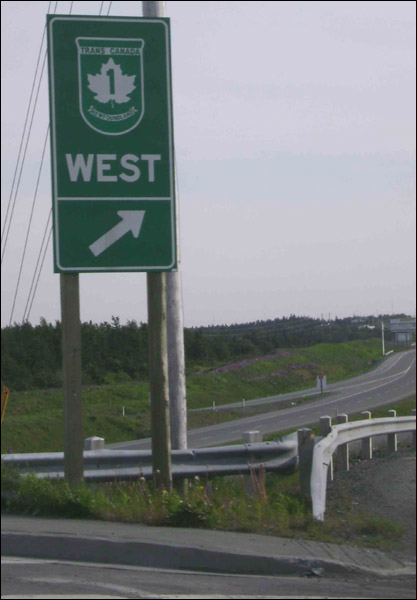 Trans-Canada Highway, 2008
There were only 195 kilometres of paved roads in Newfoundland and Labrador before Confederation with Canada in 1949. By 1965, the Trans-Canada Highway ran across the island and the province was building thousands of kilometres of secondary roads.
Photo by Jenny Higgins. Reproduced by permission of Jenny Higgins. ©2008.
The highway provided a faster and more convenient mode of transportation than the railway, which fell into decline after the 1960s and stopped running altogether in 1988. To compensate, Canadian National Railways introduced a successful line of Roadcruiser busses in 1968, able to drive across the island in 10 hours.
In addition, the provincial and federal governments embarked on a variety of other road-building projects to connect Newfoundland's remote areas to the Trans-Canada Highway and to larger centres. Workers built a highway on the Northern Peninsula from St. Anthony to Deer Lake in the 1950s, and more roads followed on the Burin Peninsula, in the Bay d'Espoir area, and elsewhere. The new network of roads gave rural residents easier access to hospitals, schools, stores, and other services available in larger centres.
Labrador, however, benefited little from the government's road-building programs until the first leg of the Trans-Labrador Highway – from Labrador City to Happy Valley-Goose Bay – opened in 1992. The highway is jointly paid for by the provincial and federal governments and, as completion approaches, will run from Labrador City to Cartwright before turning south to Red Bay.
Air and Marine Services
Ferries and airplanes are other important modes of transportation for the province's people. Air travel grew in importance in Newfoundland and Labrador during the Second World War when Canadian and American Armed Forces expanded airports at Gander and Botwood and built new ones at Torbay, Goose Bay, Argentia, and Stephenville. Trans-Canada Airlines (today Air Canada) began providing daily national and international flights to Torbay, Stephenville, and Gander in 1942, while the Smallwood government subsidized local commercial airlines after Confederation to provide services within the province. Prominent among these was Eastern Provincial Airways, which offered regular flights between Labrador and the island from 1949 to 1987.
Over the years various airlines such as Provincial Airlines and Air Borealis has continued to provide regional service. Larger airlines such as Air Canada, West Jet and Porter provide regular flights to and from the province.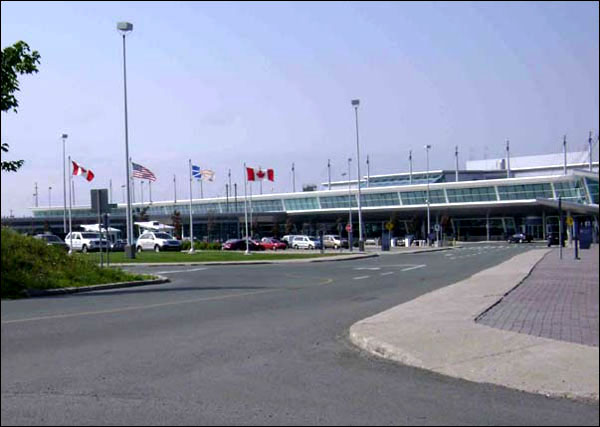 St. John's International Airport, 2008
A variety of airlines provide regular flights to and from Newfoundland and Labrador.
Photo by Jenny Higgins. Reproduced by permission of Jenny Higgins. ©2008.
Despite the growing popularity of motor vehicles and air travel following Confederation, the sea remained an important mode of transportation for the Newfoundland and Labrador people. Under the Terms of Union, the Canadian National Railways (CN) assumed control of the province's coastal boats and Gulf ferry service between Port aux Basques and North Sydney, Nova Scotia. Although the island's coastal boat service declined after the Trans-Canada Highway opened in the 1960s, the Gulf ferry service grew in popularity and added a second route in 1967 from Argentia to North Sydney. The federal Crown corporation Marine Atlantic operates the daily Gulf ferry service, while Labrador Marine Inc., a subsidiary of the Labrador-based Woodward Group, provides passenger and freight services along the Labrador coast.
Communications
Advances in communications technology during the second half of the 20th century dramatically altered the way Newfoundland and Labrador people interacted with friends, family, and business associates within the province and around the world. Although the telegraph remained popular well into the 1960s, the telephone eventually eclipsed it as the public's preferred mode of communication.
In 1949, Avalon (later Newfoundland) Telephone Company established the province's first trans-island telephone connection by linking Port aux Basques, St. John's, and many communities in between. Bell Canada provided telephone services to most Labrador communities, while the Iron Ore Company of Canada maintained a network at Labrador City, where it operated a mine. Newfoundland Telephone acquired both Labrador systems during the 1970s, at around the same time the company completed its conversion from operator-assisted calling to direct dial.
The island played a major role in advancing global telecommunications on 22 June 1955, when the cable ship Monarch departed Clarenville for Oban, Scotland to install the world's first transatlantic submarine telephone cable. The cable spanned 3621 kilometres of ocean floor and was able to carry 36 telephone channels simultaneously. By the end of 1956, an overland cable extended the system to Terrenceville, Placentia Bay, where a shallow-water cable connected it with Sydney Mines, Nova Scotia; a radio relay also transmitted phone calls down the eastern seaboard to New York. Dozens of submarine cables today traverse the Atlantic Ocean and most modern systems use fibre optics to transmit information digitally instead of using radio signals.
Today, people in Newfoundland and Labrador use much more sophisticated telephones than they did decades ago. Cellular telephone service became available to the province in 1990 and quickly grew in popularity. Cell phones are now more popular than landlines and perform a wide range of functions.
Radio and Television
The Smallwood government's policy of electrification greatly facilitated advances in broadcasting during the early decades of Confederation. When Newfoundland and Labrador joined Canada in 1949, approximately half of the province's population had electricity; by 1972, almost no one was without it. As electricity became more widespread, so too did radios and television sets.
In 1949, the Canadian Broadcasting Corporation (CBC) absorbed the Broadcasting Corporation of Newfoundland, modernized its facilities, and added more Canadian content to its programming. Commercial radio also thrived and a wide range of AM and FM stations began broadcasting. These often followed North American models and exposed many Newfoundlanders and Labradorians to Canadian and American forms of entertainment, including western music, quiz shows, and commercials.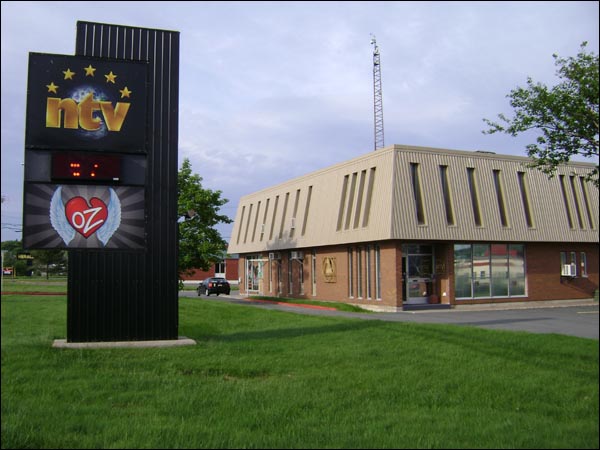 NTV Studios, 2008
Newfoundland and Labrador's first television station, CJON (NTV),is headquartered in St. John's.
Photo by Jenny Higgins. Reproduced by permission of Jenny Higgins. ©2008.
The province's first television station, CJON (NTV), went on the air in September 1955 to broadcast local content as well as programming from outside the province. CBC opened its first Newfoundland and Labrador television studio at Corner Brook in 1959, followed by a second at St. John's in 1964. Two years later, the province's people were able to watch colour television for the first time. Construction of a microwave network across the island in 1977 and in Labrador in 1983 allowed the province to import cable channels from other countries, and both ABC and NBC were broadcasting in the province by 1981. In the years that followed, satellite and digital technology allowed local viewers to import hundreds of television channels from around the world.
The Internet
The advent of the Internet in the mid-1990s revolutionized the way people all over the world communicate, collaborate, and do business with one another. Almost unheard of before 1994, the Internet is now an essential part of Newfoundland and Labrador's economy and society, much as telephones, roads, and electricity are.
People across the province may go online to do their banking, stay in touch with family and friends, perform business interactions, follow local and international news, do their shopping, and even earn degrees, diplomas, and certificates from educational institutions. High-speed (also known as broadband) Internet access, however, was not always available in rural communities, forcing some residents to use slower dial-up connections or go without the Internet altogether; this in turn limited their access to services and information and decreased their connectedness to the outside world. Cable, satellite, and digital (DSL) broadband enables much faster Internet access than dial-up and does not interfere with phone lines.