Population
By the end of the 17th century, the resident population was still small in number and, for the most part, dispersed and scattered within individual harbours and along the coast. They were defenseless, and beset by numerous difficulties including threatened expulsion by the British government. During a series of plunderings, burnings and destruction by French forces in the Anglo-French wars of the period 1696-1713, whatever progress and gains made in creating settlement in Newfoundland were largely erased.
Settlements were quickly reoccupied and rebuilt after each wave of destruction, but it took Conception Bay planters several decades to recover from losses. Most settlements were repopulated by new planters from the original English source areas.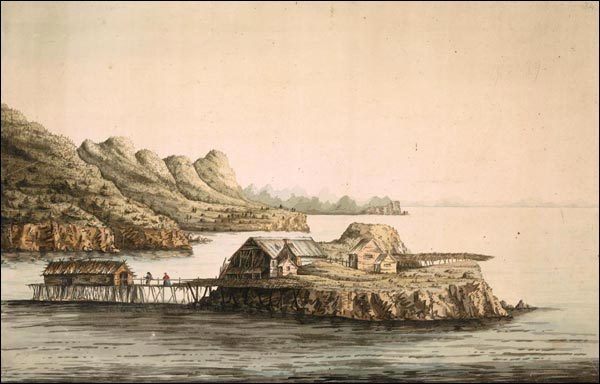 "View at Porte de Grave in Conception Bay"
A painting of Port de Grave by William Skinner (1700-1780). Skinner, a lieutenant-general and chief engineer of Great Britain, was sent out to Newfoundland in 1762 to build fortifications around St. John's following its capture from the French.
Except in Conception Bay, St. John's and Trinity Bay, the resident population grew very slowly in most regions until the 1780s. In 1750, the summer population of Newfoundland (excluding Native peoples) was less than 10,000. Single male servants comprised about 70 % of the total. Winter populations now averaged about 5,000 persons, of which about 50 % were servants. The other half were members of planters' families. Although the inhabitant population increased fairly rapidly in the 1760s due partly to the increased mercantile activity and increases in Irish inhabitants, Newfoundland suffered greatly from food shortages and declined in population during the period of the American Revolution, 1775-1783.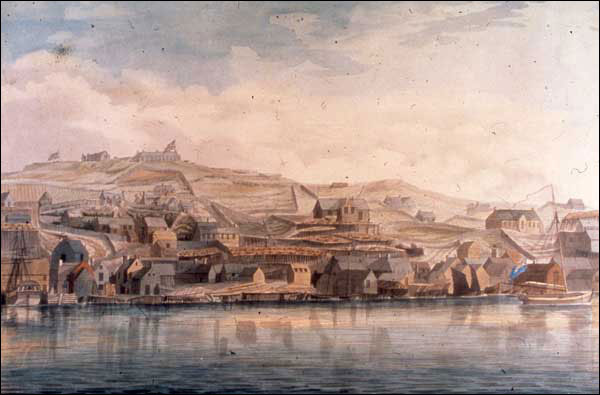 St. John's, NL, 1798
By 1795 the permanent population St. John's was around 3,000.
Painting by E.P. Brenton. Reproduced by permission of the Maritime History Archive (PF-053.007), Memorial University of Newfoundland, St. John's, NL.
It is very difficult if not impossible to determine with any precision the total number of English and Irish who settled permanently and contributed to the growth of a permanent population in Newfoundland and Labrador. The process of settlement occurred over the lengthy period of more than two centuries and was extremely complicated. It featured stages of advance and retreat, removal, replacement, transmigration both back home and to other colonies, and numerous other difficulties in getting firmly rooted. In 1767, just three years after he had arrived in Trinity in response to a petition from some 'seventy subscribers', a missionary lamented that most of his original parishioners were dead, bankrupt or gone from Newfoundland. A significant number of 17th and 18th century planters spent only part of their working lives in Newfoundland before moving away, either home or to other North American colonies. Some, however, left progeny behind. While some estimates suggest that the present population of the province descend from 20-40,000 immigrants such figures are very speculative. The actual numbers may be indeed have been much less.