NONIA
The Newfoundland Outport Nursing and Industrial Association (NONIA) was formed to support the work of nurses who were providing health care services in the outports. Committees were formed in rural communities to distribute materials to women who then made knitted goods for sale to cover the nurses' salaries. The aim was to raise 75 percent of the salaries, with the other 25 percent being paid by the government.
The nursing connection with NONIA ended in 1934, but the company continued operating as a non-profit organization supporting craftspeople province wide.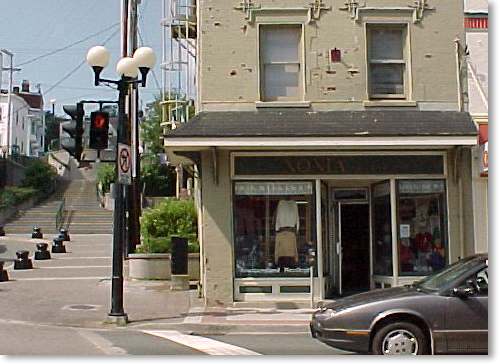 The NONIA Building
286 Water Street, St. John's, NL
Photo by Duleepa Wijayawardhana, 1998.
---
Lady Constance Maria Harris (?-1941)
Lady Harris was the wife of Governor Sir Alexander Harris, who served in Newfoundland from 1917 to 1922. During World War I, she directed the Women's Patriotic Association (WPA), whose headquarters were at Government House. The WPA enlisted and organized the support of women island-wide to knit and sew garments for the soldiers abroad.
Under the leadership of Lady Harris, the WPA launched the Outport Nursing Scheme (ONS) on May 20, 1920, and then recruited five professional midwives from England to serve the outports of Newfoundland and Labrador. This was the beginnings of the NONIA committees that spread across the province.
---
Lady Elsie Elizabeth Allardyce (1878-1962)
Lady Allardyce was the wife of the next Governor, Sir William Allardyce, who served as Governor from 1922 to 1928. In 1923, she helped found the Girl Guide movement in Newfoundland.
She also expanded the ONS and organized 'Home Industrial Centres' which taught Newfoundland women patterns of knitting and weaving. The women sold their crafts and raised funds to pay nurses' salaries. Thus the ONS became self- supporting and rural Newfoundlanders were able to keep their nurses during difficult economic times.
In 1924, under Lady Allardyce's guidance, the ONS became the Newfoundland Outport Nursing and Industrial Association (NONIA).