Music
The earliest evidence of music in what is now Newfoundland and Labrador is a bone flute found at that Maritime Archaic burial mound in L'anse Amour on the south coast of Labrador. We know little of music among native people before the arrival of Europeans, but it likely played a role in their religious and spiritual life, and undoubtedly provided a source of entertainment and comfort to people. While much evidence for music among the island's Beothuk is lacking, there are references to their singing and dancing. The Inuit and Innu of Labrador continued their musical traditions into the historical period, including, for example, drumming and Inuit "mouth-music." The Moravian Missionaries in Labrador, however, worked to discourage Inuit music as well as other aspects of their non-Christian culture.
The European settlers who made Newfoundland and Labrador their home, brought with them the ballads and instrumental tunes common at the time in England and Ireland. Some of this music was passed from one generation to the next through oral transmission, rather than being written down, and persisted into the 20th century. This is "traditional music" in the sense of music that is transmitted and preserved through people learning it from their elders. This transmission usually, but not always, occurred within social gatherings without a sharp distinction between performer and audience - and without the "entertainer" being paid. Some tunes, which we know are centuries old, have been noted by folk song researchers as still being performed among Newfoundlanders and Labradorians, and it seemed possible that these songs had been passed directly from one person to another, over many generations.
"Traditional" Music
But it would be wrong to assume that "traditional" music was unchanged over time, or that it had all been created in the British Isles and just preserved by Newfoundlanders and Labradorians. Tunes were adapted by inventive performers, and new lyrics were added to make the songs more current to contemporary lives. If older music had not evolved to meet contemporary tastes and concerns, it would not have been transmitted and would have disappeared. It is important to keep in mind that all music is contemporary music, and music that survived over time continued because it was popular - not because "isolation" prevented people from learning new music. Music was reinterpreted and transmitted because it seemed relevant to the lives of new generations.
People also invented new music that conformed to the style and idiom of "traditional" music, and these songs might seem older than they in fact are. Some Newfoundland music that we often think of as "traditional" such as "Let Me Fish Off Cape St. Mary's" was written by Otto Kelland in 1947. Such music became part of our cultural corpus, not through oral transmission but through new media. Printed music, such as the Gerald S. Doyle Songbook and Newfoundland radio programs, such as the Irene B. Mellon, popularized this music. These media served a complicated function for traditional music. They took music, either ancient music that had survived in only a few places, or newly created music, and both popularized it and sometimes made it a part of the cannon of Newfoundland and Labrador music. Musicians sometimes turned to the Doyle Songbook as an authority on what was, and was not, authentic Newfoundland music. Folk song collectors, from academic scholars such as Maude Karpeles to musicians such as the band Figgy Duff, preserved the musical heritage and popularized Newfoundland and Labrador music. It would be a mistake, however, to assume that the Newfoundland music consisted of only "traditional" music. Throughout the 19th century, there was a range of musical forms that both entertained and served social functions.
Marching Bands
Military fife and drum bands accompanied the Garrison in St. John's and marching bands in larger towns added music to public celebrations to evoke the proper emotional state for the occasion. Marching bands accompanied public processions, and supported fraternal organizations and sporting events. Military-style youth groups such as the Church Lads Brigade had bands that became a perennial accompaniment to public celebration. In an effort to overcome sectarian and political differences among the population, the state sponsored patriotic music in a small way. Newfoundland Governor Cavendish Boyle penned Newfoundland's national anthem the "Ode to Newfoundland."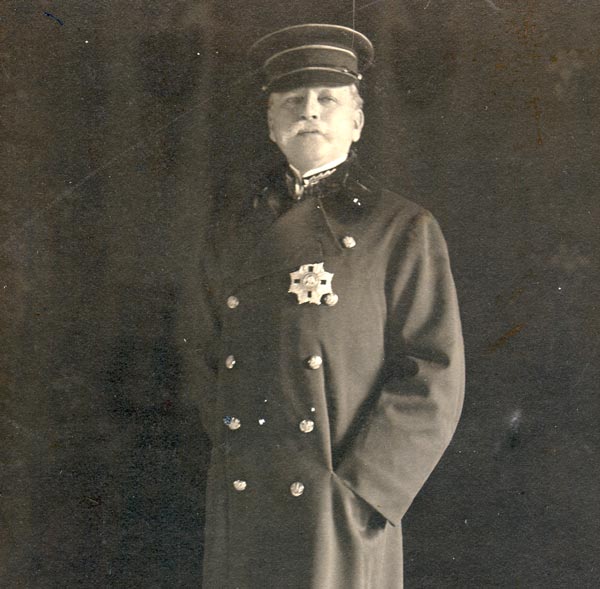 Governor Cavendish Boyle, n.d.
Boyle wrote the lyrics of Newfoundland's national anthem "Ode to Newfoundland."
Courtesy of Archives and Special Collections (Coll - 237, 12.14.001), Queen Elizabeth II Library, Memorial University of Newfoundland, St. John's, NL.
Spritual Music
For many Newfoundlanders and Labradorians of European ancestry, music had a spiritual role in the lives much as it did for aboriginal people. European settlers' musical repertoire included Christian hymns and other liturgical music. Christian music played a more important role in the lives of many Protestants than any secular music, and one need only think of the importance of music to the Salvation Army to see what important roles music has had in both worship and evangelizing. Missionaries saw music playing a role in the conversion to their denomination of both European settlers of different Christian denominations and Native People. The Moravian Church, for example, published a hymn book in the Inuit language in 1809 and encouraged, with some success, the Inuit of coastal Labrador to adopt Germanic liturgical music, complete with brass instruments.
International Music: Opera, Theatre, and Vaudville
When Newfoundland became settled by Europeans, it did not become a closed system. Travellers, immigrants and printed broadsheets of music brought new musical forms into Newfoundland. Elites travelled, sent their children to school in other places and took an active interest in international music. An amateur company performed an opera in St. John's in 1820, for example, and starting in the 1880s there were frequent performances by both local and travelling companies in the capital and in larger outports. Smaller outports may have been unable to mount theatrical productions, but many Newfoundlanders played the music of European composers in their parlours. Local concerts were an important part of the social life in many communities. The small number of amateur and professional theatrical companies allowed few musicians to earn a living through performance, but lessons in instruments ranging from the viola to the organ supported some. Musicians such as Charles Hutton, who founded a music retailing store, formed the core of an active musical community. Georgina Stirling of Twillingate, to take a notable example, went on to a career singing opera in Italy as well as performing in Newfoundland. Newfoundlanders and Labradorians also participated in vaudevillian and popular music of the late nineteenth and early twentieth century. By the 1930s, public performances of opera had dwindled.
Newfoundlanders made this international music their own in a particularly inventive way. The musician John Burke, who lived in St.John's, wrote satirical compositions that relied upon parody of light opera, Gilbert and Sullivan music hall and the commercial music industry of the United States. These parodies juxtaposed international musical themes with local concerns and vernacular speech to comic effect. There were also some efforts at serious composition in the 19th century, and a few of these have survived. Roman Catholic Archbishop Michael F. Howley, for example, penned a libretto on the theme of the Beothuk.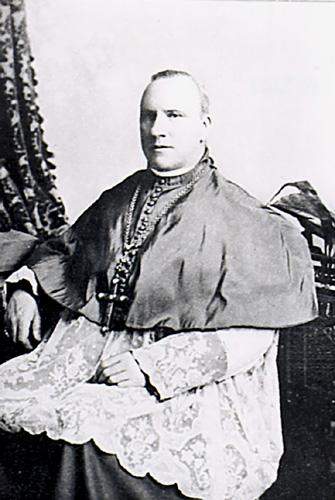 Archbishop Michael F. Howley, n.d.
Archbishop Howley wrote a libretto on the theme of the Beothuk in the 19th century.
From Peter Neary and Patrick O'Flaherty, Part of the Main: An Illustrated History of Newfoundland and Labrador (St. John's, NL: Breakwater Books, © 1983) 104. Courtesy of the Presentation Congregation Archives, Presentation Convent.
Country Music
The phonograph, which was used in Newfoundland since the 1890s, and later radio broadcasting, which grew quickly from its early beginnings in 1921, introduced forms of music that were being created in other parts of the world. Broadcasting also popularized music that had been composed in Newfoundland even while playing some music from other countries. Films with sound, particularly the popular "cowboy" movies, helped make 'hillbilly' and 'country and western' music popular in Newfoundland and Labrador. Country music had evolved in the southern United States out of the same Irish and English musical traditions that had persisted in Newfoundland and Labrador, so it is not surprising that country music became very popular here during the 20th century. That music dealt with life and emotional issues in ways that seemed relevant to the lives of Newfoundlanders and Labradorians. Many musicians, such as Labrador's Harry Martin, wrote music in the "country" form.
North American Popular Culture Music
The economic revival that accompanied the Second World War, and the expansion of the government after confederation with Canada in 1949, created conditions that allowed for a fluorescence of music production. American and Canadian servicemen stationed in Newfoundland and Labrador, a few of whom were musicians, encouraged the popularization of dance music such as "big band" jazz. When Rhythm and Blues evolved into Rock and Roll in the 1950s in the United States, Newfoundlanders bought the records, heard the music on the radio and learned the form themselves. During the last half of the 20th century, Newfoundland musicians composed and performed music that represented the full range of North American popular culture.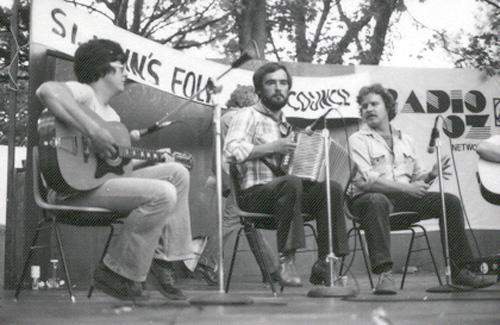 Newfoundland and Labrador Annual Folk Festival, 1979
A photo from the Annual Newfoundland and Labrador Folk Festival which has taken place in Bannerman Park in St.John's since 1977.
Courtesy of Archives and Special Collections (Coll - 154), Queen Elizabeth II Library, Memorial University of Newfoundland, St. John's, NL.
Preserving Musical Traditions
At the same time that the marketplace was providing alternatives to "traditional" music there was a conscious movement to preserve Newfoundland and Labrador's musical traditions. Throughout the 20th century a number of folk song collectors anthologized "traditional" music in an effort to rescue music they thought was in danger of being forgotten as people adopted newer musical forms created by the American music industry. Musicians, such as the Accordionist Harry Hibbs, had success in the commercial marketplace selling recordings of music that had long lived solely within social gatherings. In the years after Confederation, many Newfoundland musicians revived indigenous Newfoundland and Labrador music and wrote new music in the "traditional" form. "Traditional" music has always been only one form that Newfoundlanders have produced and enjoyed, and Newfoundland musicians worked within varied forms, from "Jazz" to "Christian Country," "alternative" to "Classical" and "Blues" to "Opera."