Memorial University College, 1925-1949
Planning and organization for higher education in Newfoundland began in 1890, with the formation of the Council of Higher Education. Its task was to support and encourage Newfoundlanders to acquire higher education abroad. The ultimate goal of the council, however, was to have university-level education available in Newfoundland.
Reinvigorating the drive to establish a college in Newfoundland was the perceived need to have an appropriate memorial to the Newfoundlanders who had served or died during World War One. A post-secondary institution was thought appropriate, since it would benefit the country, and maintain the ideals that were fought for during the war.
Memorial University College (MUC) officially opened on 15 September 1925, and began to offer the first two years of university training in the arts and sciences. The college shared a building with the Normal School, which had opened the previous autumn and offered a four-month intensive teacher-training program. These two institutions merged in 1933, and the training of teachers became the responsibility of the college. Education became the largest and most important MUC program.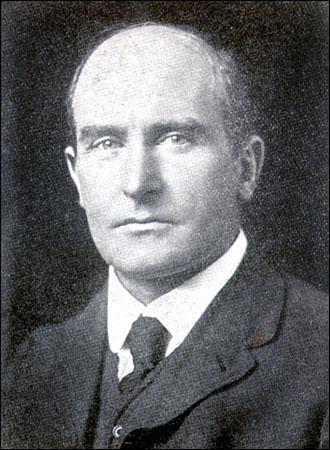 John Lewis Paton (1863-1946), n.d.
Paton was Memorial University College's first president.
From Richard Hibbs, ed., Who's Who in and from Newfoundland 1927 (St. John's, NL: R. Hibbs, 1927) 189.
The cordial relationships that had been cultivated by the Council of Higher Education with universities elsewhere were continued and expanded by MUC, which increased its network of official and unofficial university affiliations. Universities in the Maritime Provinces were the principal destination of MUC graduates, but many went to other parts of Canada, and to the United States and Great Britain. Students returned with degrees in disciplines such as engineering, medicine and law, as well as the arts and sciences.
The generosity of the Carnegie Corporation of New York was crucial to the opening and early success of the college. From 1924 to 1938 the Carnegie Corporation donated $293,000 for construction, scholarships, the library, art, and to help with general operating expenses. As student enrolment increased so too did the need for classroom space and new buildings, which Carnegie money helped to build. The original building was extended in 1932. Several smaller, temporary buildings were added that subsequently became permanent, and in 1948 the United Services Organization building, adjacent to the main building, was acquired.
During its first year of operation (1925-26), MUC had an enrolment of 57 students, and in its last year (1948-49) its enrolment was 329. Its peak was 434 students in 1946-47. Teaching during this period was the responsibility of a small, hard-working faculty. President John Lewis Paton (1925-1933) taught Classics and German; Albert Hatcher instructed Mathematics courses; Alfred Hunter instructed English and French courses; George O'Sullivan was responsible for Chemistry and Physics; and Solomon Whiteway taught History. Several faculty members would be added each year, often to accommodate the increase in enrolment and at other times to replace faculty who had left for positions elsewhere. In 1933 Albert Hatcher became President, a position he held until his retirement in 1952. During its final year MUC faculty complement numbered 24. Many faculty members were Newfoundlanders and some were MUC graduates themselves, but all had received advanced training in Britain, Canada, or the United States.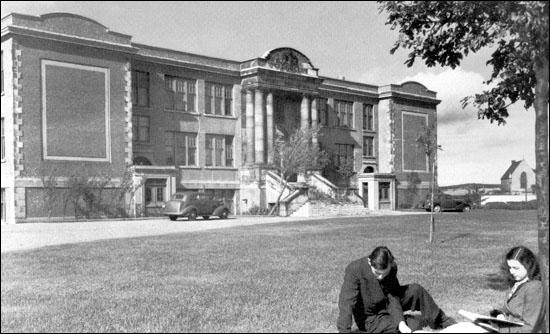 Memorial University College, 1948
Courtesy of the National Archives of Canada, PA-128014.
After 1945, it became clear that Newfoundlanders wanted their own university. The idea was endorsed by the National Convention (1946-1948), and implemented by the first provincial government in 1949.