Health
Medicine in Newfoundland and Labrador has steadily evolved throughout the centuries, often as a result of political and social change. The arrival of Europeans in the 16th century, for example, led to dramatic changes in the health and, later, health-care practices of aboriginal peoples. As permanent settlement became more popular by the 18th century, the first resident doctors set up practice on the island. Eventually, hospitals and other facilities opened to accommodate the colony's growing population.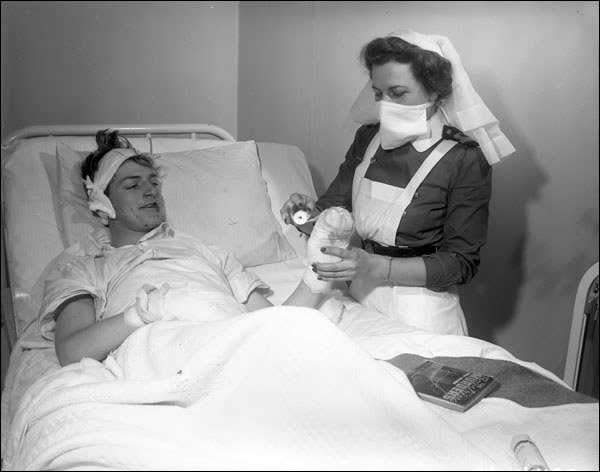 RCN Hospital at St. John's, 1942
British, French, American, and Canadian forces all established military hospitals here between the 18th and mid-20th centuries.
Photo by John Daniel Mahoney. Courtesy of Library and Archives Canada (
PA-114422
), Ottawa, Ontario.
War also advanced health-care services. British, French, American, and Canadian forces all established military hospitals in Newfoundland and Labrador between the 18th and mid-20th centuries. Many accepted civilian patients and, when military personnel withdrew, they often handed over any medical facilities to the local government. After Confederation in 1949, medical services merged with the Canadian health-care system, allowing the province to use contributions from the federal government to make visits to the doctor, hospital services, and other medical procedures free or more affordable.
Precontact Aboriginal Medicine
Although little is known of early aboriginal medicine, evidence suggests Newfoundland and Labrador Native peoples were in general good health at the time of first contact with European explorers. Illnesses common in other societies, like cholera, fevers, gout, smallpox, and measles were either absent or rare and aboriginal diets were for the most part healthy and limited to local foods.
Aboriginal peoples adapted well to their environments and developed a strong resistance to micro-organisms sharing their surroundings. They understood which plants were edible and which were poisonous. Medical procedures revolved around the use of local herbs in teas, poultices, and other preparations. Sweating and fasting were also believed to alleviate certain illnesses, although documentation of the specific cures and their origins is scarce.
As contact with Europeans increased during the 16th and later centuries, so did the appearance of new diseases among aboriginal peoples. These included influenza, measles, smallpox, polio, and diphtheria. Eventually, local medical practices gave way to Western procedures. By the late 18th and early 19th centuries, Moravian missionaries and Grenfell Mission doctors and nurses were providing regular health-care services in Labrador.
European Settlers
From about the start of the 16th century until the end of the 18th, most Europeans who came to Newfoundland and Labrador were part of the migratory fishery and did not settle here permanently. Ship's surgeons were available for professional medical care, as were naval surgeons aboard British military vessels patrolling the fishery. French fishing fleets along Newfoundland's north shore also brought surgeons who treated local residents as well as migratory fishers.
Medicine at this time both differed from and resembled today's therapeutic practices. Bloodletting and sweat-inducing procedures were common treatments for a variety of ailments, as were diuretic drugs. Physicians also believed diet was closely related to the maintenance of good health and many correctly advised the consumption of vitamin C-rich foods like lemon juice, turnips, and radish greens to help cure scurvy. A wide range of herbs also played a central role in medical practices.
As Britain and France established garrisons at St. John's, Placentia, and elsewhere during the late 1600s and early 1700s, military doctors settled on the island permanently. The earliest known military hospital opened at Placentia in 1662 and others followed elsewhere in Newfoundland during the 18th and 19th centuries. While these institutions primarily catered to military personnel, they also accepted civilian patients when time and space allowed. By the early 19th century, the larger and more economically diverse centre of St. John's had attracted a number of civilian doctors and surgeons along with other professionals to cater to the needs of its social elites.
The first civilian hospitals opened at Newfoundland and Labrador during the 19th century to accommodate the colony's rapidly growing population. Most were in St. John's, where the General, Waterford, and other hospitals opened by the end of the century. In 1892, British medical missionary Wilfred Grenfell visited Labrador, where he later opened a string of hospitals and nursing stations. A rising number of civilian doctors educated at European and American medical schools also set up practice in many island communities.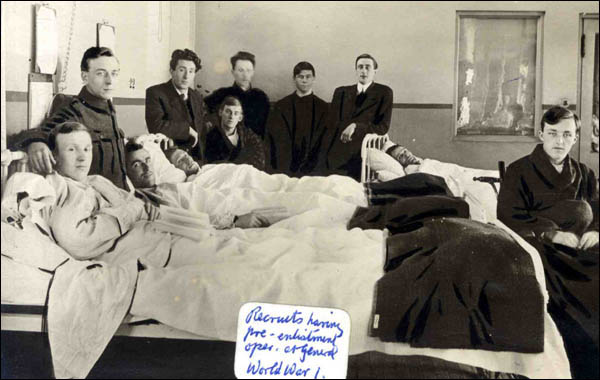 General Hospital Patients, ca. 1914-18
The General was one of the first civilian hospitals to open in St. John's.
Photographer unknown. Reproduced by permission of Archives and Special Collections (Coll. 190 04.06.007), Queen Elizabeth II Library, Memorial University of Newfoundland, St. John's, NL.
Most families, however, could not afford medical services or did not live within reasonable traveling distance of a doctor. Instead, they primarily relied on folk medicines, including baking soda for heartburn, cornstarch for bed sores, goose grease for chest colds, and boiled rhubarb roots for constipation. Some domestic remedies were effective, while others were not.
20th Century
Religion, political change, industrialization, and war helped advance medicine during the 20th century. In St. John's, the Roman Catholic Church opened St. Clare's Mercy Hospital in 1922 and the Salvation Army Grace Maternity Hospital opened a year later. The Grace closed in 2000, while St. Clare's continues to operate today.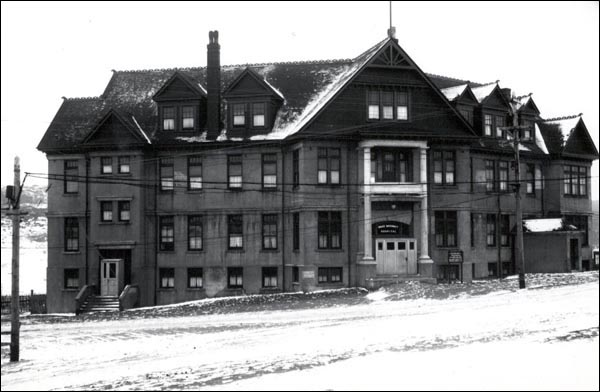 Grace Maternity Hospital, post-1923
The hospital which opened in St. John's in 1923 was Newfoundland and Labrador's first maternity hospital.
Photographer unknown. Reproduced by permission of Archives and Special Collections (Coll. 137 02.04.005), Queen Elizabeth II Library, Memorial University, St. John's, NL.
Outside St. John's, charitable groups and private industry helped establish hospitals and medical facilities. The Newfoundland Power and Paper Company (later Bowater Newfoundland Limited) built the Corner Brook General Hospital in 1925, while the American Smelting and Refining Company (ASARCO) opened the Buchans Hospital in 1928. In Twillingate, the Notre Dame Bay Memorial Hospital opened in 1924 as a result of a large civilian fundraising campaign, while the non-profit Newfoundland Outport Nursing and Industrial Association (NONIA) helped deliver nursing, midwifery, and other medical services in rural parts of the island.
The Commission of Government (1934-1949) established a string of cottage hospitals and nursing stations across the country, and operated a series of medical vessels to reach isolated coastal communities. It also added new extensions to a variety of existing hospitals, including the St. John's Tuberculosis Sanatorium and General Hospital, and more than doubled the number of hospital beds available to the general population.
The Second World War dramatically expanded medical services in Newfoundland and Labrador. After military personnel withdrew from military bases at St. John's, Goose Bay, Gander, Botwood, and elsewhere, they handed over many of their facilities – including modern military hospitals – to the government for civilian use.
Confederation
After Confederation, Canada's federal Department of Health and Welfare gave the province additional funds to improve medical services and make them more affordable. Newfoundland and Labrador joined the federal Medical Care Plan (MCP) in 1968, allowing residents to receive a variety of free health-care and hospital services. More hospitals opened across the province, including Corner Brook's Western Memorial Hospital, Gander's James Paton Memorial Hospital, and the Dr. Charles A. Janeway Children's Hospital at St. John's.
Memorial University established a Faculty of Medicine in 1967 and accepted its first students in 1969. The Health Sciences Centre opened on the university's campus in October 1978 and today accommodates the General Hospital, the Schools of Medicine and Nursing, and the Janeway.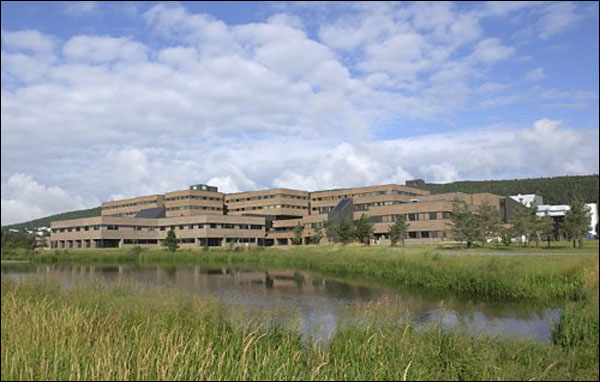 Health Sciences Centre, 1978
The Health Sciences Centre opened on the Memorial University's campus in October 1978.
Photo courtesy of HSIMS, Memorial University of Newfoundland.
The provincial government gradually transferred the direct delivery of medical services to community health boards in the decades following Confederation. Today, four regional health authorities operate in the province: the Labrador-Grenfell Health Authority (in Labrador and northern Newfoundland), the Western Health Authority, the Central Heath Authority, and the Eastern Health Authority. Each organization is responsible for determining and providing the health needs of the population it serves.